About Sinquerim Beach
Sinquerim Beach boasts an amazing shoreline and it is located north of the popular beaches of Goa including Calangute, Baga, and Candolim. The waters of Sinquerim are perfect for a refreshing swim with your family or friends and you must not miss the breathtaking water sports when vacationing here. 
Sinquerim is popular among tourists flocking to this beach from all over the world. The beach is close to some of the best nightclubs in Goa. One of the key attractions of Sinquerim Beach is the popular Sunburn Festival held each year in December. Another key attraction is the Aguada Fort, just next to the beach. Sinquerim is home to many restaurants and shacks that serve fresh seafood and cocktails to pamper your taste buds. 
You can also find multiple tourist hotels and resorts on the beach offering high-class boarding facilities to travellers flocking to Goa from all over the world.
How to Reach Sinquerim Beach


Reaching the beach is easy, both from Panjim and from the Goa International Airport.  

How to Reach Sinquerim Beach from Panaji: Bus services, as well as private cars, autos, and cabs, are available from Panaji. The place is merely 13 km off Sinquerim Beach. Therefore, if you travel at a speed of 50 km/hour, you can reach this picturesque beach in approx 32 minutes if you take the Betim–Verem–Saligao Road. It will take around 36 minutes if you take the NH 66 or the Pilerne - Candolim Road. 
How to Reach Sinquerim Beach from Goa International Airport: You can easily reach Sinquerim Beach from Goa International Airport, Dabolim. Take a cab or car, which is the fastest option to reach Sinquerim. You will reach in about an hour's time if you take the NH 66. The distance from the airport to Sinquerim is 39.8 km. 
Best Time to Visit Sinquerim Beach
The months of November until February are the ideal time to visit Sinquerim Beach, the peak season. You can also revel in the joy of the Sunburn Festival held in the month of December. If you love the monsoon, you can head for the beach from June to October. Make sure to reach the beach early morning if you would love to see the stunning beach sunrise with your loved ones. 

What Not to Miss at Sinquerim Beach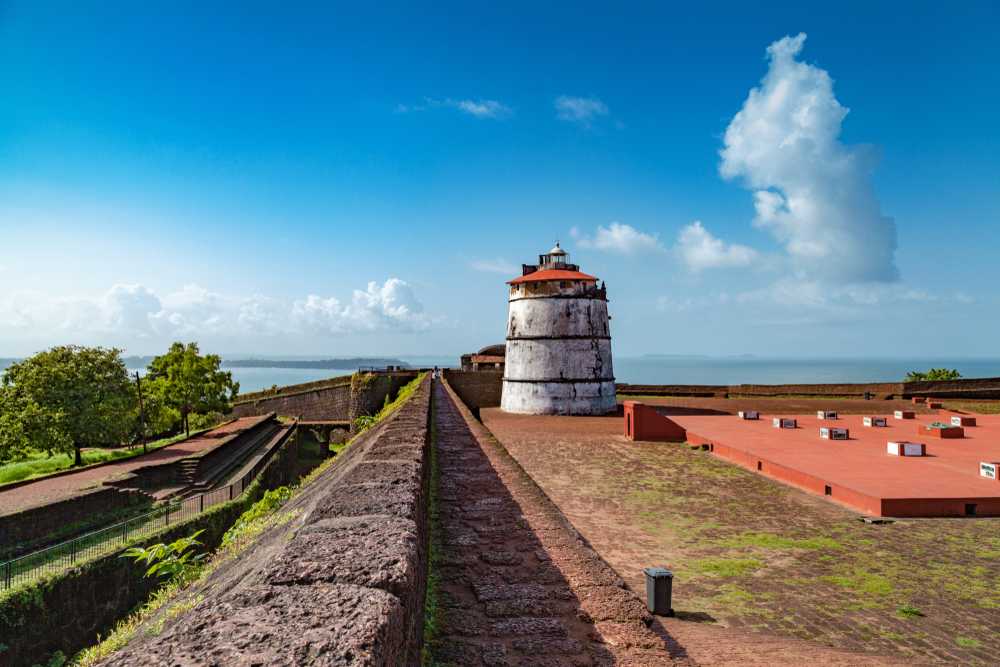 There are numerous places to explore around Sinquerim. They are: 
Candolim Beach- The beach is just 2 km from Sinquerim and one of the most peaceful places to visit in Goa. The major activities here include speedboat rides, fishing, parasailing, jet-skiing, and paragliding. The boat rides are exhilarating for adventure-seekers. That is because you can spot dolphins and crocodiles, the most sought-after activities in Candolim. Do not miss your chance to say 'Hello' to the friendly dolphins! 
Baga Beach- This beach is located just 7 km off Sinquerim, between Calangute and Anjuna beaches. Take in the scenic views of Baga Beach with your loved ones. You can also see the confluence of the Arabian Sea and the Baga River, where the river merges into the huge expanse of the sea. The top activities here are dolphin rides, river cruise, banana boat rides, relaxing ayurvedic spa, or unwinding on the beach sipping lime or coconut water. 
Fort Aguada - The Portuguese built this fort in the 16th century when they ruled Goa. You can fully explore it, especially for its stunning colonial architecture. Take a tour of the citadel that boasts of an orbicular lighthouse, built in the year 1864.  Besides, the St. Lawrence Chapel here is also one of the sought-after places to visit. 
Fishing is also a popular activity in this fort, according to the locals. The fort also features a bell and a big clock.
Other Essential Information About Sinquerim Beach
Nightlife at Sinquerim Beach


Sinquerim has a pulsating nightlife for party animals in Goa. Here are two of the top attractions: 
Sinq Night Club- If you are looking for a buoyant, chic nightclub with chill vibes to make your night, this is the place to be. It boasts of a modern Goan tavern, a colorful dance floor, a deck, and a poolside lounge. So shake your legs with your partner for the ultimate party experience.
Party away or simply unwind over a couple of drinks in the outdoor lounge or take a dip in the pool. If you are a foodie, you can try out the lip-smacking barbecue items and wood-fired pizzas at the poolside deck. 
Location: Opposite Taj Holiday Village, Aguada Rd, Candolim, Goa 403515
Love Passion Karma - Love Passion Karma (LPK), a stunning waterfront property against the backdrop of Indo-Portuguese Church promises a fun-filled nightlife to the party animals in Goa. Take long walks down the riverside, romance with your partner or dance the night away to the peppy numbers on the stunning dance floor inside. 
If you need some silent moments away from the noise, drink LPK's pioneering shooters and concoctions while taking in the beauty of the illuminated Love Passion Karma above the gleaming water. 
Location: Off Nerul-Verem Road, Candolim, Bardez 403114, Goa, India
Places to eat at Sinquerim Beach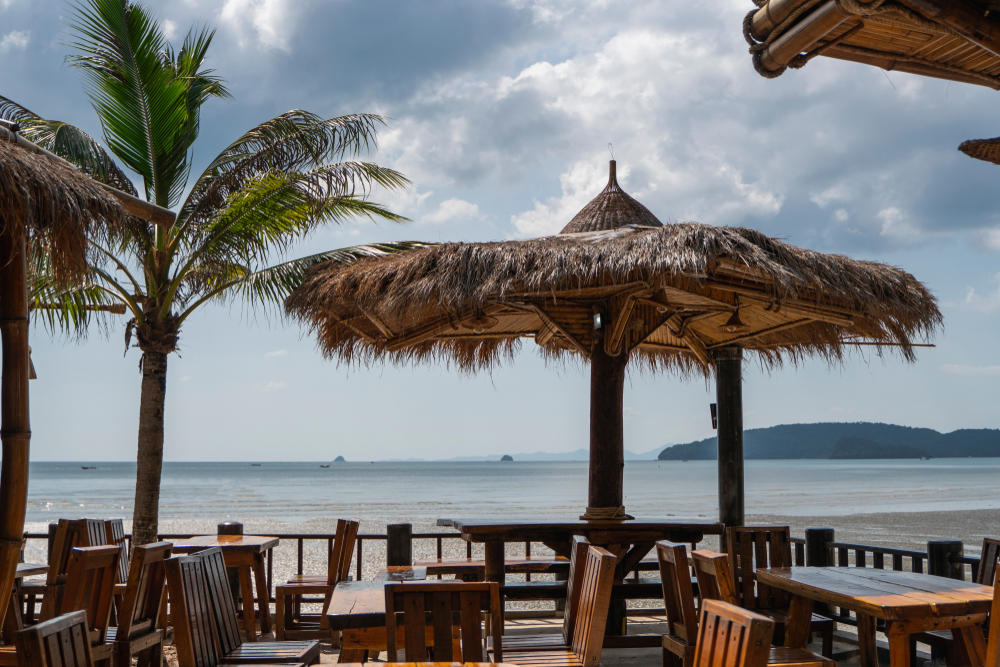 You will find numerous places to eat around Sinquerim. The notable ones are: 


Tuscany Gardens - Savour the traditional Italian delicacies served in a European-style dining area with tables laid in a leafy-garden fashion. It is the best place to dine in Sinquerim if you have become weary of rice and curries and are craving for al dente pasta and thin-crust pizzas. Pamper your taste buds with starters, pizzas, pasta, salads, risottos, main courses, and desserts, made from pure Italian ingredients and fresh local produce. 

Location: H.No-75H1, Near Taj Vivanta, Fort Aguada Rd, Candolim, Goa 403515


Earthen Oven- Satiate your palate in this vibrant north Indian-style bistro and patio delighting tourists with scrumptious Tandoori dishes, live music, as well as dancers. Savour Tandoori food cooked over charcoal, including Tandoori Shahi Salad, Rahra Gosht, Sikandari Raan, Murgh Makhani, Murgh Zafrani Tikka, and Murgh Malai Tikka. 

Location: Acorn Place, 283, Fort Aguada Rd, Candolim, Goa 403516


The Mermaid- Satiate your hunger pangs at this casual dining restaurant that serves continental and Goan delicacies. You will love its stylish ambience, presentation, and tasty food at pocket-friendly prices. Savour your taste buds with walnut salad starter, fig, blue cheese, Goan beef chilly fry, delicious starters, fillet steak, bread and butter pudding, and wine.
Location: 441 A, Vaddy, opposite Hotel Whispering Palms, Candolim, Goa 403515 
Places to Stay near Sinquerim Beach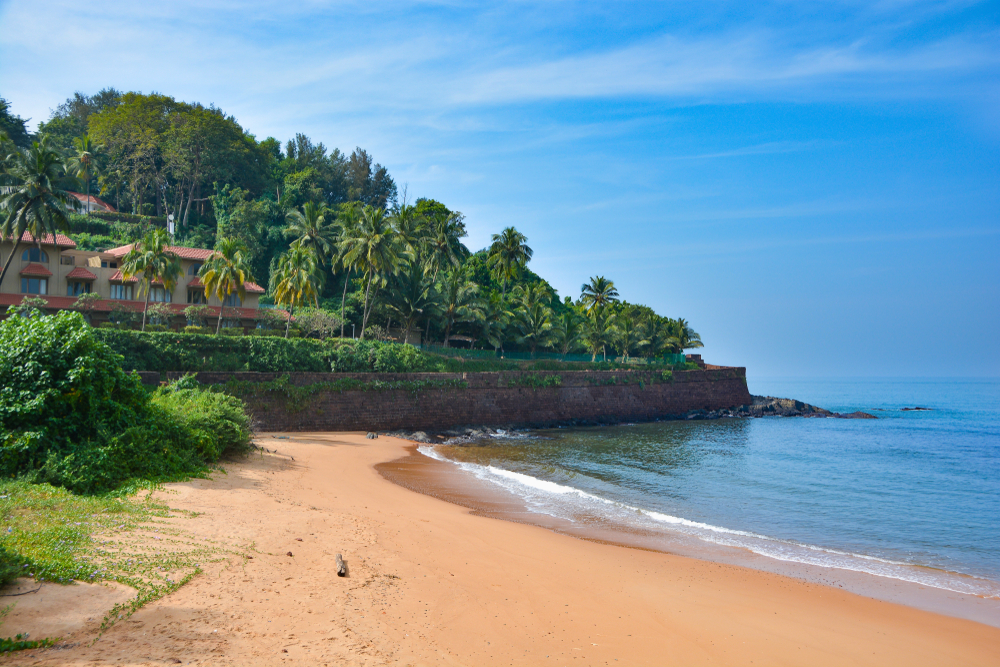 Some of the noteworthy places to stay near Sinquerim beach are:
Taj Holiday Village Resort & Spa- It is a beachfront resort featuring terracotta-roofed cottages, stretching across beautiful landscaped gardens. The resort also features an outdoor pool with a pool bar to beat the heat and a day spa for a relaxing massage. The leisure options include sweating out at the gym, golfing, tennis, squash, and water sports on the beach. Enjoy daily buffet breakfast, Goan delicacies, and fresh seafood. You can also eat at the Thai restaurant here. 
Location: Dando, Bardez, 403515 Candolim, India

The Banyan Soul- This property is seated amidst a verdant landscape. The rooms here feature private balconies from where you can enjoy the scenic views. You will find a lounge with a library stocked with your favourite books. Sit under an ancient banyan tree within the property, which is the perfect spot to read and relax. 
Guests can also take a leisurely stroll in the hotel's lush gardens or relax at Anjuna Beach, which is 5 minutes from the property. There are also sightseeing arrangements made for the guests from the tour desk. Sinquerim beach is just a 36-minute drive from the property with loads of activities. Enjoy Banyan Soul's all-day breakfast and light food to discover the foodie in you. 

Location: No. 962(1), Off Flea Market Road, Piqqem Peddem, Monteiro Vaddo, Anjuna, Goa 403509

Goa Marriott Resort & Spa-  Enjoy luxury amenities in this 5-star resort and spa, seated on the boundary of Miramar Beach and close to Sinquerim, a 38-minute drive from the property. Make your stay comfortable in the plush hotel rooms and suites with breathtaking views of the sea or the hotel's gardens. The leisure options include an outdoor pool with swim-up bar, spa facilities, yoga class, 24-hour gym, or cuddling with your partner in a hammock. 
The surrounding areas also have loads to offer, including visits to the North Goa beaches, water sport activities, and exploring historic landmarks.
Pamper your taste buds in the hotel's restaurant specializing in Indian, Asian, and international cuisines. The breakfast options include buffet, American, and continental breakfast. You can also dine in the Bar-B-Q or picnic area.
Location: Miramar, Panaji, Goa 403001
Things to Carry at Sinquerim Beach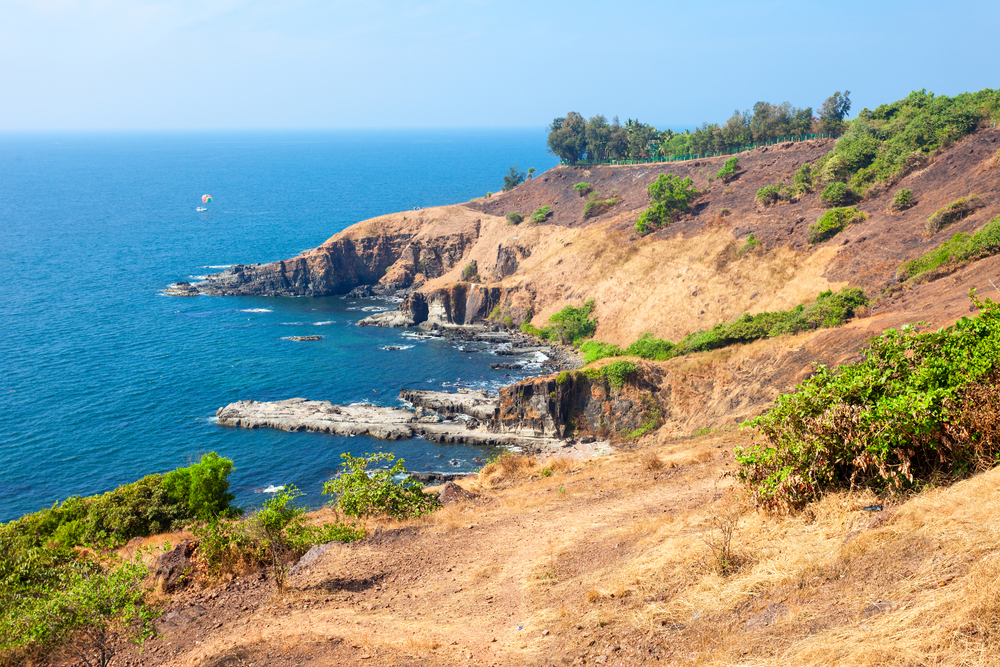 Though Goa beaches are scenic and offer loads of fun activities, you must carry the essential to stay safe and to enjoy to the fullest. Therefore:

Carry SPF sunscreen lotion, sunglasses, hats, and enjoy sunbathing in moderation. 
Carry appropriate swim and bathing suits at Sinquerim Beach. However, Goa beaches are quite liberal about bikinis but nudity is prohibited and punishable by law. Avoid carrying alcoholic beverages or drink in public places.
Carry flip-flops, lightweight clothes, first aid kit, crocs, and some cash because small restaurants and bars on the beach do not accept credit or debit cards. 
Shacks at Sinquerim Beach
You will find many shacks at Sinquerim. These include: 
Tony's Shack- Eat fresh, mouthwatering seafood in this shack with stunning views of the beach and amazing sunset. The best dishes are fresh pomfret, crab, and scrumptious cashew curry. In fact, you can choose fresh crabs from a bucket, which are then cooked and served fresh.  You can also pre-order jumbo prawns, fresh lobsters that are cooked and served fresh. The shack offers tidbits and traditional Goan and Indian dishes too. 
Location: Sinquerim Beach, Candolim, Goa 403515

Fisherman's Hut Beach Shack- The shack is an excellent option when if you are looking for good food, affordable prices, and courteous staff. It is the most recommended shack on a busy beach to pick among the other shacks. Enjoy delicious food, drinks, and music together with seats to see the setting sun. The portion size is good. The cocktails here deserve a special mention. If you want to relax in the evening with a glass of Cosmopolitan and enjoying the cool sea breeze, then Fisherman's Hut Beach Shack is your best bet. 
Location: Sinquerim Beach, near Calamari restaurant, Candolim, Goa 403515

Medical Facilities near Sinquerim Beach



If you need medical facilities close to Sinquerim Beach, here are some of the options. 

The Primary Health Centre - In case, you are injured, you will get the required treatment, medication, and released, quickly here. 

Location: Aguada - Siolim Road, Candolim, Goa, 403515

Dr. Vasudev Duke


Location: Ximer, Candolim, Aguada - Siolim Road, Bardez, Candolim, Goa, 403515

Dr. Dukle's Hospital & Research Centre - You will find the best medical attention from doctors, staff, and nurses here. In medical emergencies, it is one of the best medical facilities available near Sinquerim Beach. 

Location: Aguada - Calangute Road, Next to Bob's Inn Hotel, Candolim, Goa, 403515

Travellers' Tip before visiting Sinquerim Beach


When visiting Sinquerim Beach, keep your cash and other documents safe in a waterproof bag to prevent damage from moisture. 
Use life jackets when indulging in water sports on the beach. Listen to the guide and their safety information carefully. Avoid swimming in the absence of lifeguards because of high waves and strong water currents.
Avoid drugs, drinking in public places, and smoking even if you are a die-hard party animal. Also, stick with your own group at beach parties.