About Baga Beach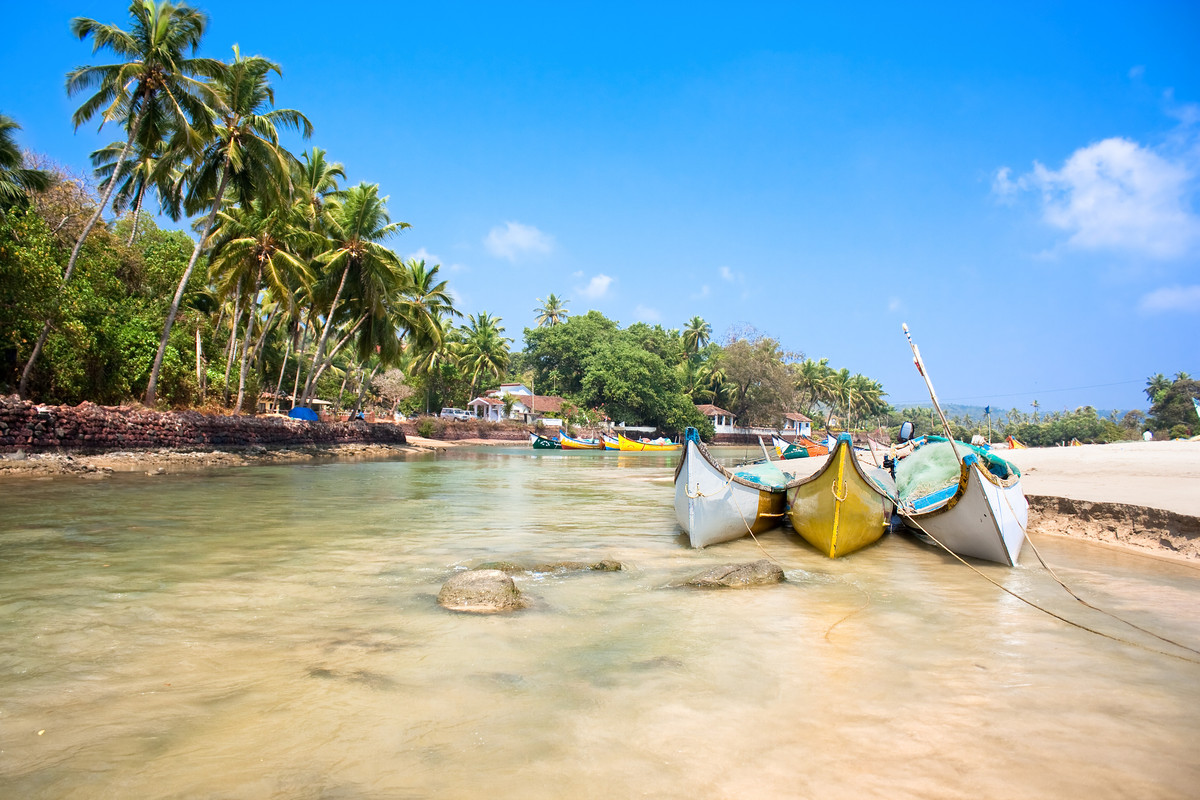 Baga is a famous beach destination in North Goa that attracts thousands of tourists and watersports lovers to its heart.  The beach shares its coastal line from the environs of Sinquerim, Candolim, and Baga, with the Baga shore being more lively and enticing. This bubbly beach is one of the best in Goa that stays awake the whole night. Called as "The Hometown of Nightlife," Baga beach is reputed for its cranky music celebrations by late-night, mouth-watering food, designer shops, and adventure sports.

Tourism in Goa's coasts got ignited by 1960 after the famous summer gathering of hippies from San Francisco. Baga beach then became popular among foreigners and slowly more exciting ventures like fishing, paddleboarding, discos, and tattoo shops started in the mainland. Named after "Baga Creek in Baga", the tidal residuary channel that drains into the Arabian sea, Baga beach in Goa is also well organized with parking facilities and is maintained tidy by the local governing authorities, besides experiencing hordes of travelers clubbing around. 

Baga town is surrounded by the Baga river, and spotting the place where the river and the "sea meet, is a beautiful view to bait your eyes. Dolphins can also spotted deeper in the blue ocean and there are some spotting trips organized by local ship owners to spot the sea mammal.
How to Reach Baga Beach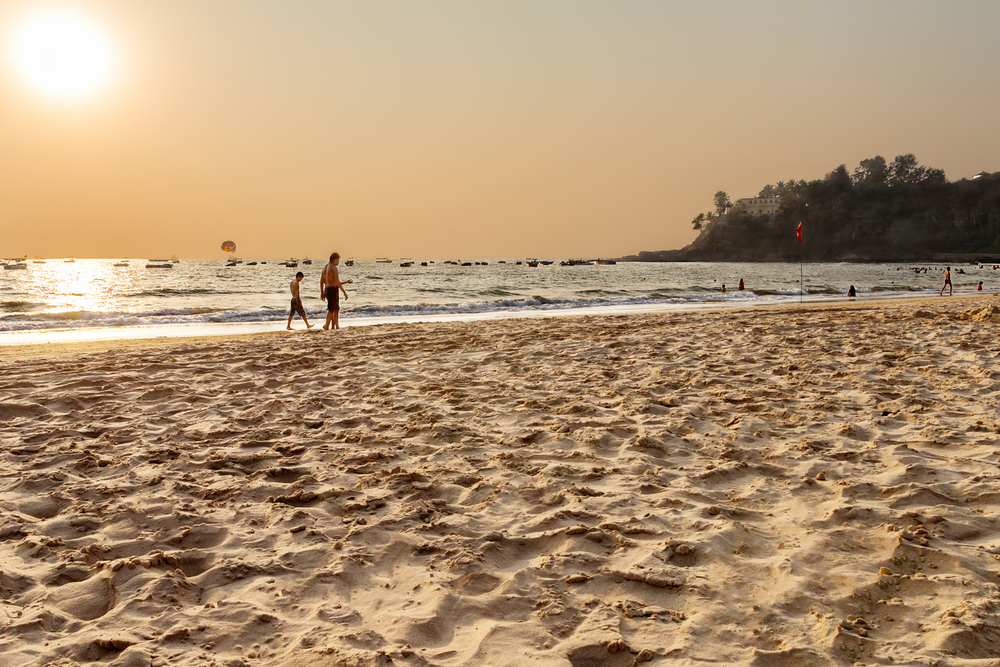 How to Reach Baga Beach from Panji - Baga is 15 Km away from Panji airport, and all it takes is half an hour to travel to the beach from Panji by taxi. The source and the destination are well connected by a lot of local and government buses. You can also hire cycles and motorbikes at a cheaper rate to ride between the locations. When bus travel is preferred, go to Panji first and from there get another bus to the beach. It consumes a little long time of 2 hours.
How to Reach Baga Beach from Goa International Airport- Dabolim, Goa International Airport is the closest within a span of only 15 km from Baga beach. One can choose a taxi ride that will take 90 minutes to the beach or go on train travel. The nearest railway station to Baga is 11 km from the coast and is well connected to Goa with regular services. 
Best Time to Visit Baga Beach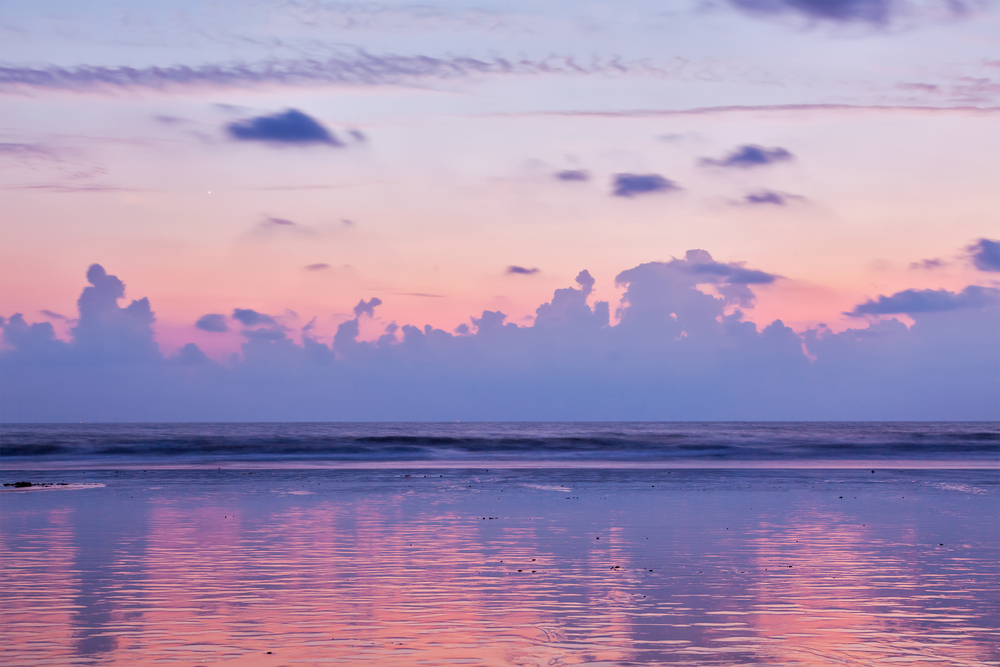 Baga beach in Goa features a tropical monsoon climate. As a result of grouping under the tropical zone, the weather is generally going to be hot and humid. Being your Baga beach travel guide, our strong recommendation for you is to hit the road to the tempting destination between October and January, the post-monsoon period.

The temperature clocks between 25° - 32 °C, and with the sun high, this makes the best time to visit Baga beach. Summer begins at Baga by March and lasts till June, making the coast record a temperature of over 45° C. Monsoons quench the heat, but the sealine possess rough tides, making it as an offseason. 
What Not to Miss at Baga Beach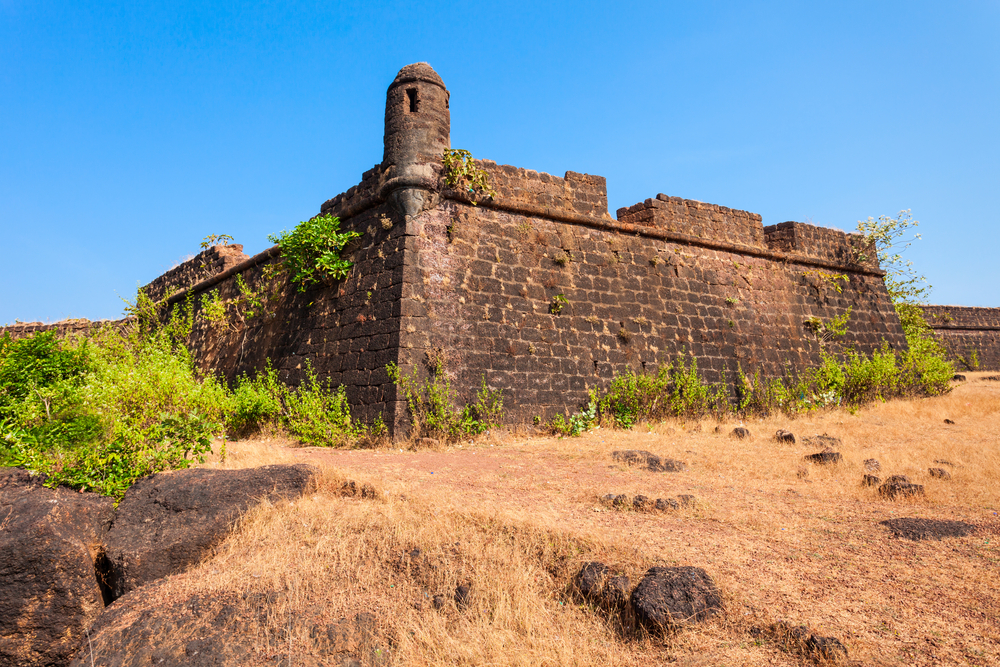 Casa de Retiros- Peacefully topping the hill of village Bardez, this Baga retreat house is called Casa de Retiros. The retreat house faces the Arabian sea and is the best site for sightseeing ocean and get immersed in the compiled view of sunsets. 


Our Lady of Piety-
 Located on Divar Island on the rooftop, Our Lady of piety church was originally a chapel that was later built as a church in the early 1650s. The church's annual feast is scheduled every second Sunday of March, the right time to row down your boats to the Island. 

Chapora Fort- The fort was built by the Muslim king Adil shah and lately acquired by the Portuguese. Buffed with historical stories, the fort overlooks river Chapora and was also given the name 'Dil Chahta Fort'.

Aguada Fort- Wrapped up with a lighthouse, the Aguada fort is another Portuguese monument built in the 17th Century. Aguada fort is faced towards the Sinquerim Beach and exhibits the splendid view of the blue Arabian sea. 

Dr. Salim Ali Bird Sanctuary- Named after the famed Indian ornithologist Dr. Salim Ali, this sanctuary is located on the banks of the River Mandovi. The mangrove habitat provides shelter for over thousands of native and migratory bird species, making it a haven for bird lovers.




Other Essential Information About Baga Beach
Water Sports in Baga Beach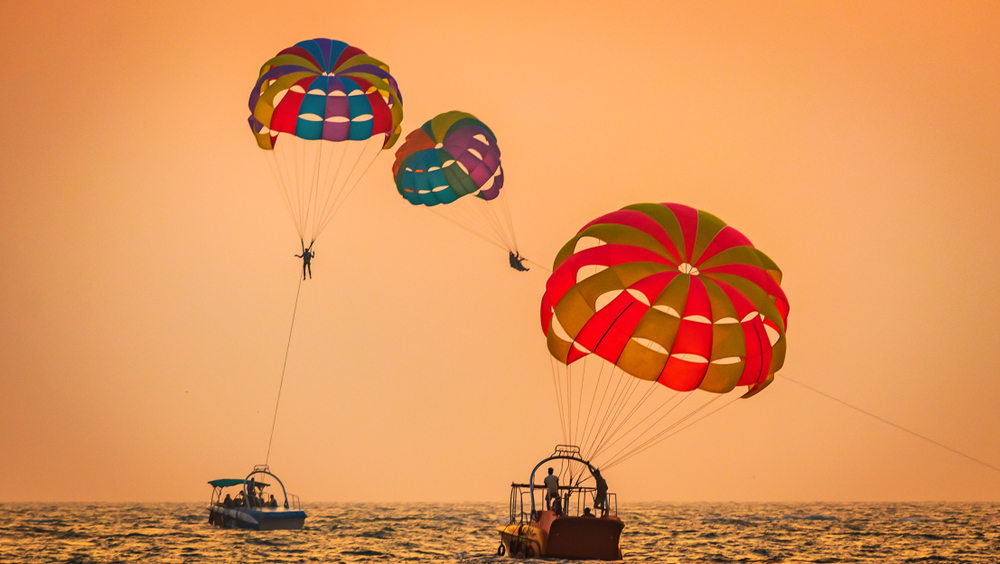 -Parasailing- 
Parasailing or parakiting is a recreational and thrilling water sport where the person bears a parachute and gets towed and steered by a boat.

-Jet Ski- 
Jet Ski is like driving a scooter. But wait! The main difference is you are going to scoot in water. The sport is named after the sports brand introduced by Kawasaki


-Banana riding-
 Baga beach in Goa is where you can enjoy banana boating, where a pack of 5 or fewer people rides a banana modeled inflated boat that's connects to a drift boat.


-Bumper ride- 
Similar to Banana boating, this water ride is for couples. The riders on a doughnut raft are taken on high-speed rides after tucking an end to a speedboat.


-Bodyboarding- 
Post monsoons tides in Baga are observed to be high, and it's the best time to Bodyboard where the rider swims from the high tides and falls back to the shore in a jiffy.


-Kayaking-
 Kayaking is an enjoyable water sport where the user, with the help of kayak, can paddle across streams of water. Kayaking is a relaxing sport to adore the busy coast of Baga beach.


-Paddleboarding-
 Paddling the surfboard into the water depth by using hands, feet, or a paddle is called as paddleboarding. At Baga, paddleboard competitions are hosted every year during the season time.


-Kneeboarding- 
The activity is very similar to wakeboarding and differs that here, the rider kneels to surfboard.  Then they are dragged into the water by a speedboat or by a parachute.  


-Speed boat rides- 
Speed Boating is easy and a must-do sport in Baga. Speedboats are availed at reliable price deals and you can gush into the waves ruffling around. 


-Wakeboarding- 
Another thrilling must-do sport is wakeboarding. Here the rider stands on a surfboard and holds to a motorboat performing various stunts 

Nightlife at Baga Beach 




Club Titos- The club is for party lovers who love to spice up the floor with their dance moves. The nightclub was established long back in 1971 and now it is one of the most crowded nightclubs in the whole Goan territory.


Café Mambos- Another proud owner of Tito's club, this party hub, is on the same lane of Club Titos. The atmosphere is electrifying with a blend of playlists of international DJs and entertainers. 


Club Hype- This Baga club is worth the hype it bears in the name. With the presence of a huge bar inside, the club serves many concoctions of your choice. It is also one of the less expensive clubs to hang around in Baga.

Kamaki-
Kamaki is where you can party all night with the club offering super delicious meals with a pinch of ancient touch. It is marked as a favorite food destination, and the staff here is also very friendly in assisting

Places to eat at Baga Beach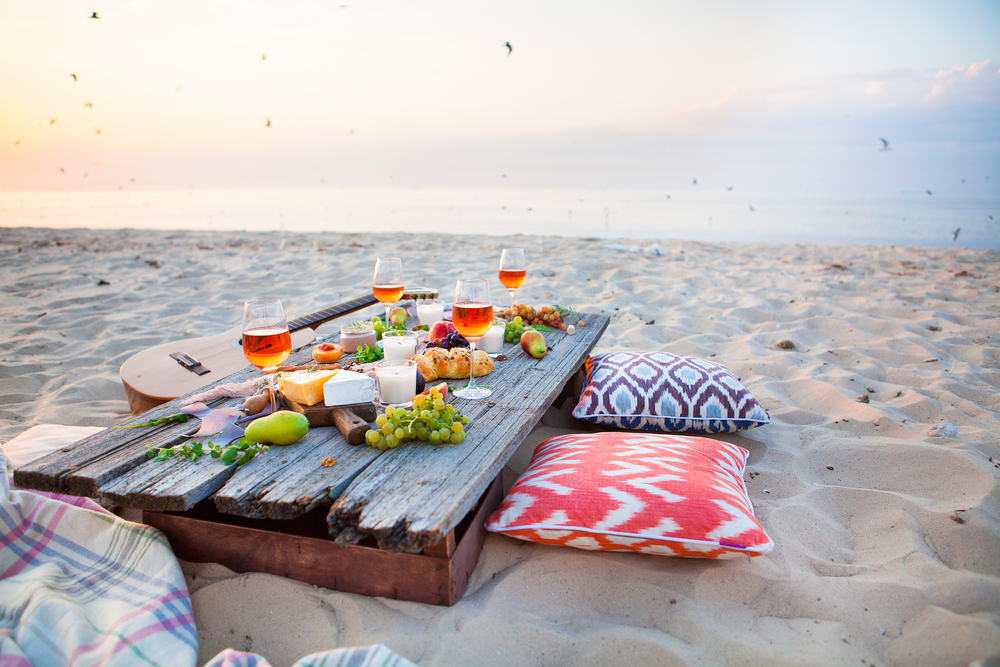 The Flow -
Featuring global cuisines, this beach restaurant is the best place in Baga to have a romantic dinner with your better half. Catering the best services, you can taste the most exquisite seafood recipes with chill sea breeze ruffling through your hair. 


Jamie's Restaurant
-Reasonably priced, this beautiful restaurant is known for its wide range of non-veg starters. Irish coffee and butter chicken are notable tongue twisters to taste. The ambient music away from louder night club parties, makes it a highlighted eatery in our Baga beach guide


Fire and Ice -
Accompanied by attentive and friendly staff, Fire and Ice is a must-visit Indian restaurant. Comparing other hotels, the costing is considerably low, but there is no compromise in the quality. 


Chelsea Beach Shack - 
Having an extensive menu, Chelsea is for Indian food lovers, offering a clean atmosphere and the unique shacks of Baga.[1]  The best part of the hotel is to watch football games with passionate lovers of the game, making it a unique experience.


Britto's Bar and Restaurant-
Famous for desserts, Brittos is a seaside restaurant established long back in 1965. The iconic continental hotel consists of a  spacious open-air food slot that is closer to the shore. You can enjoy the Goan cuisines with the music of waves in a friendly habitat. 
Shopping at Baga Beach 




Arpora Saturday Night Flea Market 
A 5 minute Saturday night walk from Baga will lead you to Arpora's Saturday night market. This flea market is where you can buy boutiques, relish street food, and visit shops to lay hands on the artifacts and handlooms from all over the world.

Mackie's Night Bazaar


Mackie's flea market stays open every Saturday from 6.00 pm to 01.00 am. You can find all sorts of Indian and western clothes and accessories in this mainland market. And yes, don't forget to bargain on your purchases. 

Places to Stay near Baga Beach 




Baga Beach Resort- 
The resort is located right opposite the beautiful Baga beach. Gifting the perfect sea view, the resort provides wooden cottages and rooms equipped with all the necessary amenities. This resort is preferred by couples owing to the romantic atmosphere it provides. 


Fiesta Resort-
At Fiesta resort, travelers can live the typical Goan life with sea surroundings and the spacious swimming pool that can be used at any time of the day. The resort is in the center of the beach, providing easy access to all the sporting and fun activities held on the shore.

Nimbus Baga Beach Resort-
A fully stocked private bar with rooms ranging from deluxe to royal categories, Nimbus also offers gym and free bicycle rides to the nearby suburb attractions. 

Paparazzi Resort-
Paparazzi is 2 km away from the shore and is focused and courteous to provide its patrons with all the requisites. You can experience here a cozy and lively spot to lay your back.

Dodi Holiday Homes-
Providing value for money deals, this resort is only 50 m away from the beach. The supporting staff is super attentive and assists with food and requisites on a single call.

Things to Carry at Baga Beach 




At Baga, you are going to be bothered by the humid tropical climate and searing sun. Make sure you carry,

- Right footwears,


- Loose cotton clothes with warm light colours


- Moisturizers 


- Sunscreen


- Camcorder


- Sunglasses 


- Comfortable swimwear


- Fanny pack


- Hats/Caps


- Lighter and Torch 


Last but not least, first aid kit and basic medicines. 

Things to Keep in Mind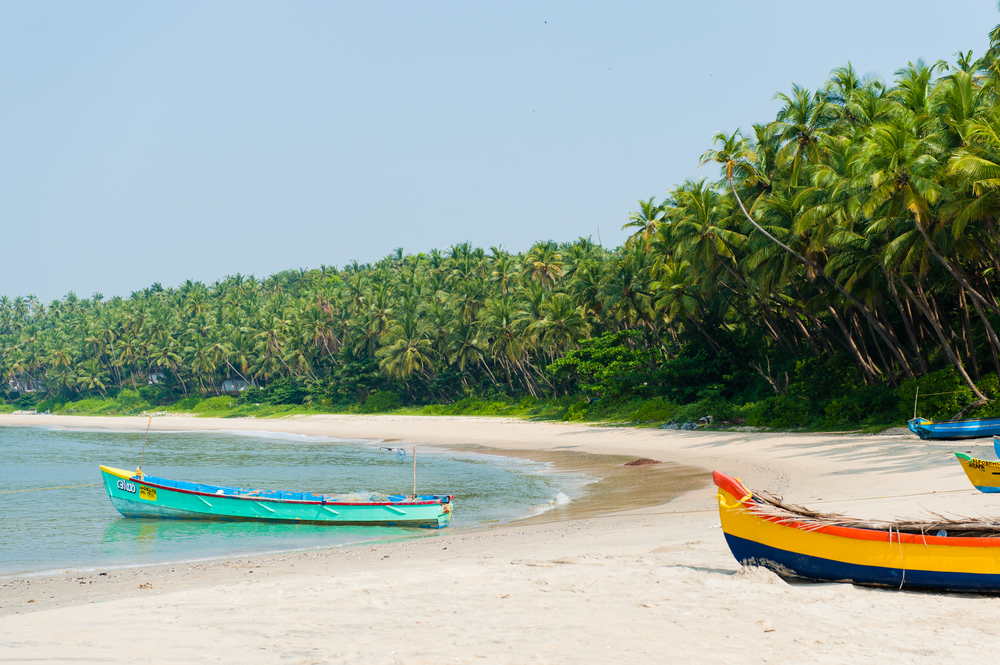 Always remember you are visiting a coastal area. Keep your electronic gadgets locked in waterproof bags .


Carry a medical kit to tackle any bruises or cuts.


Stay alert in public gatherings


Always be closer to other visitors to avoid a lurking attack. 


Medical Facilities near Baga Beach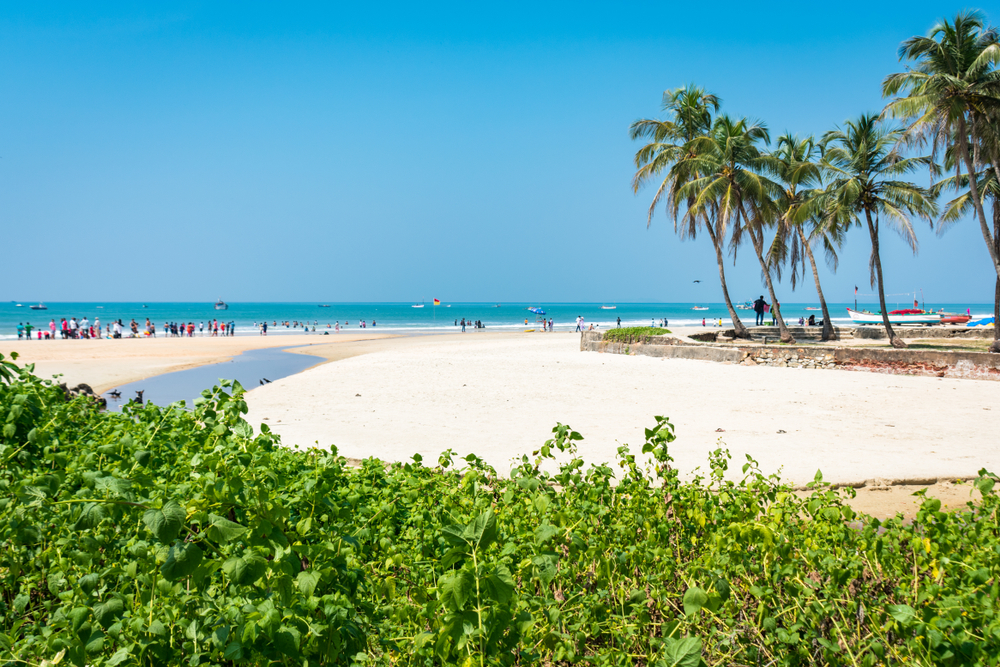 When it comes to medical facilities and attention, hospitals and pharmacies in and around Baga are second to none. Multi-specialist hospitals are available in Panji and in proximity to the beach. Most of the hospitals have residential doctors who arrive immediately on call in case of emergency.  


Travelers' Tip before visiting Baga Beach




Baga in Goa is a relatively safer place for visitors, but a stitch in time saves nine. As a traveler, you have to make sure you carry only the good memories of Baga. Avoid carrying cash and switch to ATM card and traveler's cheque options for your money withdrawals and payments. After all, this is an era of Digital India. 


- During travel, keep your baggage chained to your seat or under your surveillance


- Try to cherish your moments in Baga by savoring all the adventurous activities and the glut of other tourist attractions


 - Don't forget to tag your valuable possessions with your name and contact details so that if lost, it can reach you back by the founder.