About Camping trip chikmangalur
Chikamagalur is an excellent camping destination which combines scenic landscapes with pleasant weather. You can choose to pitch a tent on the summits of peaks, on the rolling grasslands, on the side of a gushing river or in the middle of a forest! You can also take your own tent with you, join a tour or simply book a tent in a pre-established site.

When camping in Chikmagalur, you can try everything from enjoying a dip in the river, rafting, fishing, safari, hiking, wildlife photography and much more! Whether you are travelling with friends, a partner or on your own, you will find camping in Chikmagalur a pleasant experience.
Places to Visit and Things to Do in & near Camping trip chikmangalur
1. Bhadra Nature Camp


Bhadra Nature Camp is the place to go if you are looking for an established camping destination to spend time camping, surrounded by experienced staff. It is an excellent option for the newbie or solo campers. You can participate in a range of activities like fishing, shooting, hiking, trekking, boating, etc. which are organized by the camp.

You also get the opportunity to meet like-minded people and learn the intricacies of camping, preparing you for your future trips. The location of the camp adds to the charm and opens up plenty of photography opportunities. It is situated on the edge of one of the world's densest forests and has a river running along one side!

Timings: Open 24 hours

Location: Kadabagere, Bidare, Karnataka 577123

Price: Tents start from Rs. 2,000 per person

2. Baba Budan Giri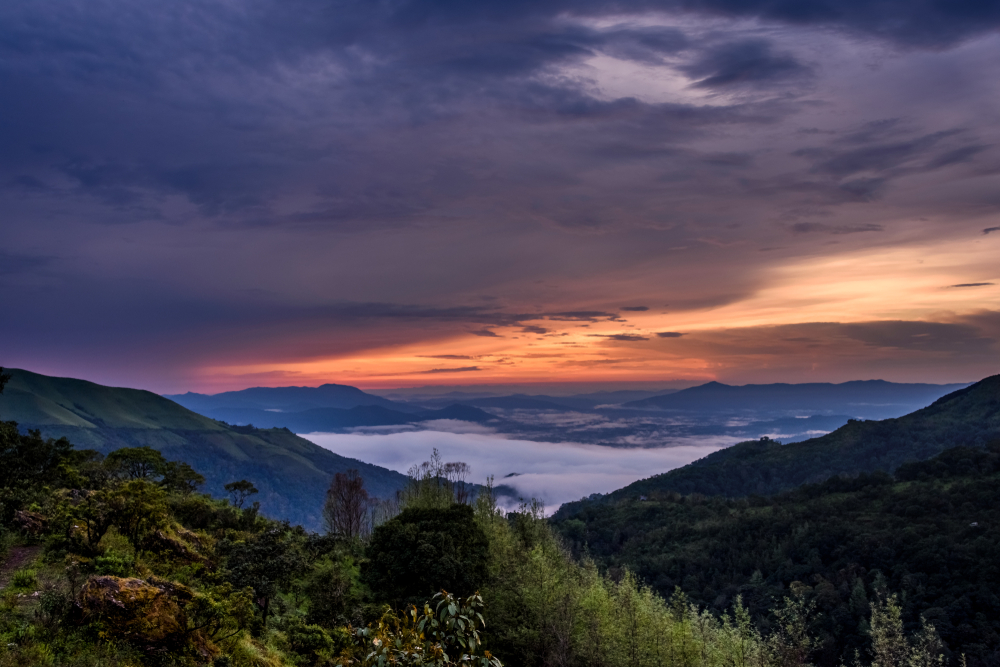 Baba Budan Giri is an important peak near Chikmagalur and an interesting place to pitch a tent. The place is steeped in age-old legends and myths and is frequented by both nature enthusiasts and pilgrims. When camping here, you can enjoy several activities, including a visit to three large prehistoric caves, the shrine of Seethala and numerous waterfalls which can be easily accessed from the summit.

If you are near the shrine, you can also walk for approximately two kilometres to reach a quaint lake by the name of Galikere. You can also set up a picnic and munch on food as you enjoy the breathtaking scenery of the surrounding hills.

- Timings: Open all-day

- Location: Baba Budan Giri, Karnataka 577137

- Price: Free

3. Bhagavathi Nature Camp


In order to enjoy a truly immersive, camping experience, you must try camping at the Bhagavathi Nature Camp as it takes you to the heart of the Kudremukh Wildlife Sanctuary. Situated 11 kilometres away from Kudremukh, the camping site not only allows you to camp under the stars, in the middle of the wilderness but also acts as a starting point for several treks and hikes.

It is an important catchment area which sees the coming together of three rivers; Tunga, Bhadra and Nethravathi. This means that the place is covered in some of the most magnificent plants and shrubbery, lending it tranquillity and beauty. You will see everything from manicured coffee and cardamom groves to golden grasslands and dense shola forests.

- Timings: Open all-day

- Location: Kudremukh National Park, Mudigere, Karnataka 577142

- Price: Beds starting from Rs. 1,475 per person

4. Japavathi River Camp


Japavathi River Camp is another great escape which allows you to camp by a lush, green riverside. You are surrounded by coffee bushes and an easy-flowing river which leaves you feeling relaxed and rejuvenated. Situated at a height of 4,000 feet above sea-level, this campsite is tucked away in a quiet corner of the western ghats.

When here, you can plan your days to include anything trekking, hiking, bird-watching or simply reading a book in a quiet corner of the woods! You can choose to pitch an outdoor tent and enjoy a bonfire or select a more comfortable option of settling indoors as the sun sets.

- Timings: Open all-day

- Location: Devarunda - Jannapura Rd, Dist, Devarunda, Karnataka 573134

- Price: Room prices start from Rs. 2,420 per night
Other Essential Information About Camping trip chikmangalur


Ideal For:
Groups, Couples, Kids
Duration: Day Trip
Experience Type: Outdoor