About Thalaiyar Falls
Also known as Rat Tail Falls, the Thalaiyar Falls is the highest waterfall in the state of Tamil Nadu. Gushing down from the slopes of the verdant Palani Hills in Dindigul District, Thalaiyar Falls is situated around 40 kilometres from Kodaikanal.

Furthermore, this mesmerising waterfall can be spotted across the entire valley. From faraway places, you can see Thalaiyar Falls as a thin silver strip of water freefalling with the lush green mountains and dark rocks making for a scenic backdrop.

Moreover, when looking at it, the falls seems like the tail of a rat, long and thin. In addition to being the highest waterfall, it is also among the widest of all waterfalls in the area, ranging from 13 kilometres on the Batlagundu-Kodaikanal Ghat Road to Kodaikanal. From trekking and hiking, to photography, there is a lot one can do on their visit to Thalaiyar Falls.

Visitors can also enjoy the beauty of the falls from the roadside benches, simply soaking in the great atmosphere. Moreover, there are two walls here on the falls, where a huge flat rock rests below one of them. Tourists can get down to the rock's edge and get a great look of the river at the bottom which flows silently into the woods.

The falls also serves as a watering hole, attracting many animals for drinking water. Even though it is said that the water of Thalaiyar Falls, which comes from the Perumal Malai village through a 9-kilometre downstream is clear, tourists visiting the falls are recommended not to drink it.
How to Reach Thalaiyar Falls

From Kodaikanal Bus Stand?

The distance between Kodaikanal Bus Stand and Thalaiyar Falls is around 20 kilometres, which will usually take you somewhere around 48 to 60 minutes to cover the entire distance, depending upon the traffic.


The best way to reach Thalaiyar Falls from Kodaikanal Bus Stand is to either rent a private car or hire a taxi, which is also the fastest alternative.


However, a cheaper alternative is to take the many tourist or state buses which can take you to the falls. This route will also take a lot more time due to its long route.
Best Time to Visit Thalaiyar Falls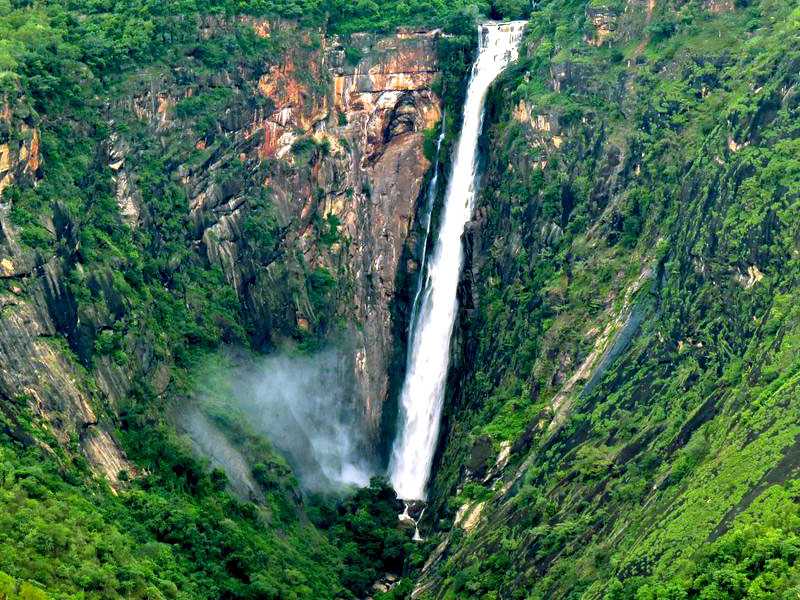 The best time to visit Thalaiyar Falls is from October to March, during the winter and early months of spring, and then, between July and early September, during the monsoon season.


From October to March, Kodaikanal experiences the onset of winter, followed by the cold months and early spring. During this time, the water levels of Thalaiyar Falls enjoyable, in addition to the weather being very favourable to pay a visit to this majestic attraction.


March onwards, until the beginning of July, the summer season sets in the region. The water during this time starts reducing. On harsher days, when the temperatures soar over 40 degrees Celsius, the water in the falls is as good as nil. So, it is best to avoid visiting the falls during this time of the year.


Next comes monsoon, between July and early September, when the falls is at its absolute best. Water gushes to the falls from the hills above, making for a spectacular sight.
What Not to Miss at Thalaiyar Falls



Right after visiting the enchanting Thalaiyar Falls, you can visit a lot of other places located nearby. Some of these places are:


1. Bison Wells:


A popular area of wildlife named after the famous Indian Bison; this is home to a huge variety of wildlife species. This includes elephants, monkeys, tiger, different species of deer as well as a large range of bird species. Many bisons come to this well in search of drinking water. Spread across 8 acres, Bison Wells is also a great picnic spot as well. Additionally, travellers can also enjoy hiking, bird watching, trekking as well as a great wildlife safari here.


2. Palani Hill Temple:


Located on Palani Hills, this temple, which is dedicated to Lord Murugan's incarnation Dhandayuthapani, has a great religious significance amongst the locals of Kodaikanal. Situated at an elevation of 1500 feet above sea level, the Palani Hill Temple is easily accessible not just from the Thalaiyar Falls, but also from other towns like Trichy and Madurai. The idol of Dhandayuthapani is made up of nine different poisons, which are known as Navapashana. Moreover, there is a strange sort of bacteria which grows on this idol and helps to preserve the food offered to it as abhishekam for many years to come. This temple also celebrates a lot of important festivals of the land, including Thaipusam, Skanda Shashti, Visakham as well as Panguni Uthiram.

3. Ayakudi:


This is a small panchayat town located near Thalaiyar Falls in Kodaikanal's Dindigul district. Known all around the country for its guava cultivation and market, Ayakudi is rich in production of many other organic produces, such as sugarcane, mangoes, cotton, rice paddies as well as lemon and lime. The produce, especially the fruits from this town is exported to a lot of countries around the world. Furthermore, Ayakudi is also home to many religiously important temples.


4. Bear Shola Falls:


A popular tourist spot located near Thalaiyar Falls in Kodaikanal, the Bear Shola Falls is a seasonal attraction which comes to life, creating a spectacular picture, during the monsoon season in Tamil Nadu. The water here flows in full speed, gushing down from the hills into the verdant green plains and meadows. The name of the falls has been given due to a legend, which suggests that a bear used to come to this place frequently in search of water. This paradise is also home to a lot of rarer species of flora as well as fauna.


Things to do Around Thalaiyar Falls
Anyone who loves nature and its beauty should, at least once, pay a visit to the Thalaiyar Falls. In addition to simply soaking in the serenity of the falls, there are many other things you can do at Thalaiyar Falls and around it. Some of these are:

1. Take a hike to the base of the falls:
Starting at the Manjalar Lake, you can hike up to the base of the Thalaiyar Falls. While doing so, you get to pass through many potato and mango farms and orchards. Not only is the hike quite scenic and beautiful, it is also very adventurous. Therefore, it should only be undertaken if you are mentally and physically fit.

2. Go boating in the Kodaikanal Lake:

Located close to the Thalaiyar Falls, the Kodai Lake, also known as Kodaikanal Lake, is a great place to visit. Moreover, a boating experience here is the best kind of activity you can enjoy. From pedal boats, to single-seater and double-seater row boats and Kashmiri boats, you can choose whichever you like. The pristine water and the enchanting views also add to the entire experience.

3. Visit the Guna Caves:

Popularly known as Devil's Kitchen, these eerie looking caves are known for being a hotspot for bats. It is here where visitors are required to balance themselves and enter into a rock which is balanced on two other rocks. Surrounded by nature and mystery, a visit to these caves are a must, especially if you are an adventurer at heart. Moreover, don't forget to carry your camera with yourself, and click stunning images of the amazing tree formations around the caves, which are guaranteed to leave you baffled.

4. Go for a picnic at Pillar Rocks:

Pillar Rocks are amongst the most famous tourist destinations in Kodaikanal. Popularly a picnic spot, the region of Pillar Rocks constitutes a beautiful mini garden, with three huge vertically positioned rocks which reach up to a height of almost 400 metres. You can come here with your friends and family and spend a relaxing time by enjoying a picnic amidst nature. Additionally, you can also enjoy a great bird's eye view of the surrounding mountains and lush green forests. Just outside the mini garden, there is a food stall which is famous for its variety of pakoras, which tourists usually indulge a lot in.
Other Essential Information About Thalaiyar Falls

Location:
Thalaiyar Falls is located in the Palani Hill ranges in Dindigul District of Kodaikanal in Tamil Nadu 624210.

Timings:
You can visit the Thalaiyar Falls between 10:00 a.m. to 06:00 p.m. on all days of the week, except Sundays.

Entry fee:
There is no entry fee required to visit the Thalaiyar Falls. All entries are free of any charge.

Height of Waterfall:
The height of Thalaiyar Falls is 297 metres, or 975 feet.


Visitor's Facility:
For visitors, there are facilities made for seating. Additionally, you can also find small food stalls, selling water and snacks.


Parking Facility:
Parking facilities are available for visitors and are devoid of any charges.


Distance from Kodaikanal bus stand:
The distance to Thalaiyar Falls from the Kodaikanal Bus Stand is around 21.5 kilometres, which takes approximately 56 minutes to 90 minutes to cover, depending on the traffic.
Structure of Thalaiyar Falls:
With a height of 297 metres, Thalaiyar Falls, or the Rat Tail Falls is the highest waterfall in the state of Tamil Nadu, in addition to being the sixth highest waterfall in the Indian Subcontinent. Upon visiting the waterfall, you can clearly see a low concrete wall on the top of the edges at both sides of the falls.

This wall is there to concentrate the overall flow of the flow, in addition to tapering it, thereby also giving it the shape similar to that of a rat's tail. Additionally, visitors can walk along this concrete wall, and also reach the centre of the waterfall from here. 
Furthermore, you can find a large rock below one of these walls. This rock is flat and measures 1.5 metres in its width. Visitors can get down to the rock and go up till its edge. From here, you can get amazing views of the surrounding mountains and greenery.

Moreover, if you look below the rock, you get to see a small stream of water which flows into the meadows and forests below. On the other side of the rock, the water falls freely into nothingness. An interesting thing about this is that the falling water makes no sounds whatsoever.


Hiking at Thalaiyar Falls
Hiking is amongst the most popular adventurous activities you can do at Thalaiyar Falls. However, it is only allowed at the bottom of the falls, and that too only during the summers and winters (the dry seasons).


The hiking to Thalaiyar Falls begins at Manjalar Dam, which is a very scenic place. This is especially because the dam passes through various beautiful potato fields and mango farms present around the area of Manjalar Reservoir. From here, one needs to hike up along the course of the water till they reach a small temple dedicated to Goddess Kamakshi. Thereafter, hikers should keep following the course of the stream.


It is here where the actual climb up the stream starts. During the hike, you will come across many difficult areas and large, slippery boulders, which you would need to cross to ultimately arrive at the base of the Thalaiyar Falls. The entire hike covers around 15 kilometers and takes a full day.


Tips Before Visiting Thalaiyar Falls


Popularly known as the Devil's Kitchen, Guna Caves gained popularity after the release of Kamal Hassan starrer-Guna. However, there are a few tips you should always keep in mind before visiting this dark cave. Some of these are:

1. It is always advisable to visit the caves with a guide. Navigating the cave all by yourself could prove to be dangerous.

2. It is recommended that little kids or the elderly don't visit the caves. This is because the insides are dark, slippery and not easily explorable. Even a small wrong step could be fatal here.

3. It is always advisable to find out whether the caves are open or closed on the day you wish to go exploring the place.

4.  Always wear comfortable shoes and carry a flashlight when visiting Guna Caves.