About Sam Sand Dunes
Imagine yourself amidst the desert, the yellow sandstone buildings surrounded by the glorious dunes, and further enhanced by the golden rays of the sun.
This is what a trip to Sam Sand Dunes feels like. This marvellous beauty of Rajasthan is an amazing cultural hub. Stretched across the Thar desert, Sam Sand Dunes is a prominent part of Jaisalmer. 

One of the most idyllic places to wind down and get in touch with nature, you can explore here the plant and animal life too. Take a camel ride and go on a remarkable trip to tour the dunes. Or, rent a quad bike for a thrilling experience across the local villages. 
Many desert campsites organise cultural programs for visitors to witness the Rajasthani culture. There, you can witness musical nights, folk dance, puppet shows, and a chance to taste the aromatic Rajasthani cuisine.

Indulge in stargazing, stay at the beautiful desert camps, and explore the vivid desert life. With all this and more, the Sam Sand Dunes are one of the most popular sites for offering a worthwhile experience to its visitors.
How to Reach Sam Sand Dunes
Located 40 km away from Jaisalmer city, there are plenty of ways to reach this desert area. The most preferred way to reach Sam Sand Dunes is by taking a jeep or any other SUV.

With this mode of transport, you can also explore the nearby tourist attractions.
There are many local buses available at Jaisalmer Bus Stand. As it is situated on the outskirts of Jaipur, the ride might take an hour or so to reach. 

You can easily negotiate and bargain with the prices for transport. Moreover, both the rides are comfortable and affordable.  
Best Time to Visit Sam Sand Dunes


October to March is a really good time to visit if you want to avoid the scorching heat of the desert. Also, Sam Sand Dunes experience heaviest tourist traffic during winters.

 February is known for its festivities as it hosts the 3-day Desert Festival. You might have to pack a heavy jacket with you for the chilly nights.
In the spring season, Jaisalmer starts getting warmer. The visit should be completely avoided during April to June as the temperature can easily exceed 40 degrees Celsius.

After that, the weather from July to September can be humid and sweaty. 
What Not to Miss at Sam Sand Dunes
Places to Visit near Sam Sand Dunes -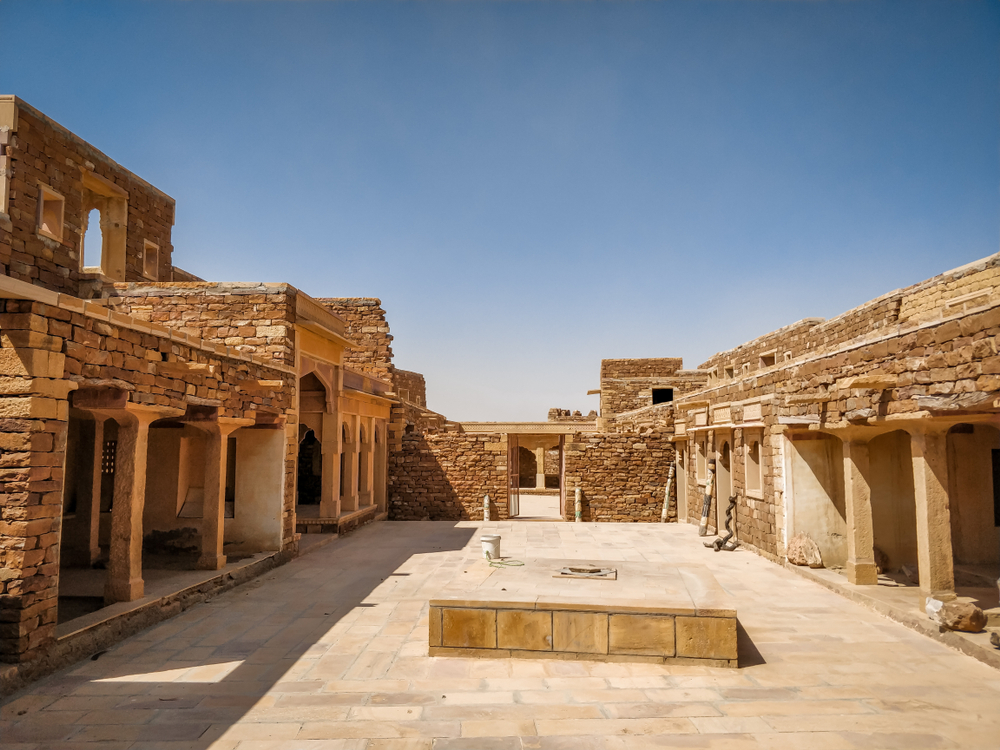 Around these golden dunes, you can spot many tourist attractions as well. From the unique architecture of forts to explore the wildlife of the desert, Jaisalmer is a haven for travellers.

1. Khaba Fort – Once known as a native place of the Paliwal Brahmins, Khaba Fort is a well-preserved architectural masterpiece. 

Overlooking the vast expanse of desert, the fort is famous for the museum and many peacocks around it. 

The professional guides will provide you a deep insight into the mystic and eerie circumstances occurred at the fort. 

Stride around the crumbling structure and explore marvellous sandstone architecture.


2. Jaisalmer Desert National Park – Housing a staggering range of birds, Jaisalmer Desert National Park is made for wildlife enthusiasts. The park is spread over an area of 3,000 square km amidst the desert.

Surrounded with a range of flora and fauna, you can easily spot camels, Bengal fox, chinkara, desert gerbil, and one of the heaviest flying birds in the world, the endangered Great Indian Bustard.

You can also take part in several fun activities like camel safari, jeep safari, and more.

3. Khuri – Looking to spend your vacation in the wonders of desert life? Khuri village is the place you should be in. It is a small village situated almost 50 km away from Jaisalmer city. It is less crowded and is distant from the commercialization. 

The USP of Khuri village would be the houses made up of mud and straws.

Tourists often visit here to experience the same. Moreover, to entice the visitors, many bonfires along with folk songs and Kalbeliya are also organized. 


4. Amar Sagar – Situated 7 km away from western boundaries of Jaisalmer, the Amar Sagar Lake is an oasis near the Amar Singh Palace. 

This place consists of various Chhatris, wells, and an aesthetically carved Jain temple.

A series of steps and a pavilion will welcome you inside the lake. It is popularly believed that the stone-carved figureheads in Amar Sagar are built to protect the royal family.

Because of these, the lake is a perfect blend of history and beauty.


Things to do at Sam Sand Dunes -

To make your trip a memorable one, indulge in these wide ranges of activities. 

1. Attend cultural shows – Many campsites around Sam Sand Dunes organize cultural programs in the evening or night.

The program showcases Rajasthani folk culture which consists of musical nights, folk dance like Kalbeliya, puppet shows, etc. 

2.Camel Safari – Your trip to the Golden City of Jaisalmer would be incomplete without a camel safari. This activity is also organized by many campsites.

This tour will give you an in-depth look at the raw beauty of the desert. Grab your binoculars and camera for a picturesque view of the desert!
3. Quad Biking in the desert – If you are looking for some adventurous activities in the desert, quad biking is the best thing to do. 
You can explore the desert life on this four-tier motorbike. Glorious golden sand, adrenaline rush, and the desert life are one of the ride's many lures. 
4. Parasailing – Imagine a view of the golden dunes from above the ground, almost 20 or 30 ft above in the air.

Yes, that's what parasailing in the desert feels like. Step out of your comfort zone and experience the picturesque view of Sam Sand Dunes. 

5. Savour the Rajasthani Cuisine – Relish the real taste of Rajasthan in between these golden hues. Don't forget to taste Daal Baati Churma, Mirchi Bada, gujia, and much more.

The cuisine tends to be spicy and loaded with clarified butter
Other Essential Information About Sam Sand Dunes


Location – Sam Sand Dunes lies 40 km away from Jaisalmer. You can find it near Sam Toll Barrier on the right side of Sam Road.
Price – It would cost you approximately INR 2000 – INR 9000 to explore the dunes.

Timings – This place is open 24 hours.
Campsites at Sam Sand Dunes - 
Searching for a tranquil stay? Here's a rundown of the perfect options for a peaceful stay near Sam Sand Dunes

Limra Desert Camp – In between the arid region of Sam Sand Dunes, Limra Desert is synonymous with an oasis. The desert camp boasts of vegetarian eateries, spacious rooms with the facility of a private bathroom and wake-up services. 

For interactivity and fun-frolic, Limra also plans a cultural program in the evening.

Here, you will witness the folk dance of Rajasthan, melodious singing shows, puppet shows and whatnot. Additionally, the desert camp also organises evening or night safaris. 

Winds Desert Camp – Famed for its beautiful ambience and polite staff, Winds Desert Camp is highly recommended by visitors. 

The desert camp comprises of a total of 20 rooms and an open restaurant. Also, it focuses on providing a royal experience too. A vast area is dedicated to several exclusive luxury tents with verandas. 

Just like most of the desert camps, Winds Desert Camp also hosts cultural programs in the evening. It is situated almost 5 to 6 km away from the Sam Sand Dunes.

Damodra Desert Camp – For experiencing royal hospitality, Damodra Desert Camp is the perfect stay. Located almost 30 km away from Jaisalmer, this desert camp promises an unforgettable experience.

This place boasts of 10 fully furnished deluxe swiss tents with a central courtyard for dancing, singing, and bonfire games.

A special deck is constructed exclusively for the photography enthusiasts. You can set up your camera and change the settings accordingly for capturing the starlit skyline of Jaisalmer.  

Dangri Desert Safari - One of its kind, this desert camp is a beautiful avenue catering to every age group. 

The scenic beauty at the tents of Dangri Desert Safari soaks up a full view of the sparkling, gilded sand of the desert at sunset.

 It is a great gathering spot for those hoping for a relaxing way to enjoy their vacation. 

They excel in serving pure vegetarian and Jain food to the tourists and is famous for its royal Rajasthani hospitality. They also hold musical nights every single day.

Rawla Desert Camp – Rawla Desert Camp is approved by the Department of Tourism as a renowned desert resort.

This place follows the concept of the eco-friendly and ethnic village to provide peaceful hospitality to the tourists.

It houses ten traditional cottages and 25 swiss tents with their desert called Rawla Desert. Rawla also hosts some terrific cultural nights which showcases the colours of Rajasthan. 

It is located right in the heart of the Great Indian Thar desert.

Rajputana Desert Camp – Synonymous to an oasis, Rajputana Desert is located opposite to the Sam Sand Dunes. The desert camp houses a total of 30 luxurious camps with private washrooms and a common dining area.

Rajputana also organizes a gala dinner, musical night, and dance shows at night.

They plan activities such as desert and camel safari trip to the sunset point. You can also plan a nearby trip to Patwon ki Haveli, Lake Gadisar, and Bara Bagh from this camp. 

You can take a day trip to these places and choose to stay back here in tranquillity.


Tips for visiting Sam Sand Dunes – 
1. Take plenty of water with you to avoid dehydration. The scorching heat can lower your glucose level too. Pack some necessities.
2. Don't forget to pack sunscreen and sunglasses for protecting your skin and eyes. 
3. During winters, the temperature around the desert can lower drastically. It can get breezy too, so don't forget to pack heavy jackets and extra woollen.
4. Don't want to miss the minor details of the desert? Carry a binocular with you.
5. To walk conveniently around the desert, wear comfortable shoes.