About Nandi Hills
Residents of Bangalore have discovered the picturesque natural beauty of a hill fortress that is located quite close to the main city.

Nandi Hills, a small albeit beautiful town, is just 60 km away from the city of Bangalore and has emerged as the perfect weekend getaway for its people. 

Even though it is most well-known for its viewpoints and its greenery, Nandi Hills is also a popular historical fortress that is home to a number of temples, monuments and shrines.
 The place was previously used by the famous ruler Tipu Sultan as a summer retreat, and several traces of the Sultan's life and legacy can be found in the area. His summer residence can still be found in Nandi Hills. 
The house was called Tashk-e-Jannat, whose painted walls, intricate archways, high pillars and artfully crafted ceilings attract tourists and visitors even today.
Nandi Hills is also home to some famous temples and shrines such as the Bhoga Nandeeshwara Temple, dedicated to Lord Shiva and his companions- Parvati and Nandi. 
This temple is also an architectural wonder and pilgrimage spot because it is one of the oldest temples in the area. 
Apart from its historical sites and heritage monuments, Nandi Hills is also famous for its trekking trails, cycling routes and adventure sports such as paragliding. It is truly the perfect place to enjoy a peaceful retreat from life in the city and take in some of the best views the countryside has to offer. 
How to Reach Nandi Hills
 From Bangalore Airport -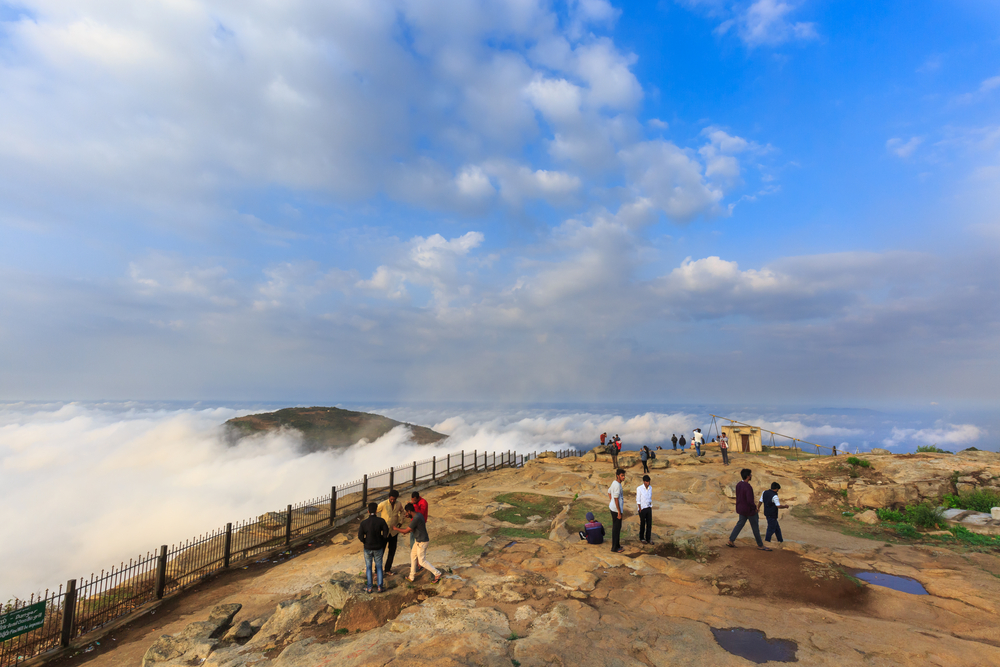 Nandi Hills is located at a short distance of 58 km from Bangalore Airport. You can find cars and taxis outside the airport willing to take you to Nandi Hills for a fixed fare.

You can also book your private cars from beforehand to avoid wasting your time finding the right car at the airport. 

There are also buses that leave from Bangalore to take you to Nandi Hills, although if you are travelling from the airport, the best option is to hire a car that will take you straight to your location.
Best Time to Visit Nandi Hills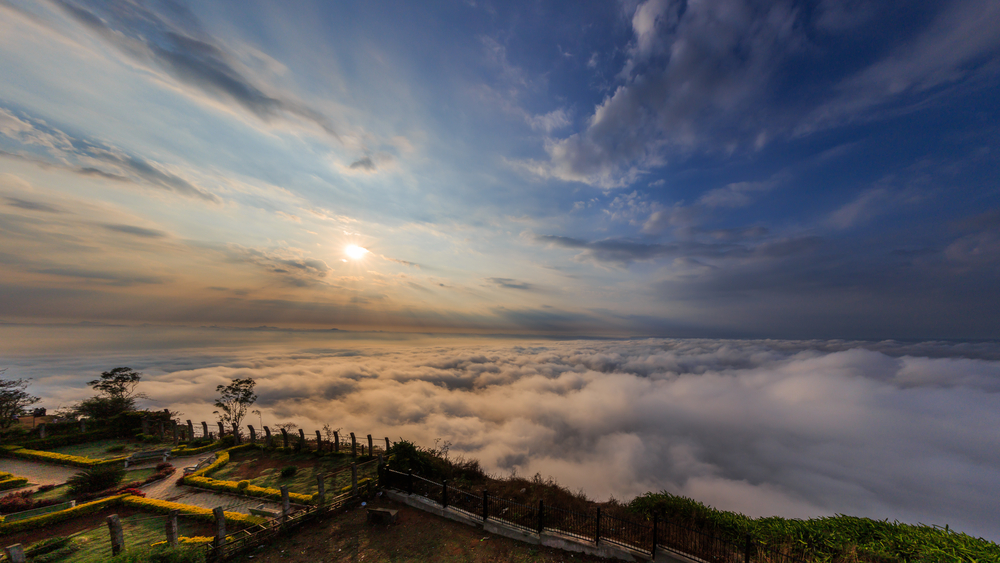 Nandi Hills sees favourable weather throughout the year, so no matter when you feel like taking a break from the city, you can plan a trip to Nandi Hills without the fear of meeting with unfavourable weather conditions.

That being said, the summers in the area can get stuffy and very warm during the afternoons. So if you are visiting in the summer, make sure your trips are organized for early morning or after sundown.

Even though a lot of people visit during the monsoon season, you might encounter heavy rainfall and slush when you go there during the rainy season.
What Not to Miss at Nandi Hills


There are a number of scenic and historic places you can check out when you are in Nandi Hills. Here are some of the places you must visit when you are in the area

1. Tipu's Drop 

A visit to Tipu's Drop is bound to leave you with goosebumps. It is a steep rock which is located 600m above sea level. However, apart from the view and the climb, what is most remarkable about this cliff is that it was used by Tipu Sultan to punish his prisoners by tossing them from the top of the hill.

Even though this place is safely fortified with fences and barricades now, it remains an intriguing attraction.

2. Bhoga Nandeeshwara Temple 

The Bhoga Nandeeshwara Temple is one of the oldest temples in the area. Despite its ancient stature, it is an example of fine craftsmanship and handicrafts.

The walls and interiors of the temple are decorated with incredible metalwork and stone carvings. The structure is supported by huge pillars and the temple itself is dedicated to Lord Shiva and his famous consorts- Nandi and Parvati.


3. Amrita Sarovar

A visit to the Amrita Sarovar is a must if you are in Nandi Hills because of its natural and man-made beauty. It is a perennial spring that has been bound on four sides with steps-like structures and archways. 

The Amrita Sarovar, or the Lake of Nectar, has been a source of fresh water for the people of Nandi Hills since time immemorial.


4. Brahmashram

This ancient cave is located on the face of a steep hill in Nandi Hills. The historical significance of the cave is that it is believed the famous priest- Ramkrishna Paramhamsa- used it for meditation when he was in Nandi Hills.

 It is not only a great sight-seeing spot but also a place to relax, unwind and take a step back to enjoy the natural serenity of the area.


Things to do at Nandi Hills -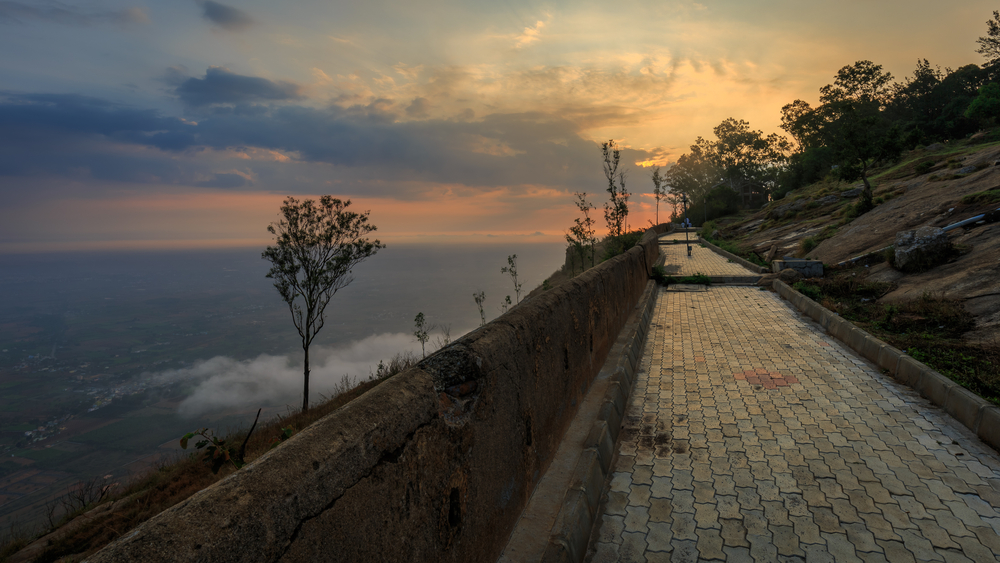 Here are some of the most exciting activities you can enjoy when you are in Nandi Hills:
1. Paragliding 
You cannot visit Nandi Hills without trying your hand at paragliding. There are only a few places in the country where you can try paragliding, and this is one of the most picturesque activities you can engage in when you are there, which involves gliding over lush green valleys and mountains. 
2. Cycling 
People find Nandi Hills almost irresistible because of the ideal conditions for biking and cycling that can be found in the area. The altitude coupled with the scenery and the well-made biking trails make it the perfect place to enjoy biking alone, or with friends.
3. Walking 
While this might not seem like such an exciting activity, it is in fact, one of the most underrated things to do in Nandi Hills.

You can discover incredible views of nature from various viewpoints, some of which are above the clouds, some on steep summits and others from cliff edges from where you can see endless stretches of greenery underneath you.

4. Visit Tipu Sultan's summer resort 
Tipu Sultan's summer resort is called the Tashk-e-Jannat, which directly translates to "the envy of heaven." A visit to his summer resort can give you a taste of history and the life of Tipu Sultan.

 It is also an architectural wonder in the area, and a great place pace to spend the day if you are in Nandi Hills.

5. Trekking 
If you are an adventure enthusiast and you prefer spending your weekend productively, you can't visit Nandi Hills without checking out one of its many trekking trails. 
The green hills, the lush jungles and the gorgeous viewpoints make for some rewarding treks. Some of the most popular treks include the day trek to Horagina Betta and the trek to Channagiri.
6. Camping 
A favourite activity amongst young people who visit Nandi Hills is camping. It is the perfect contrast to city life in concrete buildings, where you can set up camp and spend the night under the stars. 
You can camp at the foothills of Nandi Hills or even check out some high summits where camping is frequently organized.
Other Essential Information About Nandi Hills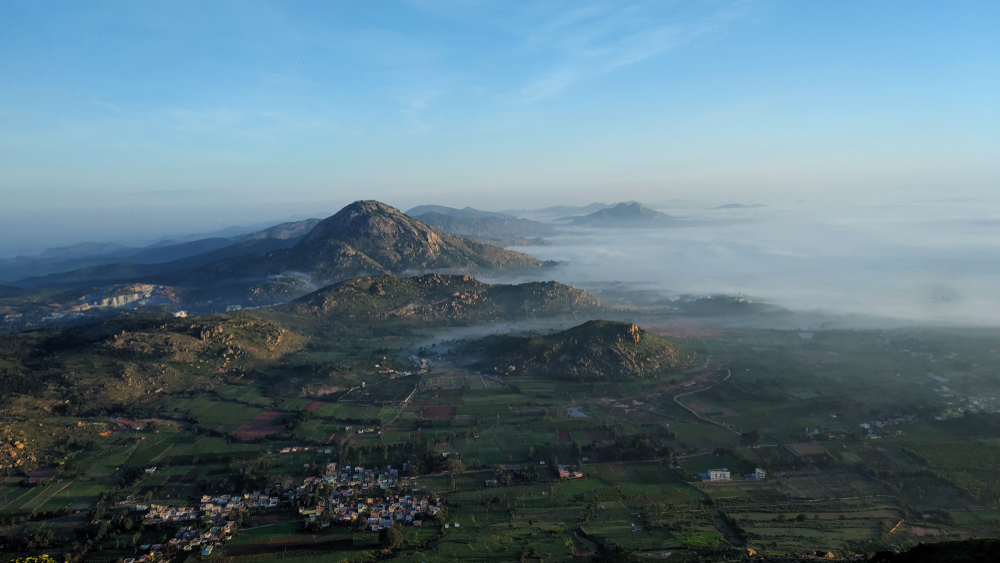 Location: Nandi Hills is located at a distance of 60km from the metropolitan city of Bangalore, in Chikkaballapur Taluk in Karnataka.

Timings: The fortress is open from 6:00 am in the morning till 10:00 pm at night. It is open all days of the week, even on public holidays.

Price: Entry price for visitors is INR 10 per person.


Restaurants in/near Nandi Hills - 
Here are some of the places to eat in and around Nandi Hills:

1. Indian Paratha Palace: Even though the name suggests that you can only get limited variations of food here, that is certainly not the case. The Indian Paratha Palace serves a multitude of cuisines, including pizzas and much more at very affordable prices. They also serve some of the best quality food in the area.

2. Olives Fine Dining Restaurant: If you are looking for something a little more luxurious and want to enjoy a fine dining experience when you are in Nandi Hills, you must check out Olives. Serving a multitude of cuisines from all over the world without compromising on quality, this is one of the most sought-after restaurants in the area. Do check out their unique drinks as well.

3. Tribal Café: This café in the hills is the perfect place to enjoy some delectable food while enjoying the beauty that your surrounding has to offer. The Tribal Café is not only a place where you can get some great food, but it is also open throughout the night if you are searching for a late-night meal.
4. Sinchana Palace Restaurant: Sinchana Palace Restaurant is one of the very few places located close to Nandi Hills that is known for its great food. This restaurant has got a humble ambience and that is perfect for an offbeat experience. The restaurant has got ample parking space to accommodate all your vehicles. 
5. NH7 Refuel:  Located on the national highway 7, this restaurant amidst the beautiful nature, is a perfect place to relish a wide range of food options. You will have Andhra, South India, North India, and continental cuisine on offer. The restaurant has also got a comfortable sitting arrangement. 
6. Gowdaru Slv Hotel Veg & Non Veg: Gowdaru SLV Hotel Veg and Non Veg is one of the most sought after restaurants near Nandi Hills to get a memorable experience. You can relish a full meal with your loved ones overlooking the picture perfect views of the enchanting hills. The restaurant makes sure that you are served with top quality food that is high on taste. 
7. Falcon Greens: Falcon Greens is one of the best spots for fine dining close to the enthralling Nandi Hills. The restaurant is situated on the airport road with a perfect view of the hills. You will come across an ultra luxury setup in this place with a perfect outdoor as well as indoor seating option. 
8. Nandi Upachar: Nandi Upachar is yet another loved restaurant located on the Bangalore - Hyderabad Highway. It is very much popular for its delicious food and high class service. You will surely be able to delight your taste buds by having delicious food at this place during your excursion to the Nandi Hills. 


Places to stay near Nandi Hills - 


Nandi Hills is frequented by a lot of visitors, which has led to the development of some great accommodations in the area. Here are some of the best places to stay when you are in Nandi Hills:
1. Mount Palazzo 
Mount Palazzo is a luxury resort with a swimming pool and multi-storeyed floors. You can enjoy food from their in-house restaurant and take advantage of their many modern amenities such as free parking, free internet and much more.
2. Village Studio Resort and Spa 
This hotel offers to take care of all your needs, whether you want a spa, a massage, a well-equipped room, or some great food.
 It is the perfect place to spend your holidays being pampered and taken care of in the best possible way.
3. Valley of the Wind 
Valley of the Wind is a homely and comfortable stay in Nandi Hills which offers luxury treatment and amenities at affordable prices. You can enjoy their well-equipped, well-furnished rooms, bathtubs and even their swimming pool, which can be found on the property itself.
4. Pomona Farm 
If you want to enjoy the true natural beauty of Nandi Hills, you must book a stay at Pomona Farms. It is a one storey accommodation surrounded by several acres of lush greenery and undisturbed nature.

It has all the modern facilities on the property including parking, a swimming pool, free internet and much more.


Tips for visiting Nandi Hills -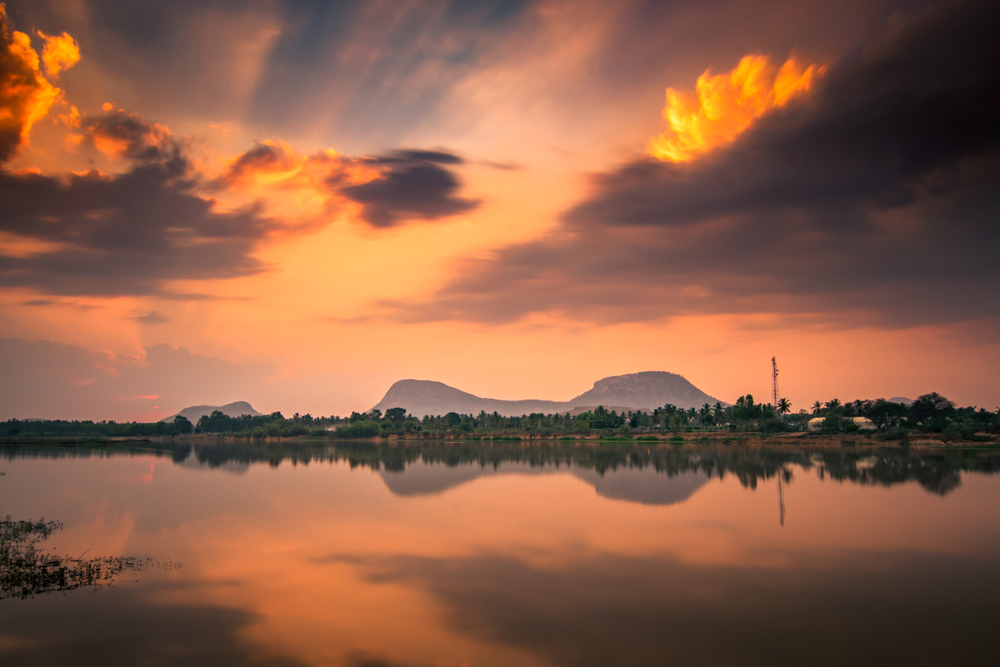 Here are some useful tips you might find handy during your trip to Nandi Hills:
1. You might encounter monkeys during your trip. It is best that you avoid feeding them because afterwards, they might turn into a nuisance.
2. The windows in your cars should be rolled up during your road trip through the area.
3. It is important to keep in mind that it becomes dark quite soon in Nandi Hills. The sun here sets by 6:00 pm, so if you are travelling with children or valuables, it is best to return to your hotel before dark.
4. Make sure you carry raincoats, a couple of jackets, binoculars and a camera when you are travelling to Nandi Hills.