About VGP Universal Kingdom
Standing proudly on the Eastern coast of Chennai is the VGP Universal Kingdom, the largest water park in Chennai. With its plethora of rides, attractions and other amusement options, the Water Park offers a fun and educational entertainment for people across all ages. VGP Universal Kingdom came into existence as early as 1975, way before Amusement Parks became a commonplace notion in India. The late founder of the Park, Shri V G Paneerdas, conceptualized a new form of leisure, entertainment, and brought his vision to fruition with the construction of the VGP Universal Kingdom.

Primarily built as an entertainment sector, the park was later converted into a full-fledged Theme Park in 1997, and is now the largest amusement park in all of India. Sprawling across a vast 45 acres of land, VGP Universal Kingdom boasts of more than 50 amusement rides, a water Park, a Snow Kingdom, a fully equipped private beach, a Petting Zoo and three restaurants to its name.

The rides are segregated by their difficulty levels, and the park provides attractions catering to people of all ages. The amusement park often hosts live shows and events, bringing performers from around the world to present a gala of music, dance, theatre, puppetry and much more. The live shows usually take place during the weekends, public holidays or on special days like New Year's Eve. VGP Universal Kingdom also has a mascot of its own- Kutti Raja- who, with his retinue of Sepoys, is bent to deliver the best of entertainment and fun to the younger visitors of the park.
How to Reach VGP Universal Kingdom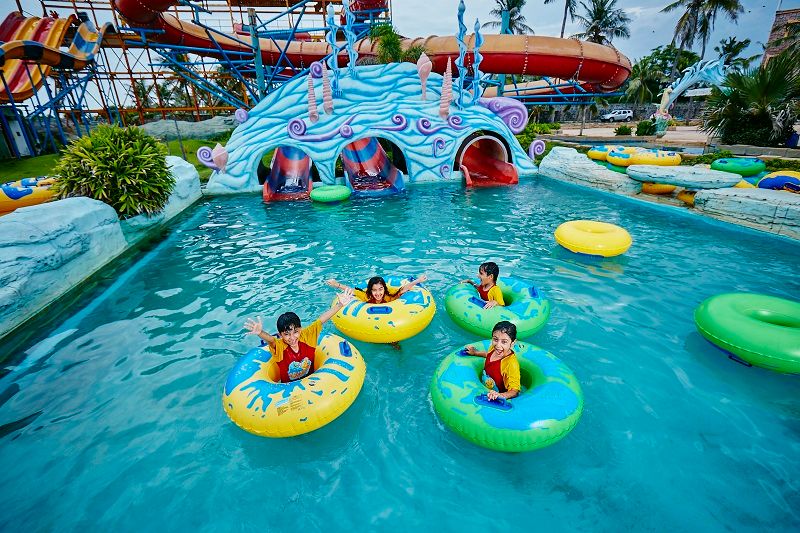 By Train: The nearest railway station to the Park is the Chennai Central Station. From here, one can take a cab or a taxi, or drive to the water park, which would take around 20 minutes. 

By Air: The nearest airport to the VGP Universal Kingdom is the Madras Airport. From here, one can take a taxi or a cab to the Park, which takes around 22 minutes. Alternatively, one can take the Route 119 bus, which stops directly at the gate of the Universal Kingdom.

By Road: VGP Universal Kingdom is well connected to all parts of the city by road. It is easy to reach here by taxi or cabs. There are also several buses that travel directly to the VGP Universal Kingdom, such as Route 119, Route 19H, Route 599 or Route 109.
What Not to Miss at VGP Universal Kingdom
Attractions in VGP Universal Kingdom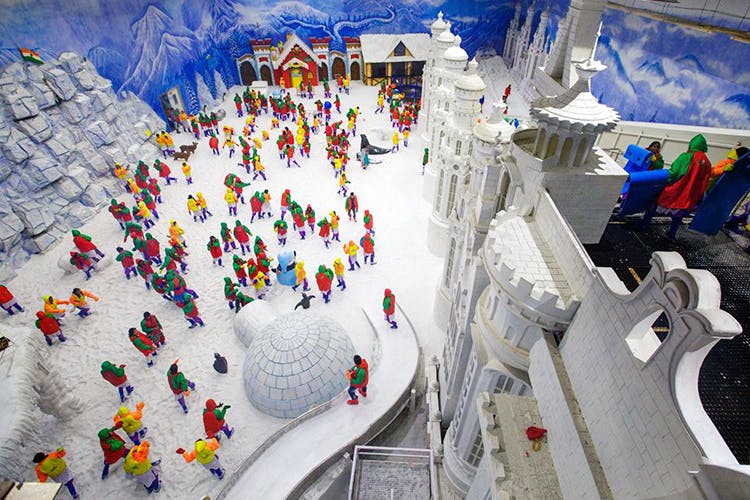 1. Petting Zoo: This petting zoo allows children to get down on all four hands to pet their furry friends. The zoo houses several domestic species such as goats, ponies, sheep and pigs, and allows guests to pet, feed and play with the animals.


2. The Statue Man: Inspired by the Queen's armed guards, the Statue Man has been a popular attraction at the Universal Kingdom since 1975. Dressed as a guard from the Chola Kingdom, the Statue Man barely moves a twitch as he stands proud and erect near the gate.


3. Beach: The Universal Kingdom has a private beach of its own, that allows its visitors to hire private cabanas and unwind in them after a long and tiring day. One can choose to bathe under the sun, or even enjoy the cool of the rolling blue waves at the private beach.


4. Snow Park: VGP Universal Kingdom houses the largest snow theme park in India. Escape the heat of the sun in this zone of sub-zero temperature, and enjoy snowball fights, sledging and trekking across the thick snow-laid land.


5. Paneer Fort: Inspired by Chola architecture, this fort was built in the year 1990 as a tribute to the late founder, Shri V G Paneerdas. The fort comprises of 108 pillars, each pillar depicting a famous character from ancient Tamil literature.


Places to Visit Near VGP Universal Kingdom


1. Ashtalakshmi Temple: The Ashtalakshmi Kovil is a Hindu temple located on the shorelines of Elliot Beach in Chennai. The temple is dedicated to Goddess Lakshmi in all her eight forms. The architecture is modelled after the Sundararaja Perumal Temple in Uthiramerur and contains nine separate sanctums housing the idol of the deity in all her eight forms.


2. Snow Kingdom: Snow Kingdom by ECR Chennai is the largest snow adventure park in all of India. The park provides respite from the sultry Indian heat with its authentic snowfall and icy atmosphere. The Snow Kingdom has a Snow Discotheque, and offers Tobogganing and Rock climbing opportunities to its visitors. Visitors can also engage in other snow sports such as sledding, snow volleyball and sleighing.


3. Phoenix Marketcity: Established in 2013, Phoenix Marketcity is Chennai's largest shopping complex. The mall features outlets of high-end brands as well as local ones and is a shopper's paradise with its variety and range. The mall also features an 11 screen IMAX outlet and has a residential area towards the posterior end.


4. Cholamandal Artists' Village: Located only a short drive away from VGP Universal Kingdom, in the hamlet of Injambakkam is the  Cholamandal Artists' Village, the largest artists' commune in India. There are about 20 painters and sculptors who live in the village and hone their skills.

These artists have been credited with the advent of the Madras Art Movement in India, and their works have been recognized as some of the best art produced in postwar India. The community was established in 1966 by KCS Paniker, the Principal of the Madras School of Art, in collaboration with some students and other skilled artisans.
Other Essential Information About VGP Universal Kingdom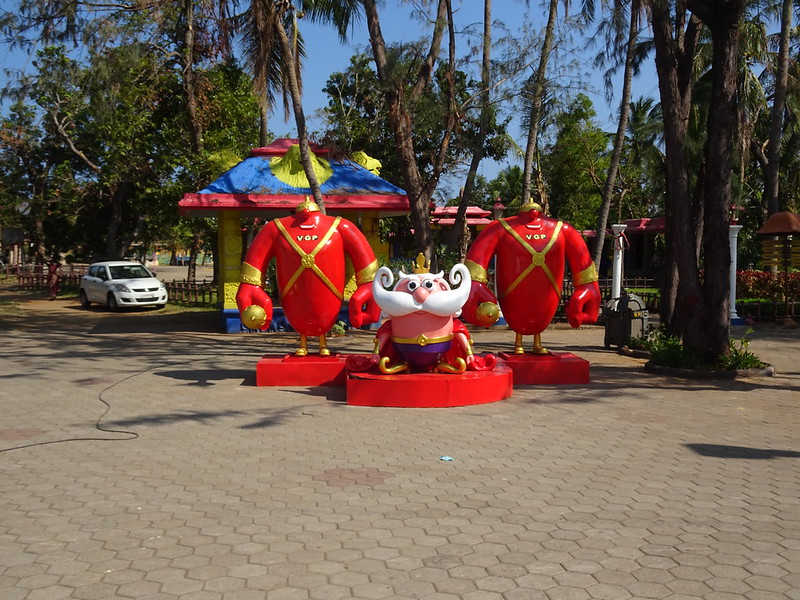 - Location: VGP Universal Kingdom, East Coast Road, Chennai - 600 041

- Timings: The park remains open between 11.00 AM to 07.30 PM on all days of the week.


Medical Facilities at VGP Universal Kingdom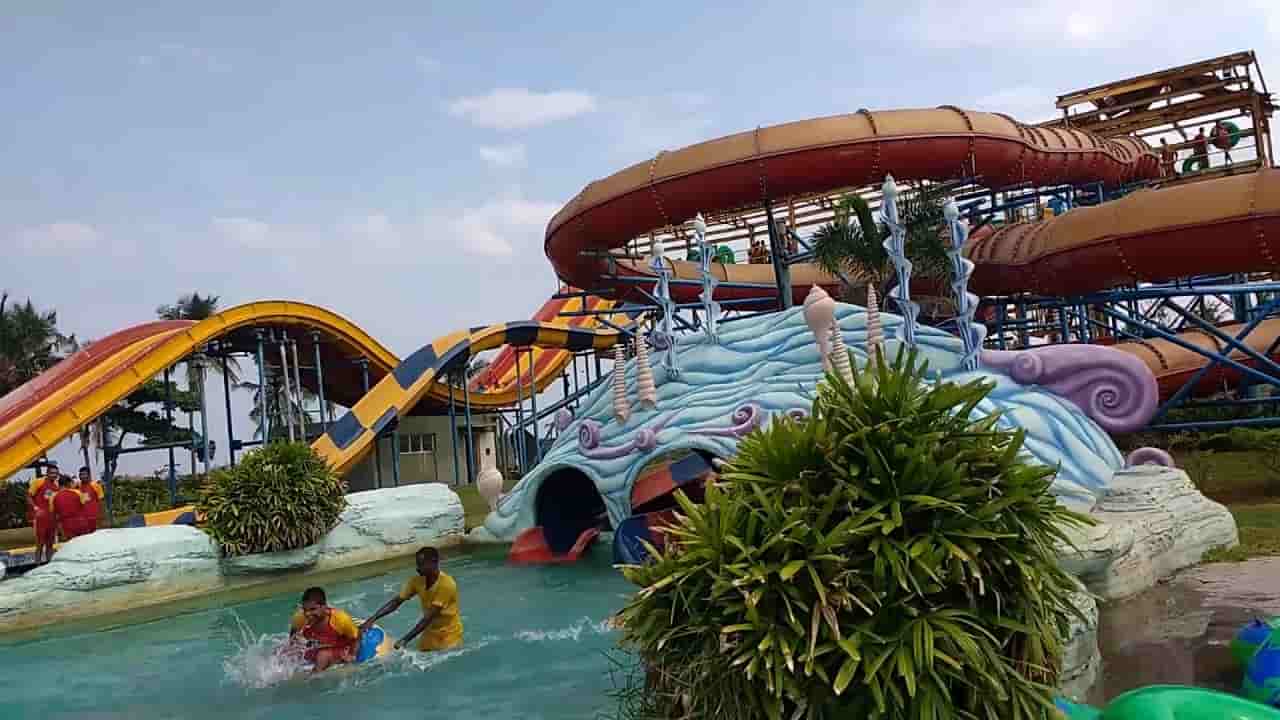 The park provides medical facilities to its guests. The first aid booth at VGP is located right next to the Aqua Park entrance. It also provides wheelchairs on rent, against a charge of Rs. 100.
Rides at VGP Universal Kingdom
Thrill rides:

- Roller Coaster: The traditional roller coaster, plunging its riders from a height of above 35 feet into the Earth that is ready to greet them below.


- London Bull: The traditional bull ride, tests one's strength and power of holding onto the rapidly moving and rotating bull.


- Go Kart: This self-controlled ride allows one to navigate through the kart lanes at breakneck speed.


- Horror House: Designed as a mystery horror exhibit, the Horror House invites guests to navigate through jump scares and horror situations scattered across the rooms.


- Top Gun: This typical drop ride elevates riders to a height of several feet above ground level and then releases them in a vertical drop.

Family Rides:

- Tea cup: This traditional family ride is designed especially for children, where one can navigate across wooden platforms in self-operated teacups.


- Ferris Wheel: A popular fair ride, this Ferris Wheel is well-loved by riders of all ages alike.


- Mermaid Ship: The Mermaid Ship is a swinging pendulum ride, rising to the extreme heights in either direction before coming to a standstill midway.


- Carousel: Loved by people of all ages, this carousel rides offers horses and carriages to be ridden on, accompanied by carousel music.


- Dashing Car: Navigate your way through a crowded car plaza, or crash into your neighbours as they drive past you- the dashing car ride is loved by all!

Kids Rides:

- Tiny Tots Express: This miniature toy train is designed only for children, navigating a track spread across the park.


- Jumping Frogs: Hop into the frog-shaped carriages as the frogs hop into the air and back again, offering a thrilling bumpy ride.


- Mini pirate ship: A miniature version of the larger Pirate Ship Ride, this eight-seater ride takes the young riders across a swinging pendulum journey.


- Water Duck: A special children's attraction of the dry park, the Water Duck ride ferries children on duck's backs across a sand pond.


- Mini Chair-o-plane: This thrill ride is designed especially for kids and consists of a flyaway merry go round chair system.

Water Rides:

- Rain Dance: Rain Dance offers an indoor platform to move and groove to hip beats in the accompaniment of sprinklers set off from all directions.


- Aqua Racer: The Aqua Racer Ride is built especially for thrill-seekers and is not suitable for the faint of heart. The ride consists of three lanes, where one must slide along headfirst into the pool that waits below.


- Wave Pool: This family pool ride allows you to enjoy the swell of the artificial waves as they rise and fall to the accompanying music.


- Water Chute: This thrill ride is merely a smaller roller coaster in water. The ride raises the rider to a height of about 50 feet and then drops them into the icy water below.


- Float Slide: This slide attraction allows you to slide down on a raft with a partner.


- Tornado: This family ride offers a four-seater raft which whirls down a closed tunnel into the water below.


Places to Eat at/near VGP Universal Kingdom


1. Kokommo Tiki Shack: Housed within the InterContinental Chennai Resort, Kokkommo is a tiki shack and bar, inspired by the song by Beach Boys of the same name. This beachfront shack combines Indian food with continental techniques of cooking and is an absolute treat to the palate. The Shack is also known for its selection of retro music, befitting its ambience.


2. Al Reef Restaurant: Al Reef in Chennai is known for their offer of Indian and Asian cuisine. This pocket-friendly restaurant, with its accommodating menu and drinks list, is known for its hospitable staff and prompt service. Al Reef provides Halal options as well upon request.


3. Bhangra Punjabi Dhaba: Catering to diners till midnight every day, Bhangra is a casual dining restaurant in Chennai known for its North Indian delicacies. The restaurant is popular for its stylish preparations and elevated style of cooking. The Butter Chicken served at the Dhaba is an absolute must-try.


4. Sea Through Restaurant: Housed within the Universal Kingdom itself is the Sea Through Restaurant, offering delectable South Indian preparations. The purely vegetarian restaurant offers splendid views of the sea to the diners and is the origin place of the Family Dosa, now a popular dish across the country.


5. Golden Chakra: Another venture of the Universal Kingdom, the Golden Chakra is an indoor multi-cuisine restaurant, offering Mughlai, Indian, Continental and Chinese preparations. 


Attraction Pass Types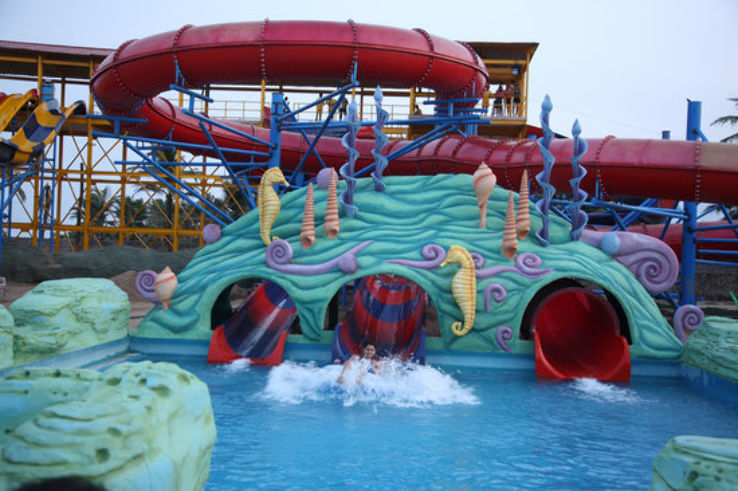 The Tickets for the Kingdom are priced at:


- For adults: Rs. 600

- For children below the height of 120 cm: Rs. 500

- The ticket includes access to all the rides in the Dry Park as well as the Aqua Kingdom. The park also offers special discounts for group bookings.

Traveller's Tips to VGP Universal Kingdom


1. Please secure all loose items, such as mobile phones, change and wallets before getting on a ride


2. Do not attempt dangerous or hectic rides if you have a heart condition, an illness or are pregnant.


3. Please check the height requirement before getting on to a ride.


4. Please use the safety equipment provided for every ride and do not attempt to loosen the restraints.


5. Please remain seated unless you are instructed to safely alight from the respective ride.


6. Make sure your children understand the safety rules and guidelines while on the ride.