About Semmozhi Poonga
Based in the glorious metropolis of Chennai, Semmozhi Poonga is a lush botanical garden established by a collaboration between the Horticulture and Agricultural Engineering Department of Tamil Nadu. Conceived in 2010, the magnificent Garden is the first botanical Garden of Chennai. The Garden is vast covering an area of about 20 acres and is situated at the Cathedral Road. The Garden is home to temperate and tropical flora and distinct plant species.

It is filled with both native and exotic plants including a variety of bonsai species, shrubs, medicinal herbs and aromatic stems. It is an ideal place to spend one's weekend in if one is a nature lover or botany enthusiast. Semmozhi Poonga is divided into eight sub-gardens showcasing plants of specific varieties such as bonsai, herbal, exotic, tree court and mural walk. The colourful Garden is a feast for all the senses of the mind.

Contrasting natural shades and alluring natural fragrances blend into each other and make a paradise-like scenario. The Garden is also famous for its contrived duck pond and a beautiful golden garden featuring flowers of different shades of gold. Replete with attractions including water and rock garden, fern garden and butterfly garden, the Park is graced with twenty-five thematic gardens. A plethora of rare plant species and natural bounties from all over the country feature in this unique Garden which makes it the perfect site for exploration and education.
How to Reach Semmozhi Poonga


One can take various alternatives to reach Semmozhi Poonga. 

By Air: The Chennai Airport is located at a distance of about 14 km from Semmozhi Poonga. The airport receives flights from all over India and even abroad. The distance between the airport can be covered in a taxi or bus. 

By Bus: Being situated in the heart of the city, the Garden is accessible to all main city bus routes. One can board a bus from any part of Chennai to reach Semmozhi Poonga. Buses are much more affordable than cabs.

By Road: Several taxi services are available in Chennai for hire. One can avail of this service and reach Semmozhi Poonga with comfort and safety. 
Best Time to Visit Semmozhi Poonga
The Botanical Garden is filled with many seasonal species of plants. The Park hence has to offer different things in different seasons.

Summer: Lots of tropical flowers bloom during the summer season in Semmozhi Poonga. However, Chennai's heat makes it a little tricky and exhausting to explore the Park to its full potential. The summer lasts from March to June in Chennai. 

Winter: The best time to visit the Park is during the winter season that lasts from November to February in Chennai. The city enjoys cooler temperatures during winters ranging from 20 to 25 degrees celsius. Temperate flowers and shrubs grow during this season as the city gets flooded with a fresh sea breeze. 
What Not to Miss at Semmozhi Poonga



1. Arulmigu Kapaleeswarar Temple- Located at a distance of about 3.6 km from Semmozhi Poonga, Arulmigu Kapaleeswarar Temple is a Hindu place of worship dedicated to Lord Shiva. Lord Shiva, the supreme deity in Hindu mythology is worshipped here with his consort Goddess Parvati in her Karpagambal incarnation. The temple is colourful and holds high cultural significance in Chennai. Its architecture is the signature of South Indian building styles. 

2. Government Museum of Chennai- Located at a distance of 2.5 km from the Garden, Government Museum of Chennai is a trip to the quaint town of nostalgia. Established in 1851, the museum is the second largest museum in India. This museum of culture and human history is filled with antiquities of Roman, European and Indian origin. 

3. Vivekananda House- Located at a distance of about 4 km from the Park, Vivekananda House is a highly significant landmark in Chennai that celebrates Swami Vivekananda's nine-day stay at the site after his glorious return from the West.

4. Chetpet Ecopark- Stationed at a distance of about 4 km from Semmozhi Poonga, Chetpet Ecopark is a blooming orchard built around a lake. Equipped with a children's play area, canteen and multilevel parking, Chetpet Ecopark is one of the most well-maintained parks in the city.
Other Essential Information About Semmozhi Poonga
- Location: Semmozhi Poonga is situated in Cathedral Road, Ellaiamman Colony in Chennai, Tamil Nadu, 600086.

- Timings: The Park is open to visitors from 10 AM to 7 PM all days of the week.

- Entry fee: The entry fee of the Park is INR 15 per adult person and INR 10 per child. Those who visit the Park daily can also subscribe to a monthly pass which costs INR 150 per person. 


Places to Eat around Semmozhi Poonga
Semmozhi Poonga is situated in the center of Chennai which is not only the geographical but also the food capital of Tamil Nadu. 

1. Lotus Thai-
Located at a distance of about 3 minutes from the Park, Lotus Thai is a fine dining restaurant specializing in Thai cuisine. The interiors are designed in traditional Buddhist style, which gives the place a quaint, minimal look. The restaurant is known for its kind staff and quick service. 

2. Aqua- 
Located at a distance of only 1.3 km from Semmozhi Poonga, Aqua is a great fine dining restaurant known for its poolside seating style and refreshing ambiance. This vegan-friendly restaurant offers guests the luxury of spending summers next to a brimming water body while eating the most delicious meals.

3. Mandarin Chinese Restaurant-
Located at a distance of only 500 m from Semmozhi Poonga, Mandarin Chinese Restaurant is an authentic Chinese cuisine restaurant known for its delicious food and inviting decor. It is a casual dining restaurant known for its simplistic Chinese interiors and fast service. 

4. A2- the Park Chennai-
This fine-dining restaurant known for its classy decor, lip-smacking meals, and refreshing drinks, is located at a distance of km from Semmozhi Poonga. Famous for its Sushi, Japanese, and Asian cuisine, this renowned food joint has a diverse menu of both vegetarian and non-vegetarian options. 

Traveller's Tips before visiting Semmozhi Poonga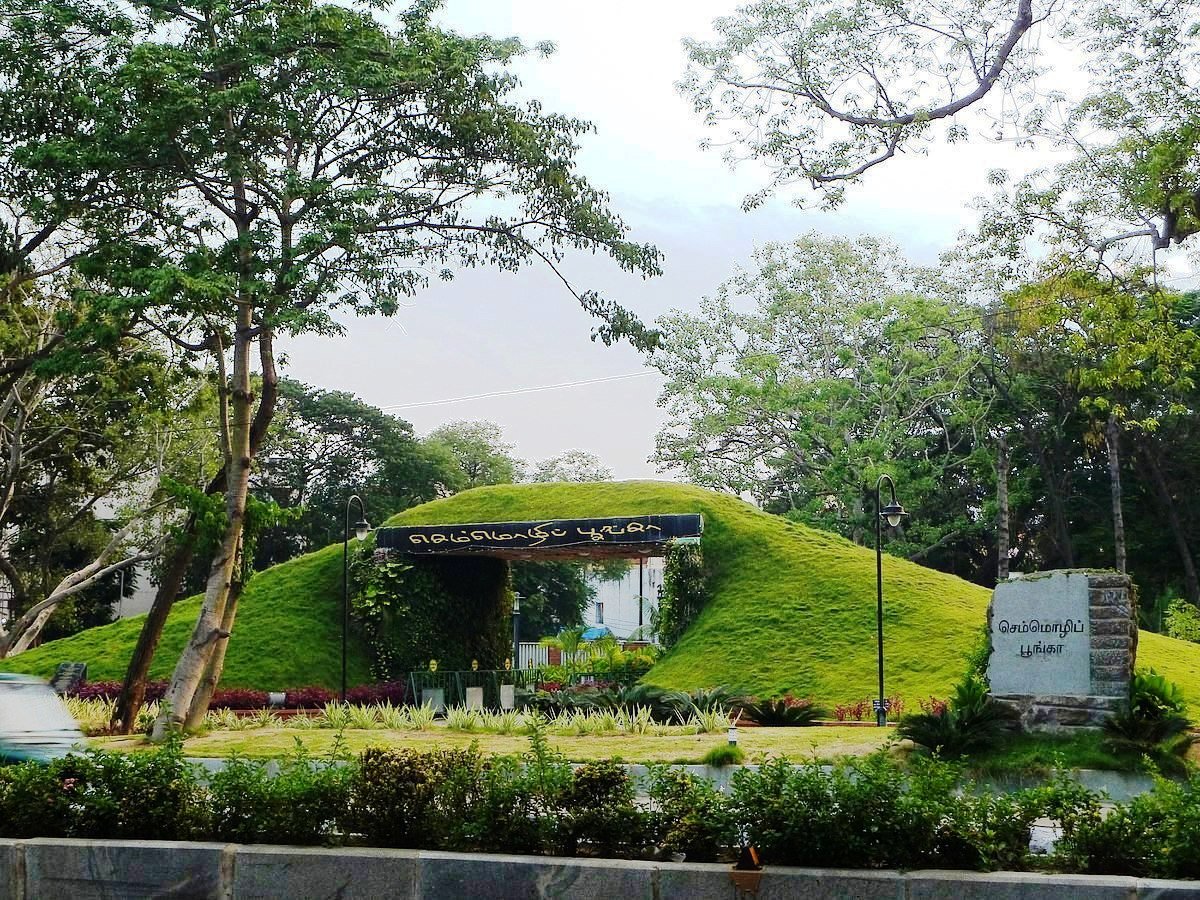 1. Make sure you do not carry any food or drinks inside the premises as they are strictly prohibited.


2. Do not carry any plastic bags inside the Park.


3. Do not litter the site as it is crucial to maintain the sanctity and cleanliness of the natural reserve.


4. Do not touch any plants or pluck any leaves, stems or flowers.


5. Carry sunscreen and protective lotion and apply it as frequently as possible to counter the heat of Chennai. 


6. Plan your trip forward so that you have ample time and resources to explore the Park fully.