About Rajmachi Fort
Are you looking for a place where you can spend a weekend in the lap of nature's unbound beauty and participate in some engaging fun activities? If so, Rajmachi Fort has to be in your bucket list for next holiday trip.

The historical fort dating back to the time of the great Maratha ruler Chatrapati Shivaji is located amidst the lush green Sahyadri range and is one of the most sought after trekking destinations in Maharashtra where you can experience nature at her varying moods.

The trekking trail to Rajmachi Fort abounds several waterfalls, deep gorges and valleys, quaint villages, waterways and many more to feast your eyes on. To get a first hand experience of this amazing trek you should have a fair knowhow of the place and the pros and cons of Rajmachi Fort trek.
How to Reach Rajmachi Fort
Rajmachi Fort is located in the middle of the Mumbai- Pune highway and is connected by road and rail network with the major cities of India. Before you embark on your Rajmachi Fort trek a rundown of the best accessible routes are provided below:

By Train: (From Mumbai, Pune, Lonavala)

From Mumbai you can get a local train to Pune and get down at Karjat. From Shree Ram Bridge at Karjat, hire a shared auto to reach Kondana village. It is the base of Rajmachi trek from where you have to walk for around 3-4 hours to reach the summit.

Another easy route is to take the Udayan Express at 8.10 a.m. from Dadar station and reach Lonavala at around 9.30 a.m. From there rickshaws are available till Tungarli Dam which is about 4 km from Lonavala station. The rest of 16 Km from Tungarli to Udhewadi base village has to be covered on foot.

By Bus: (By car, by bike) (From Mumbai, Pune, Lonavala)

There are two road routes from Mumbai up to Rajmachi. From Mumbai you can drive up to Kondhane side and trek a longer distance for 3- 4 hours to reach Rajmachi.

The other route is from Pune/Lonavala where you have to drive till the Udhewadi base village and trek a shorter distance for 30-40 minutes. Both the roads are a bit rough and the Pune route is more hazardous during monsoon.

By Air: (From Mumbai, Pune)

The nearest airport to Rajmachi is Mumbai International Airport which is connected to the major cities of India and abroad by regular flights. From the airport you can take a train or bus to Lonavala or Karjat. The Pune International Airport also operates regular flights to the major cities of India and abroad and is at a distance of 173 Km from Rajmachi.
Best Time to Visit Rajmachi Fort
The best time to visit Rajmachi Fort is between the months of June- September when monsoon sets in full swing and the entire region takes on a mystic charm being drenched in rain.

Summer season: March to May is the summer season when the temperature ranges between 21- 35 degrees Celsius.

Monsoon: Monsoon sets in Rajmachi in June and continues through September. Temperature ranges between 24- 29 degrees Celsius and the entire landscape is covered under a blanket of greenery.




Winter season: Winter in Rajmachi is quite pleasant and being a dry season, it is convenient to walk along the forest trails. Winter is also the perfect time for outdoor camping and stargazing when the outside temperature comes down to 17 degrees Celsius.
What Not to Miss at Rajmachi Fort
Rajmachi Fort offers a lot of exciting activities in and around.. Being located in a picturesque hilly region the place invites a number of adventure and nature lovers to embark on various adventurous activities or just appreciate the scenic charm of the surrounding landscapes.

A few places of interest and things you can do in your Rajmachi Fort trip is given below:


Places to visit around Rajmachi Fort
Rajmachi Fort is a must-visit trekking destination in Maharashtra which allures tourists for an exquisite panoramic view from the Rajmachi Point and its association with the legendary Maratha emperor Shivaji. Trekking to Rajmachi Fort is never complete without taking a tour around the prominent places of interest near Rajmachi Fort. Check out for some of the places that must have a place in your bucket list:

Tungarli Lake- A popular weekend getaway and picnic spot, the dam is located in Tungarli village amidst the majestic Sahyadris. The dam was initially constructed with the objective of providing irrigation facilities to the entire region of Rajmachi. Later, it became a coveted tourist spot for trekking, camping, and an outdoor picnic.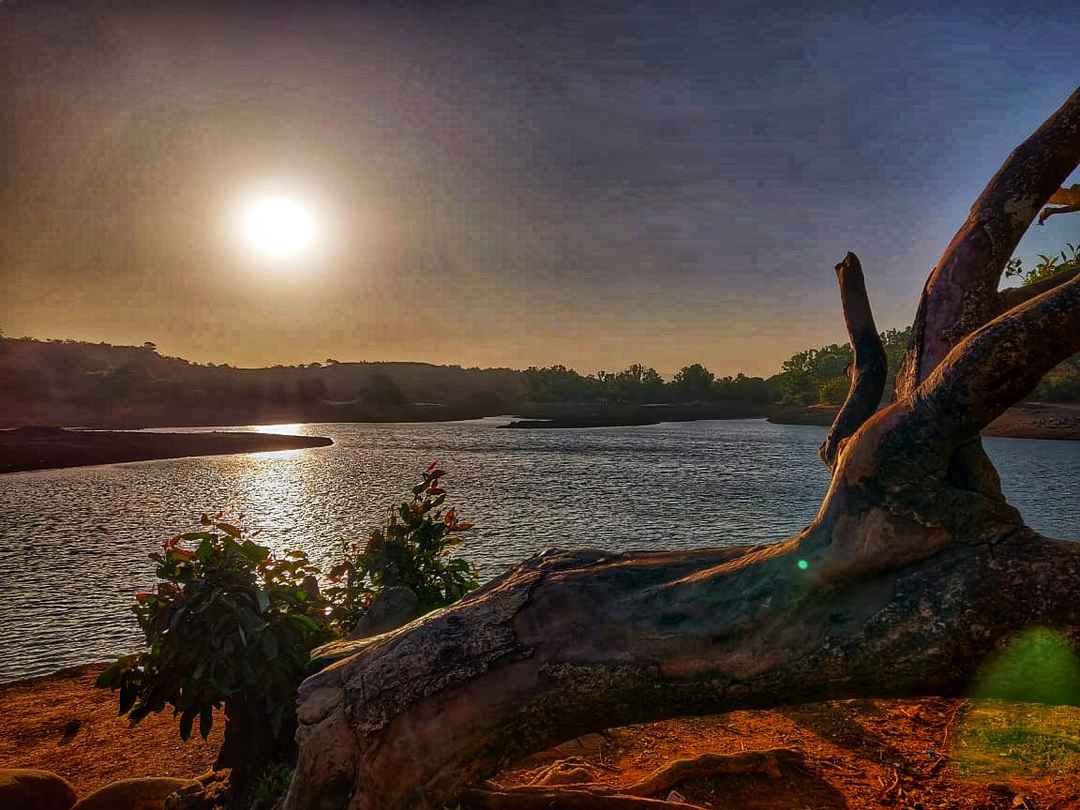 Valvan Lake- Located just about 10 km from Lonavala, Valvan village is an idyllic hamlet and a well-known tourist destination of Maharashtra abounding a number of waterfalls and spellbinding natural beauty to allure nature lovers and shutterbugs. The quaint hamlet is nestled within the twin hills of Shreevardhan and Manoranjan.

Ryewood Park- A sprawling picturesque garden located close to Lonavala is home to some rare species of trees dating back to several hundreds of years back. According to popular belief, the garden is named after Mr. Rye, an English army officer who lived in this place for many years. Some others believe that the name Ryewood is derived from the word "rai" which means thick forest.

Tiger's leap- If you look at the valley from an angular distance it gives an impression of a leaping tiger. On a sunny day the 650 metres side view of Tiger's Leap is a sight to behold. It is recommended not to go too close to the edge and watch the view from a designated viewing point. From here to and fro buses to Khandala are available.

Kune Waterfall- A marvelous crown of cascading water plunging 200 metres down a plateau is a must visit place in Lonavala. Kune waterfalls is one of the highest waterfalls of Maharashtra originating from the Khandala Ghats. The three-tiered waterfall takes on a breath-taking appeal during monsoon when the hilly terrains are covered with dense green foliage. Kune Waterfalls is a popular weekend destination and picnic spot for the local people.


Things to do around Rajmachi Fort
Pawna Lake Camping- It is one of the most visited artificial lakes and a popular campsite in Maharashtra located about 10 Km away from Kamshet on the Mumbai– Pune Highway. The serenity and breath-taking charm natural beauty makes your camping experience rewarding in the true sense. Pawna Lake campsite packages come with sightseeing campfire with music and dinner. During monsoon waterproof tents are provided to the tourists for night stay.

Picnic at Bhushi Lake- It is one of the largest lakes and a popular weekend getaway in Maharashtra. A series of cascading waterfalls flowing into the lake during monsoon renders a surreal beauty to the surroundings. There are shops in the nearby village providing snacks and refreshments to the tourists and trekkers of Rajmachi Fort

Trekking to Rajmachi Fort- Rajmachi fort trekking gives you a unique tour experience through the most pristine unspoilt trails of Maharashtra. Located in the Karjat region amidst the Sahyadris the ancient fort can be reached via two ways- one is along the Kondivade village which is the less traded route and the other most accessible route is from Lonavala which offers you wonderful experiences of sightseeing along your journey. Atop the ancient Rajmachi Fort which dates back to the 17th century you can enjoy panoramic view of Borghat and its surroundings.

Paragliding in Kamshet- Enjoy an exhilarating flying session under the surveillance of certified pilots and other paragliders in Kamshet. The beautiful valley is located about 46 Km from Pune skirted by the verdant Sahyadri Range on all sides.  There are 3 different categories of paragliding courses namely- Classic Tandem, Instructional Tandem and Acro Tandem.

Explore Bhaja Caves- The Bhaja and Karla caves are a must visit site of attraction in Khandala. Located a little away from the main city, the caves reflect Buddhist influence on their architectural style. The pillars and walls of the cave temple are decorated with carvings of Lord Buddha depicting various stories related to his life. The caves also have their own "vihara" and "chaitya" where the monks offer prayers to Lord Buddha. 
Other Essential Information About Rajmachi Fort
Some essential information you must take into consideration before planning your trek to Rajmachi Fort is given below:

Mobile Connectivity: During trek mobile connectivity is very poor and you can expect hardly any network to make any call. Sometimes there is strong signal for sending messages or making calls. But sometimes the connection vanishes away. So, it is recommended that you should make urgent calls or send important messages  as soon as you receive the signals.

ATMs: There are ATMs of Union Bank, IDBI Bank, Vijaya Bank, State Bank of India, Bank of India and several other banks near Rajmachi.

Food Joints: You will come across a number of food joints where snacks, beverages and meals are available for tourists. You can enjoy refreshments in these eateries given below en route Rajmachi trek:

Duchess Restaurant

Creme Della

Parsi Dhaba

Shree datta Snacks

Cafe 24- Della Resorts

Fusion

Germaan Bakery Wunderbar

Minimum Duration for Visiting Rajmachi Fort

Under usual circumstances it takes about 2-3 hours to visit Rajmachi Fort. But, depending on your level of fitness and interest to know about the historical place in details it may require a little more time.