About Queens Land
A total crowd pleaser, the Queens Land Amusement Park in Chennai is amongst the most favourite tourist attractions in the city. Located on the Chennai-Bangalore Trunk Road, this popular holiday spot, is spread across 70 acres, and was established in early 2003. The park is also quite beautiful, with lush greenery and scenic landscapes all around.

Catering not just to children, but also to teenagers and adults, Queens Land also boasts of a great water park within its premises. Moreover, it has 51 great rides, out of which 33 are for adults and 18 for children. These rides are spread across water as well as on dry land, and are great fun. Some of the exciting rides here include Free Fall Tower, Roller Coaster, Alpen Blitz, Cable Cars, Himalayan water Rides, Boating, as well as the Centrox and the American Wave Pool.

Additionally, the park also has a great swimming pool along with a pirate ship, bumper cars and go karting, which make the park even more enjoyable and fun.The park is worth every penny, since it is a great place to spend a day out with your near and dear ones. Along with the rides, you can also have a great picnic here, while enjoying the enthralling atmosphere of the park. 
How to Reach Queens Land
Queens Land Chennai is located in the Poonamallee area of the city. If you are in the city, you can take one of the many buses departing from the T. Nagar Bus Depot to reach Queens Land. The stop here is known as the Queens Land Stop.

The MTC Chennai buses which you can take are S554, S525, S549, S578, S553, S582, S502, S565, S565A, S591A, S562A, S591B and S591. All of these buses stop at Queens Land in their daily routes. When travelling by a metro, the nearest station to Queens Land is the Tambaram Station, located around 16 kilometres away from the park.
Best Time to Visit Queens Land
The best time to visit Queens Land Chennai is between the months of March to May, during the summer season. This is when the temperatures rise up to over 40 degrees Celsius in the city, making the water rides even more worthwhile and cooling. The less crowds also make a visit to the park in summers more bearable. 


Additionally, from November to February, in the winter season, the park is a great place to visit, where you can enjoy a great day with family and friends. During this time, the weather remains great for picnics as well as the rides.
What Not to Miss at Queens Land
Places to Visit around Queens Land


Along with a visit to the famous Queens Land Amusement Park in Chennai, a visit to the following places in the city is a must. These attractions are:

1. Arignar Anna Zoological Park: 
Amongst the most popular places for an enjoyable picnic and relaxation in the city, this zoo near Queens Land is an absolute wonder in itself, in addition to being one of the great places to explore the flora and fauna of southern India. It is the largest zoo of its kind in all of SouthEast Asia, and is spread over an area of a staggering 1260 acres. 

2. Vivekananda House: 
Popularly known as The Ice House, the Vivekananda House is a centre of pilgrimage for the followers of Swami Vivekananda. This is the same house where Vivekananda stayed for a period of six weeks sometime in 1900. Built in the late 1800s, the two-storey house boasts of traditional Victorian architecture, in addition to having saddleback and sunburst roofs.

3. Kapaleeswarar Temple:
Built by the mighty Pallavas and dedicated to Lord Shiva, the Kapaleeswarar Temple near Queens Land is a place of religious sanctity and importance in the city. It is also a fine example of the interweaving of Dravidian and Vijayanagar styles of architecture, which are further enhanced by the towering Gopurams here.
Other Essential Information About Queens Land
- Location:
Queens Land Chennai is located on the Chennai-Bengaluru Highway, in Palanjur, Sembarambakkam, in Chennai, Tamil Nadu 600123. 

- Timings:
The Queens Land Theme Park Chennai is open to visitors between 10:00 a.m. and 06:00 p.m. from Monday to Friday, and from 09:30 a.m. to 07:00 p.m. during the weekends. 

- Entry fee:
The entry fee to visit Queens Land Chennai is INR 550 for adults and INR 450 for children


Attractions Pass Type at Queens Land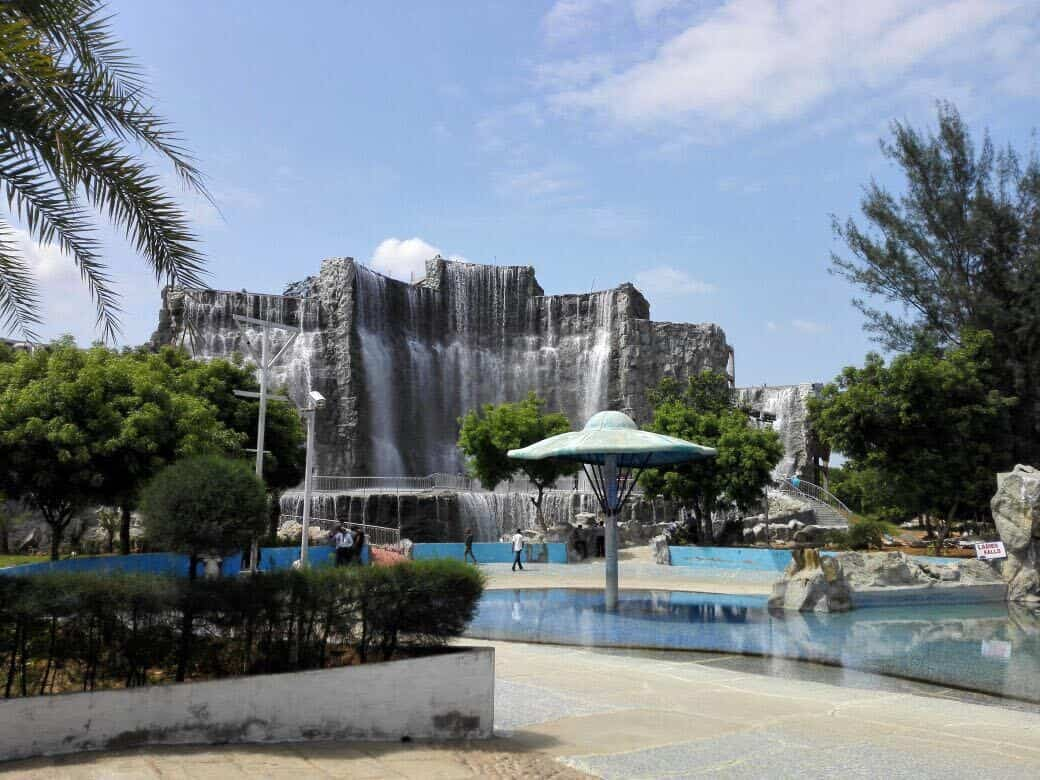 Queens Land Chennai offers two main types of attractions passes. These passes are essentially divided on the basis of visitors who come to the park, namely one for adults and the other for children. For adults, the Queens Land attractions pass has a tariff of INR 550 per person.
On the other hand, for children, above the height of 2 feet, and below the height of 4 feet, the attractions pass is priced at INR 450 only. Children below 2 feet are not charged anything.It is also important to note that both the passes allow its owner to enjoy all of the rides available at the theme park. Therefore, it is important that the visitors keep their passes with themselves throughout their visit in the park.
Rides at Queens Land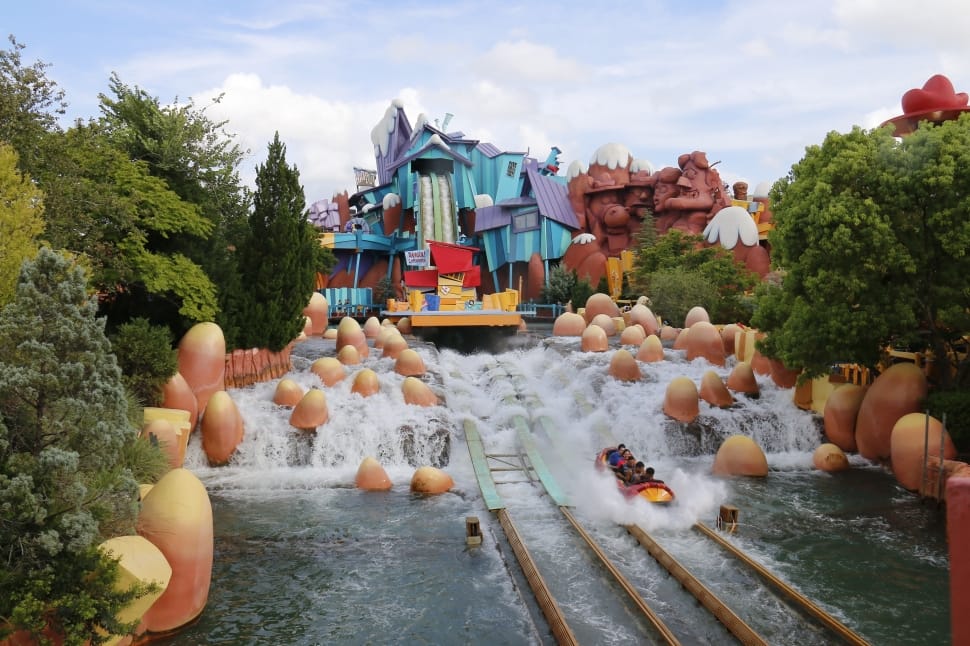 Queens Land Chennai has over 50 exciting rides, both on water and on land, which thereby attract a lot of visitors every single day. Some of these popular rides are:

1. Free Fall Tower: 
This is one of the very first rides you see upon entering the park, in addition to the beautiful exterior of the park. Furthermore, it is one of the tallest towers in the entire South East Asia. Only meant for adults, the ride requires people to sit tucked in their seats after which it gradually starts to go up, to a height of 150 feet in the air. Upon reaching the top, the ride suddenly goes down quite fast, offering riders a feeling of free falling in the air.

2. Alpen Blitz: 
Amongst the most crowd-favourite rides in the park is the Alpen Blitz. Best for teenagers and adults, this ride makes you sit in pairs in seats after which it gradually starts rolling at an angle of 45 degrees in the air. Constructed in Germany, unlike any other ride in the entire country, Alpen Blitz is one of the dizzying rides which are not just fun and exciting, but also gives you a different experience. 

3. Himalayan Water Ride: 
The popular water ride in Queens Land is also amongst the largest water rides in Asia. It covers a distance of a whopping 550 meters, and is full of fun. The entire water pool is attached with other water slides as well as twisters, which make this ride more exhilarating for kids as well as adults.

Places to Eat around Queens Land:


There are a lot of places where you can indulge in and satiate your hunger after spending an amazing day at Queens Land Chennai. Some of these places are:

1. Ze Flavors: 
Located a few metres away from Queens Land Amusement Park in Chennai, Ze Flavors is a quaint fine dining restaurant which offers great food, ambience and an overall experience. From fresh juices, Indian, continental and Thai food, you can also get mouth-watering desserts here. Some of their best dishes are the Drums of Heaven, Chicken Momos, Thai Red Curry with steamed rice and Crème Caramel.

2. Fudkart A/C Restaurant: 
For a more casual place to not just indulge in good food, but also spend a relaxing time with your friends and family, your best bet is the Fudkart A/C Restaurant, situated a few kilometres from Queens Land. Their menu includes delicious vegetarian as well as non-vegetarian food, available in both a la carte as well as meal systems.

3. Punjabi Dhaba:
One of the most popular places for authentic Punjabi food near Queens Land in Chennai, Punjabi Dhaba is a hub for all kinds of visitors. From a hearty north Indian thali or chicken kebabs, to fresh juices, traditional Makki di Roti and Sarson Saag and even hearty desserts, there's a lot you can find here.
Medical Facilities near Queens Land

Queens Land is amongst the more famous tourist attractions in Chennai. And it is due to this that there are many hospitals, clinics as well as pharmacies located near it. Furthermore, due to this, visitors are now easily able to attend to any unforeseen incidents or accidents which take place in the park. Some of the clinics, chemists and hospitals located near Queens Land Chennai, are:
1. Saveetha Medical College Hospital

2. Hindu Mission Hospital

3. Jaya Hospital

5. Be Well Hospital Poonamallee

6. NH Hospital

7. Queensland Clinic

8. Sundar Clinic 

9. J.M. Clinic

10. Ezhil Clinic

11. Get Well Clinic

Travellers' Tip before visiting Queens Land


When visiting the Queens Land Chennai, visitors should always keep the following tips in mind:


1.
It is always recommended to buy tickets for the park in advance. The best way to do so is to purchase tickets either online or well before you actually visit the park.  


2.
It is always recommended to avoid visiting Queens Land during the peak tourist hours. In saying so, the best time to visit the park is during the middle of the week, when the park remains the least crowded. 


3.
You should also carry water with you when visiting the park, to remain hydrated during the day.