About Marina Beach
Famous as the longest beach in India and the second-longest of its kind in the world, Marina Beach is one of the most famous beach holiday destinations in the country. Named so after the Italian word 'marina' by the then Governor-General, the beach has been a popular location in Chennai since 1881.

Stretched over 13 kilometres, the glistening sands of the beach are as rejuvenating as they are picturesque. Keeping in mind the popularity of the place, there has been a huge number of significant buildings and monuments build across the promenade since the beginning of the 19th century.

The most famous landmark in the city, Marina Beach is home to several iconic buildings and statues. For instance, it hosts India's first aquarium which was constructed in 1909. Additionally, walking along the promenade, history lovers could find a great many statues commemorating the lives of some of the most illustrious dignitaries in Indian history.

Whether you wish to take a romantic horse ride by the seashore or enjoy a spellbinding 360° view of the city from the Chennai Lighthouse, Marina Beach is a must-visit in Chennai.
How to Reach Marina Beach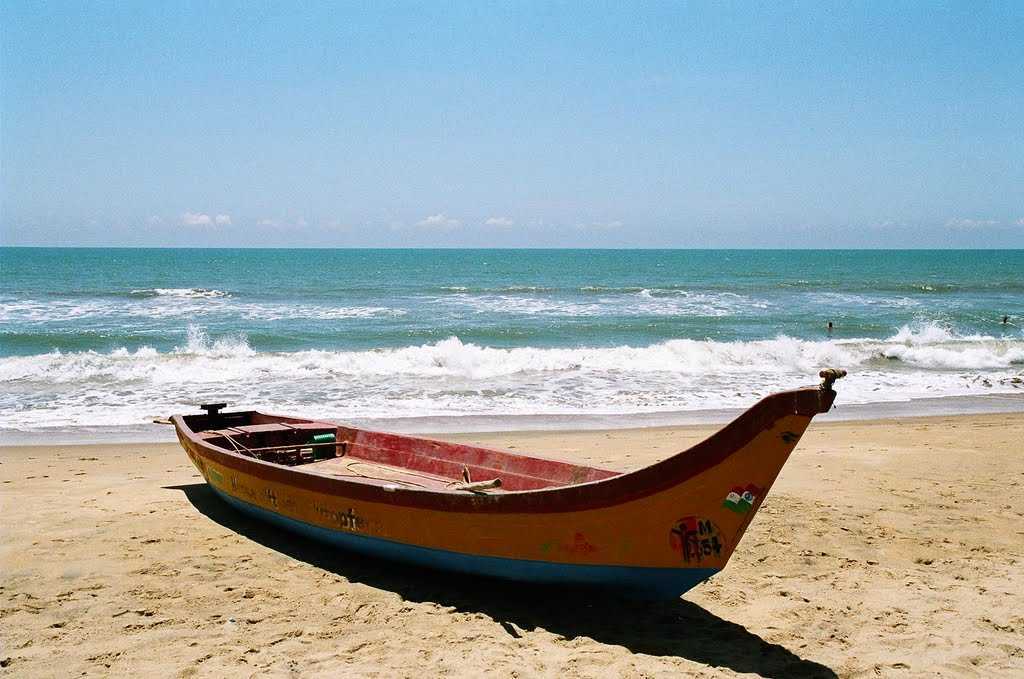 Below are the various ways you can reach Marina Beach:

By Air:
Chennai Airport is the closest and most convenient airport. It is well-connected with the rest of the country as well as the world. The airport is approximately 18.6 kilometres from the beach.

By Train:
The nearest train stations to Marina Beach are Chepauk, Thiruvallikeni, and Lighthouse. Most of these stations are connected to Chennai Central railway station through local trains. It usually takes from 3 to 10 minutes to from Chennai Central to one of these stations. Chennai Central is very well-connected to the rest of the country.

By Bus:
The closest bus stop to the beach is the Marina Beach bus stop. It has regular buses plying between the rest of the city and the beach.

By road/taxi:
Renting a private car or hiring a taxi is the most convenient way to get to the beach from anywhere in the city. It could be slightly expensive for tourists on a budget, but it saves a lot of time and effort.
Best Time to Visit Marina Beach


The best time to visit Marina beach is between the months of November and February. These months are relatively cooler than the rest of the year. Visiting the beach during the summer months should be avoided as Chennai can get extremely hot and humid. The monsoon months are also not recommended due to the risk of high water tide and aggressive current.

Also, it is best to plan your visit to the beach early in the morning or in the evening. Avoid going out there during noon.
What Not to Miss at Marina Beach


Marina Beach has been home to a huge number of important sights and landmarks since the 18th century. Some of them are:

1. Vivekananda House:
Formerly known as Ice House or Castle Kernan, Vivekananda House was built by American Businessman and merchant, Frederick Tudor (also known as the Ice King), in 1842. The place was given its current name after hosting Swami Vivekananda in 1897. The edifice now serves as an exhibition gallery commemorating the life and works of Swami Vivekananda. Visitors can also enjoy a 3-D short movie based on his visit to Chicago's World Religious Parliament event the same year as his visit to the house.

2. Sri Parthasarathy Swamy Temple:
Built in the 8th century, Sri Parthasarathy Swamy Temple is dedicated to the Hindu deity, Lord Vishnu. Regarded as one of the 108 Divya Desams (Vishnu Temples), the temple comprises of Lord Vishnu's five forms, namely Rama, Krishna, Narasimha, Ranganatha, and Gajendra Varadaraja. Constructed in the typical South Indian style of temple architecture, it also boasts towers and pillars embellished with intricate carvings.

3. St. Thomas Cathedral Basilica:
Also known as San Thome Church, the religious edifice is a Roman Catholic basilica constructed in the 16th century by a community of Portuguese explorers. The church is built over the tomb of Saint Thomas who is known as one of the twelve apostles of Jesus. Interestingly, it is one of the only three basilicas in the world that are constructed over the tomb of Jesus' apostles, the other two being the Vatican's St. Peter's Basilica and Spain's Santiago de Compostela Cathedral.
Other Essential Information About Marina Beach


Location: Chennai, Tamil Nadu, India

Timings: Open throughout the day

Entry fee: Free
Places to Eat at and near Marina Beach


There are plenty of cafes and restaurants surrounding the Marina beach. Here is a list of the most recommended places to eat at or near the beach:

1. Titanic Fast Food:
One of the most positive places to eat near Marina Beach, Titanic Fast Food is a no-frills, budget eatery suitable for all kinds of travellers. The place is best known for its finger food items such as chicken noodles, chicken fried rice, and Manchurian. It's a great place to hang out after an exciting day on the beach. 

2. Bharathi Mess:
Known to be one of the oldest eating joints in the city, Bharati Mess is almost an institution for food lovers in Chennai. Specializing in all types of healthy, organic food items, the place is known for their authentic mess style delicacies served on fresh banana leaves. The unique fact about Bharathi Mess is it has an all-women staff.

3. Firdouse Bayn Restaurant:
Bringing you the best of South Indian, North Indian, Arabian as well as Chinese cuisine, Firdouse Bayn is also one of the most loved places to eat near Marina Beach. The food served here is known for its supreme quality and taste. Expect to find a wide range of snacks and appetizers as well as main course dishes on the menu.
Places to Stay near Marina Beach

The areas surrounding Marina Beach is swarmed with hotels and resorts of all types and price range. Here is a list of some of our best picks:

1. The Lotus Hotel Sameera:

Featuring panoramic views of the city, the Lotus Hotel Sameera is a great option for couples, families, as well as solo travellers. Each room at the property has been equipped with all the necessary amenities such as AC, ensuite bathroom, and television. Additionally, the hotel also offers an in-house restaurant, a fully-functional fitness centre, a 24-hour front desk, and complimentary Wi-Fi. Guests travelling by their own vehicles can use the property's complimentary parking facility. 

2. E Hotel:

Sporting a wide range of luxurious guest rooms embellished with contemporary design and furnishing, E Hotel sees a huge number of leisure and business tourists throughout the year. While the in-house restaurant ensures that you are never without food and beverages, the polite and friendly tour desk staff helps you arrange for your excursions around the city. All rooms come with an ensuite bathroom, a minibar, and a cozy seating area. 

3. Taj Club House:
Strictly meant for those who cherish the finer things in life, Taj Club House is a 5-star hotel with a plethora of amenities and facilities. Situated within a fancy neon-blue building, the hotel boasts a rooftop swimming pool, a well-equipped fitness centre, spa services, and a 24-hour business centre. Furthermore, Taj Club House has three on-site restaurants. Kefi specializes in Greek, Moroccan, Spanish, and Turkish delicacies. Beyond Indus has a wide variety of Indian dishes on offer. And, Clubhouses features an Indian as well as international buffet and à la carte menu.


Things to Carry at Marina Beach

Marina beach is an extremely popular place with lots of shops, cafes, hotels, and important sights. While you can buy most things near the beach, it is best to carry the following items with you:
-
Sunglasses and hats
-
Sunscreen
-
Refillable water bottle
-
Swimwear, towels, and swim gear (if you plan to swim)
-
Waterproof bag (to save valuables from water damage)
-
Appropriate footwear for the beach
-
Appropriate footwear for walking (if you plan to explore the numerous significant sights around the promenade)
-
Extra bag to carry your trash (or throw it in proper bins)
Medical Facilities near Marina Beach
Hospital, and Triplicane. Most of the hospitals stay open 24 hours and have emergency services available for patients. Some of them also offer ambulance services. 


Additionally, Marina beach also has some clinics nearby such as Diabetes and Heart Care Clinic-Thyrocare, Dr. Agarwal's Eye Hospital, and SVAZTHA Ayurveda Specialty Clinic. You can visit these clinics for minor injuries and ailments as well as for special Ayurvedic treatments.

Travellers' Tip before visiting Marina Beach
If you are planning on visiting Marina beach, please remember to keep these things in mind:

- Carry sunglasses, hats, and sunscreen to protect yourself from sun rays.

- Wear appropriate footwear to walk around the beach.

- Do not attempt to swim in the sea except for the designated areas. Swimming anywhere else is prohibited to maintain the safety of visitors.

- Carry appropriate swimming gear and clothes with you.

- Carry a waterproof bag to put your valuables before you go into the water.