About Kalikambal Temple Chennai
Dedicated to goddess Kalikambal, an avatar of Goddess Parvati, and Lord Kamateswarar, a form of Lord Shiva, Kalikambal Temple in Chennai is a living memoir of the ancient history and heritage of this southern Indian city. Located on Thambu Chetty Street, a renowned financial hub at Georgetown, the temple reflects the major features of Dravidian architecture.

Along with goddess Kalikambal and Lord Kamatswarar, Lord Vishnu is also worshipped here. The temple has the sanctity of the two Pancha Bootha Sthalams which are Tiruvannamalai and Kanchipuram. The temple is a major attraction for tourists with great religious inclinations. Southern superstar Rajinikanth often comes to this temple to offer puja.

The temple is the symbol of faith and devotion for all Chennaikars and people in south India at large. Earlier, the temple was situated inside St George Fort, but during the British rule, the temple was shifted here on Thambu Street. Its architecture, idols and legends known by the priests here provide a great amount of knowledge about the history and the Dravidian heritage of ancient India.
How to Reach Kalikambal Temple Chennai
By Air: Chennai airport is the nearest airport to the Kalikambal temple. From the airport, you can hire a cab to Thambu Chetty Street which is located at George Town. The distance between the temple and the airport is around 24.7 km and you can cover it in an hour.

By Bus: Several local buses across the Chennai city are available to take you to Kalikambal temple. Some of the bus routes are 32, 32B, 6A and 1B from Kall Mandapam bus station, Beach station Mannady Police Quarters Bus station.

If you are coming from adjacent cities like Madurai, Bangalore, Kochi, you can avail the inter-state government bus services and reach the temple within half a day or so. The temple is well connected with private and state transport facilities.

By train: Chennai Central railway station is the nearest to the temple. From the station, you can hire an auto or a cab to the temple. Chennai has recently started its Metro operations as well, so you can take a ride on the Blue Line trains to reach the temple. EMU local trains operate round the clock through the Chennai station from the remotest corners of the state. Chennai Mail, Chennai Rajdhani, Duronto Express are the major trains to the city.
Best Time to Visit Kalikambal Temple Chennai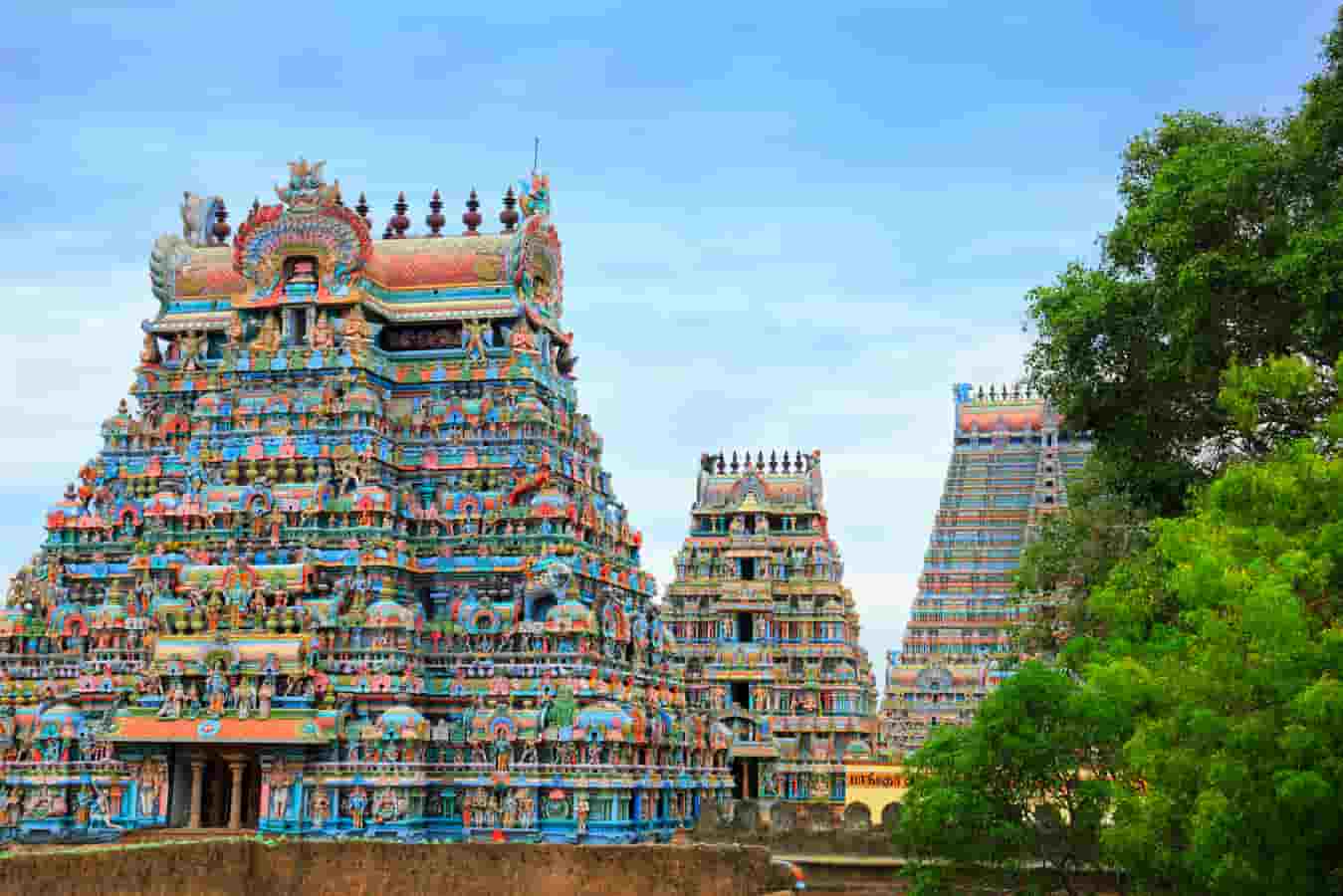 The best time to visit the temple is anytime from November to February. With the Indian Ocean in the vicinity, Chennai witnesses a hot and humid weather round the year. The weather becomes very scorching and humid in the months of May to July, making it difficult for tourists to roam around. During December or January, it is relatively pleasant and a lot of festivals line-up during this time.

The famous Navratri festival takes place in October that is celebrated in a grand way at the temple's Mahamandapam. A lot of tourists footfall is witnessed during this time. The Marghazi and Maasi Makam festivals also take place between January and February. Lord Nataraja is worshipped with a major pomp and show during these events.
What Not to Miss at Kalikambal Temple Chennai
Places to Visit Around Kalikambal Temple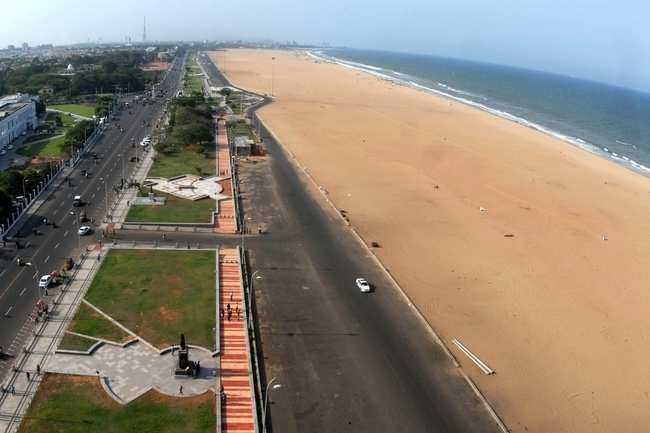 1. Marina Beach:
Marina Beach is located just 5.4 km from Kalikambal temple and it can be reached in 15 minutes via car through the Beach Road/Rajaji Road. The 3 km long main stretch of the beach is famous for morning and evening strolls.

You can watch a gorgeous sunset from the shore where a lot of activities like playing cricket, flying kites, roaming of vendors selling knick-knacks, street cart food stalls among other things can be witnessed. Visit the beachside fish markets, enjoy the roasted corn beside the Madras Lighthouse and explore the refreshing sea breeze here. This is a great place to visit with your family and friends during weekends.

2. Burma Bazar:
Burma Bazar can be reached by walking from the temple in just 10 to 12 minutes. Located in Parry's Corner, this market is usually run by the Burmese refugees who are based in Chennai. Right from handicrafts to spices to clothes among other such things are available at the market that has around 200 shops. This is a great place for shopping for both native and foreign tourists. The market remains open every day from 9 am to 10 pm.

3. Fort St George:
The distance between Kalikambal temple and Fort St George is around 3.6 km which you can cover via Beach Road in just 15 minutes by an auto or bus. This fort is the major attraction of tourists with interest in history.

The fort was built by the East India Company in 1644 on St George's Day to streamline trade activities from the coastal city of Madras. Situated adjacent to the fishing villages, the fort was established to increase the English influence over the southern Indian region. St Mary's Church and a museum, maintained by the Archaeological Survey of India can be visited at the fort premises. The place remains open from 9 am to 5 pm daily. Entry fee for Indians is Rs 15, while it is Rs 200 for foreigners.

4. Secretariat Park:
Secretariat Park is a nice garden to visit with your family and kids. The vast swathe of well-maintained greenery with chairs across the garden help you enjoy at least an hour of relaxation here. This is a great place for a morning walk as well. Various floral trees, shrubs and artificial structures adorn the park nicely that remains open 24 hours. There is no entry fee to the park and it is located 2 km from the temple.
Other Essential Information About Kalikambal Temple Chennai
- Location: Thambu Chetty Street, George Town, Chennai

- Timings: The temple remains open from 5 am to noon and from 4 pm till 9 pm.

- Entry fee: There is no entry fee to the temple


History of Kalikambal Temple


The historical legends of the temple go back to a few hundred years. It is said that the temple was built by the Vishwakarma clan and their descendants are still closely associated with the temple and its activities. Chhatrapati Shivaji had worshipped Kalikambal here when he visited Chennai in 1677. After worshipping the deities here, he returned to his kingdom and won a battle. 


It is said that a fierce form of goddess Kalikambal was worshipped here at the beginning when the temple was located nearer to the seashore. Later, it was replaced with the Shantha Swaroopa, a calmer posture of the goddess Kamakshi. The idols of Mahakali and Agora Veerbhadra Swamy were also placed here during that time.


Places to Eat near Kalikambal Temple


Several restaurants and budget eateries are situated in the vicinity of Kalikambal temple. Among them are:

1. Aysha Restaurant:
Located on Angappa Naicken Street, this casual dining restaurant specialises in serving authentic southern delicacies. Dosa, idly, uttapam, vada, idiyappam, Pongal, rasam and several other dishes in their original style are available here.

Local residents treat this eatery as a great place to enjoy snacks. You can also opt for thalis here that come with plenty of rice, sambhar, coconut curries, plantains curry, and curd among other such items. A meal for two here will cost you around Rs 700. The place remains open from 9 am to 10 pm.

2. Hatimy's:
Located on Mannady Street, Hatimy's is famous among tourists for its mouth-watering Mughlai delicacies that include southern-style biryani, kebabs, curd based meat curries and other seasonal items. The place remains open from 11.30 am to 10.30 pm. Since it is situated in George Town itself, you will need just 10 minutes by car to reach this restaurant. A meal for two would cost you around Rs 800 here. 

3. Hot Touch Restaurant:
This eatery is famous for serving north Indian cuisine. Daal, roti, various vegetarian items, paneer curry and grilled chicken items are available here at a very reasonable rate. The place is famous for its late-night serving as well. It remains open from noon to midnight. A meal for two here will be priced at Rs 600. 

Travellers' Tip before visiting Kalikambal Temple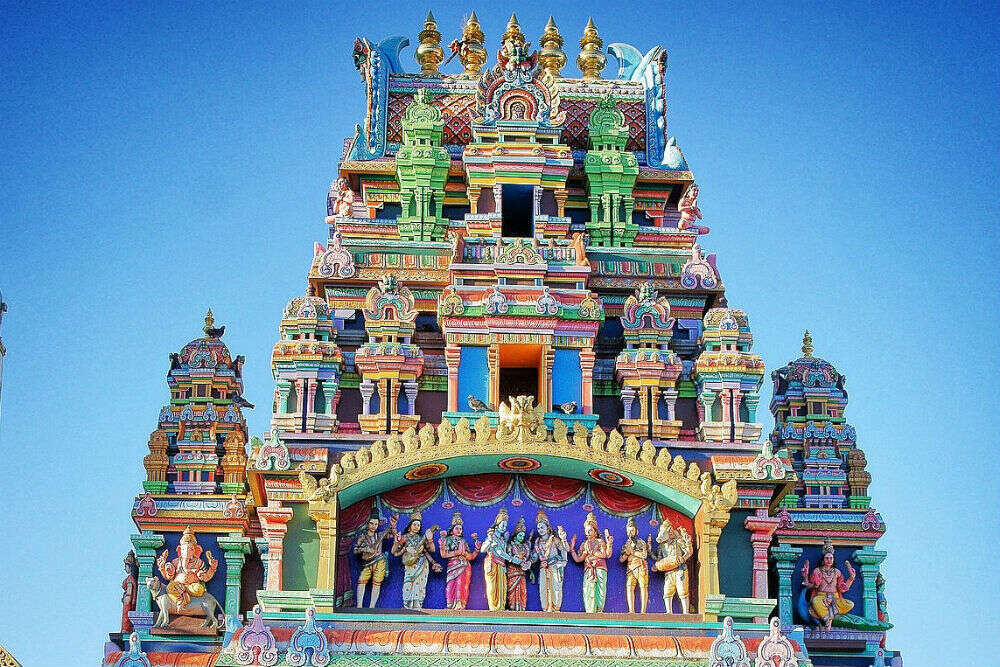 1. Follow the rules and regulations set by the temple authorities regarding clothing. A lot of south Indian temples put emphasis on the attire of visitors. So make sure you follow the customs.


2. Do not click photographers inside the temple premises or in certain areas where photography is strictly prohibited.


3. Follow the rules of the priests while offering puja at the temple.


4. If you are not offering puja, it is suggested that you donate a small amount of sum to the temple donation box.


5. Carry hats, umbrellas, sunscreen and water bottle if you are visiting Chennai during summer as the weather can be really gruelling. 


6. Inside of the temple can be a bit dark, so be careful while exploring it along with your children and elderly.