About Colaba Causeway
Actually known as Shahid Bhagat Singh Road, Colaba Causeway is the heart of the city of Mumbai. Located between Colaba and the Old Woman's Island, it connects the two famous places in the city. Furthermore, it is also the cultural destination of the City of Dreams, which takes you back to bygone eras of colonialism in India. The buildings here date back to the time of the British rule, which gives a tranquil and peaceful old-worldly vibe.
Colaba Causeway houses some of the most popular and world-famous restaurants of Mumbai. These include Leopold Café, Café Mondegar and Bademiya. Additionally, you can find the city's landmarks such as the Taj Mahal Hotel, Sassoon Dock, Afghan Church and the Gateway of India located in close vicinity to Colaba Causeway.
Colaba Causeway is also the most famous for its shopping centres. One can purchase a lot of things here, including clothes, antiques, home décor, electronics and even jewellery, furniture, accessories, perfumes and handbags. And you can get all these at throwaway prices too! Additionally, you can find quite a lot of boutiques and high-end shops selling exquisite products here.
Then again, Colaba Causeway is also home to Regal Cinema that is one of the very few old school movie theatres that exist even today. Colaba Causeway has a certain charm that no one can resist. When touring Mumbai, paying a visit to Colaba Causeway is an absolute must.
How to Reach Colaba Causeway




Colaba Causeway is one place in Mumbai which is not only popular but also easily accessible. The best and the easiest way to reach Colaba Causeway is to take the local train from Bandra station to the CST. Since Colaba Causeway does not have a train station located near it, the CST, or Chhatrapati Shivaji Terminus is the closest.

On reaching here, you can either take a taxi directly to Colaba Causeway, or you can walk towards the south by taking the Dr. Dadabhai Naoroji Road, which marks the beginning of Colaba Causeway. You can find street vendors and stalls dotting the area right from here every morning onwards.
Best Time to Visit Colaba Causeway


Colaba Causeway is open from 09:00 a.m. to 10:00 p.m. every day of the week. However, the best time to visit the place is between 10:00 a.m. to 01:00 p.m. and between 03:00 p.m. to 05:30 p.m. This is because these are times when there are less crowds and tourists and the roads are a lot less busy. You will be able to take a good look at what each vendor is selling and even bargain with them to purchase your choice of things at cheaper prices. Moreover, these are times when the weather is quite pleasant in the area. 
What Not to Miss at Colaba Causeway
When visiting Colaba Causeway, one can find a lot of things to do at this shopper's paradise. 

-From catching a movie at the old Regal Cinema to indulging at Bademiya or Café Mondegar, or even shopping for things at the market complex, there's a lot you can do at Colaba Causeway. 
-You can take a stroll at the Strand Promenade, located just behind Regal Cinema. 
-Also, you can indulge the shopper in you by getting clothes, home décor items, footwear, bags, and even electronics from the many different shops present here. 
-After a day of shopping, drop-in at Theobroma to satisfy your sweet tooth. 
Other Essential Information About Colaba Causeway

Location:
 Colaba Causeway, Shahid Bhagat Singh Road, Colaba, Mumbai, Maharashtra
Timings:
 Colaba Causeway is open between 09:00 a.m. and 10:00 p.m. every day. 
Price: 
The entry to Colaba Causeway is free. One can easily spend INR 1000 on a visit to this place.
Places to Eat at Colaba Causeway:
Colaba Causeway has no scarcity of places to eat. Some of these include:

-Leopold Café: One of the must-places to eat at when in Mumbai, the Leopold Café is located in Colaba Causeway. Famous for its Indian, Chinese and Continental dishes, this café is also the most iconic restaurant in the city of Mumbai. 

-Delhi Darbar: To satisfy your cravings for authentic Mughlai cuisine, head over to Delhi Darbar, located near Holland House in Colaba Causeway. This legendary restaurant is known all over the country for its rich butter chicken as well as mutton biryani. 

-Bademiya: This is yet another iconic eatery located behind the Taj Mahal Hotel in Colaba Causeway. Established in the 1940s, this food stall is usually open till 3 in the night serving mouth-watering kebabs and grilled chicken. 

-Olympia Coffee House: For a no-fuss typical Mumbai breakfast of Keema Pav and Egg Bhurji, you can head over to the Olympia Coffee House. This restaurant is a century old and is also known for its interesting Bheja Fry dish. 

-Ramnath Snacks: Those who are on a small budget, yet want a good and filling breakfast, they can pay a visit to Ramnath Snacks.

 Specialising in lip-smacking south Indian food, this place is a no-nonsense venue serving the softest idlis and other south Indian delicacies. 

-Piccadilly: Tucked away cosily amidst the street shops in Colaba Causeway is Piccadilly.

This small restaurant is a legend in the area, known for its amazing Lebanese cuisine, consisting of shawarma rolls and others, along with its friendly staff and quick service. 

-Bagdadi Restaurant: Famous for its pocket-friendly menu consisting of delicious north Indian food, Bagdadi Restaurant should be your choice for a hearty meal.

They are known all over the city for their amazing Caramel Custard, along with Bhuna Chicken, Chicken Biryani and Mutton Korma. 


Tips for Visiting Colaba Causeway: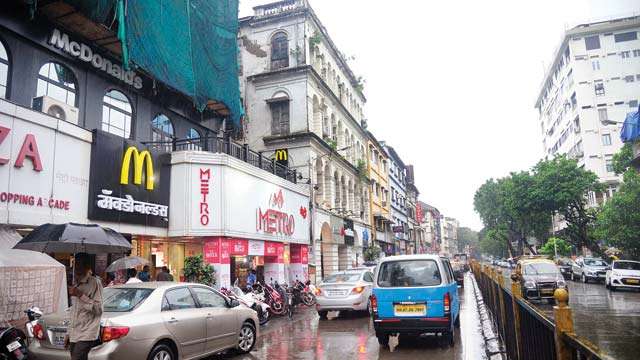 While visiting Colaba Causeway, you should always keep the following things in mind:
-Always carry cash since the shops generally don't accept cards. Also, carry change. 
-Always go for the shops that are located deeper in the market. They have a better stock of products at lesser prices. 
-Always bargain with the hawkers. Do not give in to the prices they ask at the very start.
-Always keep a check on your belongings.  
-Enquire the timings before visiting the market. 
-Look out for shops that sell duplicates. Always check the products twice before actually buying them. 

-It is recommended to carry your own water bottles and not drink water from vendors unless it is packaged.