About Bhaja Caves
If you are looking for any historical yet exciting location to visit in India - Bhaja Caves is for you. Bhaja Caves are located at Lonavala, Maharashtra, that are dating back to 160 BC. These 22 groups of rock-cut caves are considered to be subsisting from the second to the first century BC.

The Caves were developed during Satavahana's rule and are the biggest Hinayana Buddhist temple in India. Adorned with the classic Indian rock-cut architecture of the era, the architecture of these caves narrates the actual culture and tradition of India and the ancient Indian period. The topmost captivations of these caves are the Stupas, which have the caves carved profoundly outside and inside both.

Furthermore, lush greenery all around the caves creates a spectacular aura that pleases many eyes. Also, there is a magnificent waterfall close to the cave that offers you a chance to take a delightful dip into it. The visitors will discover an unusual cluster of 14 stupas, nine in exterior, and five in the interior of a smaller cave. Thus, Bhaja caves are the go-to destinations for all those who are history enthusiasts. It will prove to be an amazing sightseeing trip to the past glory of mythological India.
How to Reach Bhaja Caves


By Train: The nearest railway station from Bhaja Caves is Malavli, which is 3 km away. You can catch a local train to reach here. You can likewise board a train from Mumbai or Pune to arrive at Lonavala then catch a local train from Lonavala to Malavli. Bhaja caves are at around 3 km from the Malavli station.

By Road: Bhaja caves can be easily accessed via local buses running from Lonavala to Karla caves. Bhaja caves are 10 km away from the Karla caves. So, for an onward destination, one can take an auto. From Khandala also you can hire a taxi or auto to reach Bhaja caves.

By Air: Take a flight for Pune and choose any of the train or road travel convenience as per your choice for reaching Bhaja caves.
Best Time to Visit Bhaja Caves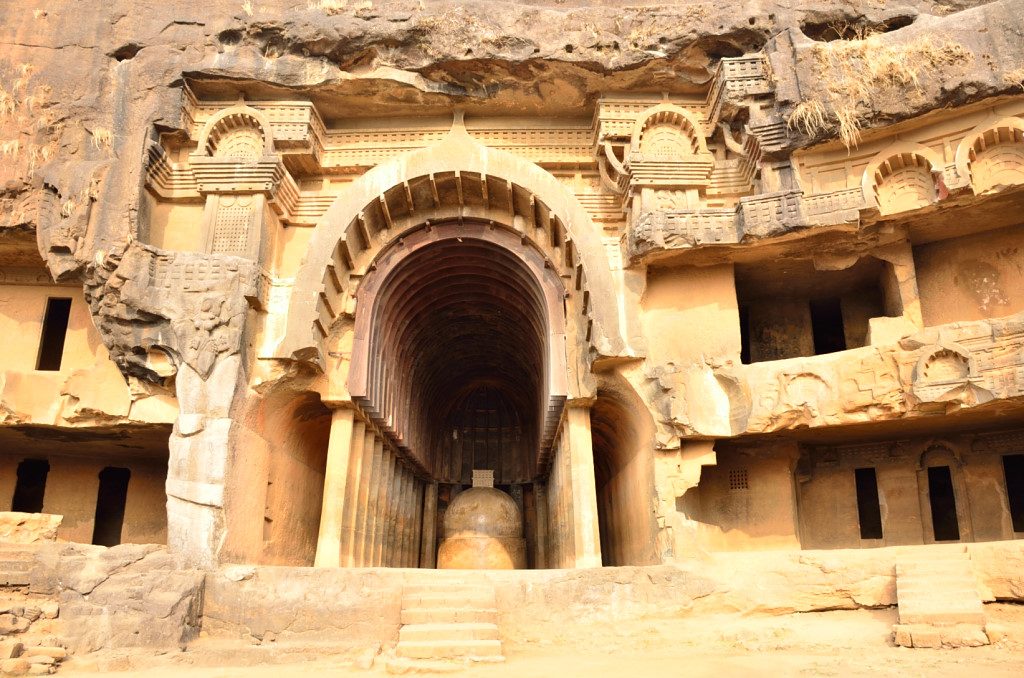 The best time to visit Bhaja Caves is from the Autumn season to the Spring season, i.e., October to March. During Autumn, it will be a fantastic time for the tourists to visit this place as the weather will be calm and cold and not hot, unlike in summers.

The visitors can roam in the caves without hesitating and stressing about the sweaty warm weather. The people can cherish a reasonable span of time in these caves in winters. Further, the spring season would lit up the caves with beautiful flowers all around and chilling breezes to feel jolly around.
What Not to Miss at Bhaja Caves
Important Caves in Bhaja Caves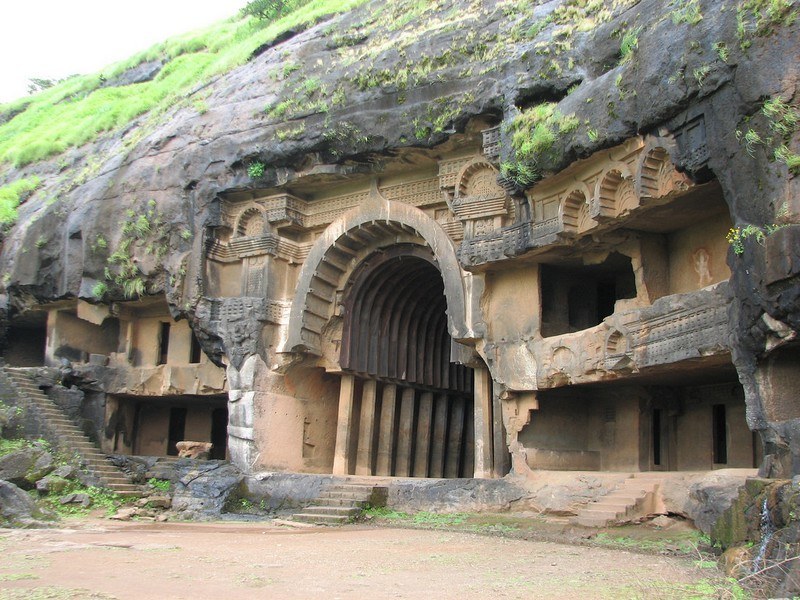 1. Cave VI-
These are irregular vihara houses with two cells on either side and three on back. Visitors will see the name of Bodhi engraved on the cell door that implies that this place is a gift for her.

2. Cave IX-
Explore these caves to see the rail pattern adornments, broken animal structures along with a verandah.

3. Cave XII- 
The highlight of Bhaja Caves is its large chaitya that is a prayer hall. It's amongst the earliest of its nature representing Indian mythology with a horseshoe-shaped entrance. 

4. Cave XIII-
This one looks liked ruined by fire covering the charred remains. It is a 30 feet long and 14.5 ft deep cave depicting the wooden architecture. 

5. Stupas Caves- 
Bhaja caves boast a group of 14 stupas that are an unusual excavation. The stupas trace the story of resident monks as well as exhibit an inscription with the names of monks Dhammagiri, Ampinika, and Sanghdina carved on it. 


Places to visit around Bhaja Caves

1. Korigad Fort- 
This fort is perched at the hilly site of 20 km south of Lonavala, whose architecture would seize your heart. The outrageous greenery on the walls of the Korigad entrance would catch your eyes. Also, the pond on the fort is often fascinating for the tourists to sit nearby and admire the serenity of nature.

2. Narayani Dham Temple- 
It has a graceful infrastructure to lure many devotees and visitors alike. You can also indulge in fresh and mesmerizing water showers here. You can likewise relish delicious food throughout the day in its hygienic dining hall.

3. Tiger's Leap- 
Tiger's Leap is approximately 8 km away from Lonavala and thus one of the tourists' captivations. It provides a very enchanting and misty scene of the valley. It is named Tiger Valley as it looks like a Tiger is leaping into the dense valley.
Other Essential Information About Bhaja Caves
Shopping at Bhaja Caves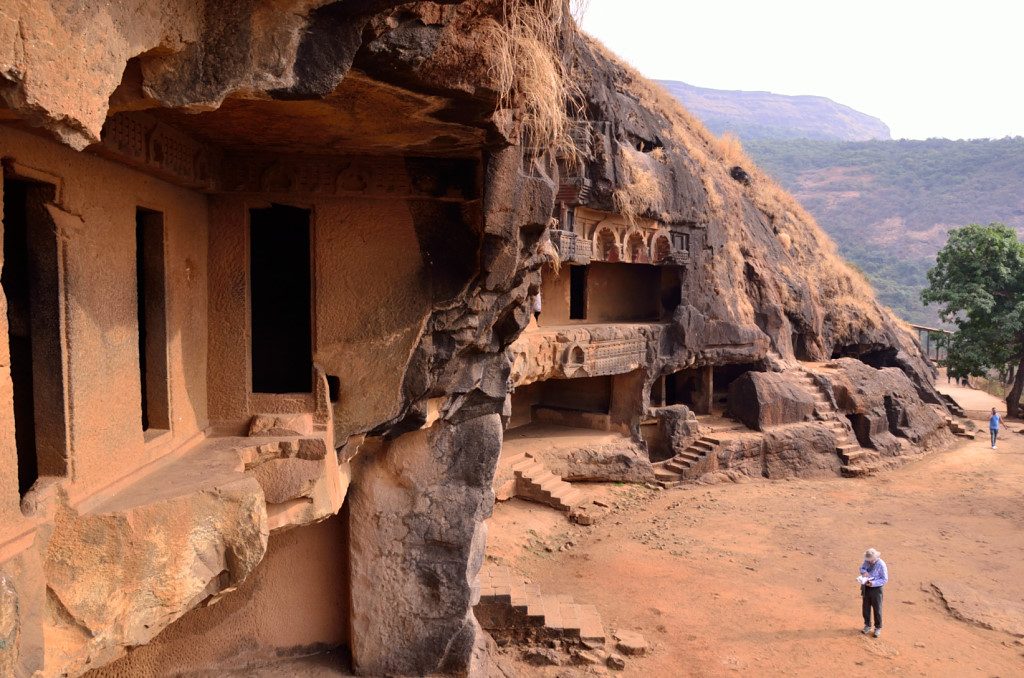 Visitors will discover that there are a plethora of markets, malls, and street shopping experiences available near Bhaja caves. You can buy items such as saree, jewelry, artifacts, leather goods, cheap clothing, footwear, food items, and souvenirs. Also, the markets provide an amazing culinary experience with plenty of restaurants and bakeries dotting the streets. So, shopaholics can fulfill all their shopping desires here by visiting the following locations:


1. Phoenix Market City

2. Amanora Town Centre

3. Laxmi Road

4. MG Road

Places to eat near Bhaja Caves 

1. Sports Bar-
It is a Bar cum cafe that serves finger food items such as Wiches and Burgs, Pizza, Pasta. Also, the famous Indian chaat is available too in this cafe like Bhel puri, Pani puri, Dahi puri, Bhelpuri, Rajkachori, Samosa chaat. So, satisfy your gastronomic cravings here.

2. Rama Krishna-
It caters to casual dining cuisines – fast food, North Indian, Mughlai, and Beverages. You can enjoy both nonvegetarian and vegetarian food in here.

3. Hasty Tasty Lonavala-
It provides you all with an exquisite quality of fast food items like chili potatoes, Momos, Kathi Rolls, Soups, and Noodles. Both teenagers and adults would surely love to have lunch or dinner here. The services and staff are friendly and active.

4. Cream Centre- 
One more casual dining venue offering North Indian, Italian, Mexican, and Street Food. You can devour mouth-watering starters such as Nachos, soups and salads, Khau Galli Vada, etc. You will also love sizzlers here, such as Mexican Fajita Sizzler, and Chef's Oriental Special Sizzler.

Places to stay near Bhaja Caves 
1. Greenwood Countryside Resort-
It's a couple-friendly resort presenting beautiful ambiance and a huge open-air swimming pool. The rooms are fully outfitted and well maintained.

2. Vista Mirabella-
If you are searching for luxurious accommodation, this one is an ideal choice. The fully furnished villa, swimming pool, and lovely view from the rooms all make it a great staycation option.

3. The Adarsh Hotel-
It is the nearest location from Bhaja Caves that is budget-friendly as well. The outdoor pool, on-site restaurant, gym, family, and a kids' play area satisfy the guests perfectly.


4. Neel Resort- 
Neel Resort is an awesome choice in an affordable range. The resort is set amidst the lush greenery with well-manicured laws, swings, and spacious rooms.

Travelers' Tip before visiting Bhaja Caves


1. There should be some necessary things that tourists must carry during the sightseeing trip to these caves, such as a backpack, camera, goggles, jackets, hats/caps, medications, sun care creams. 


2. You can also visit some other places adjacent to Bhaja caves like Lonavala, Khandala, Lohagad Fort, Visapur Fort, and Pune, which can be covered in a whole day trip. 


3. Tourists can choose to travel by bus, train, or by air to travel to Bhaja caves from their respective places. 


4. It will take you around 2 - 3 hours to explore the whole Bhaja caves.