About Alchi Monastery
Resting in the lap of the breathtakingly beautiful Ladakh, the Alchi monastery is one of the most sacred and holy places in the entire world. It was constructed by legendary Guru Rinchen Zangpo between the era of 958 and 1055 AD. Devotees from all across the globe swarm here in search of eternal peace. Revered all over the world as the oldest Buddhist Learning centre in North India, this is definitely a must-visit for all travellers. 
What makes it stand out from other Buddhist monuments are the mesmerising carvings on the walls. The complex of the monastery consists of several chortens and temples that belong to different periods of time. The oldest wall paintings of Ladakh have also been well preserved in this monastery. It has also attracted the film fraternity as numerous movies have been shot here like Dil Se and Tashan. Numerous restaurants, tea stalls, souvenir shops and shacks are located near the monastery to promote tourism.
How to Reach Alchi Monastery


There are many ways in which you can easily reach Alchi Monastery with a little planning-

-By Air: The nearest airport to Alchi Monastery is located in Leh, where flights land regularly. Once you reach Leh, you will have to take a taxi or hire a jeep to go to Alchi by road.

-By Road: Travelling the distance between Alchi Monastery and Leh by road is the most feasible option. The road remains closed between November and April, so avoid going during that time.

-By Rail: Rail travel is not possible in Ladakh due to its high altitude. The nearest railway station is in Jammu & Kashmir. 
Best Time to Visit Alchi Monastery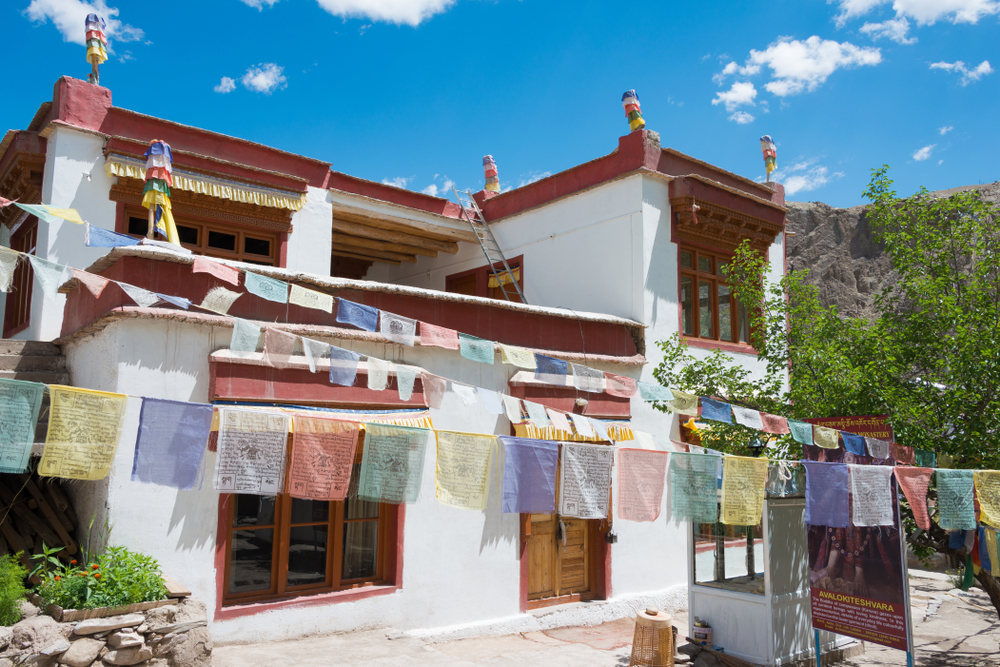 If you are planning on visiting Alchi Monastery, the best month to visit is September. Here are a few other times when you can visit Alchi Monastery-

- Between May and September is when the weather is most manageable, you can visit this monastery. Roads are functional during these months too.

- Roads remain closed from November to April due to snowfall, so those months are best avoided.

- If you want to witness the monastery in all its glory, plan your visit during one of the amazing festivals when the place is bubbling with celebrations. You can plan your visit around the  Tibetan new year, Sho Dun, and Chotrul Ducan.
What Not to Miss at Alchi Monastery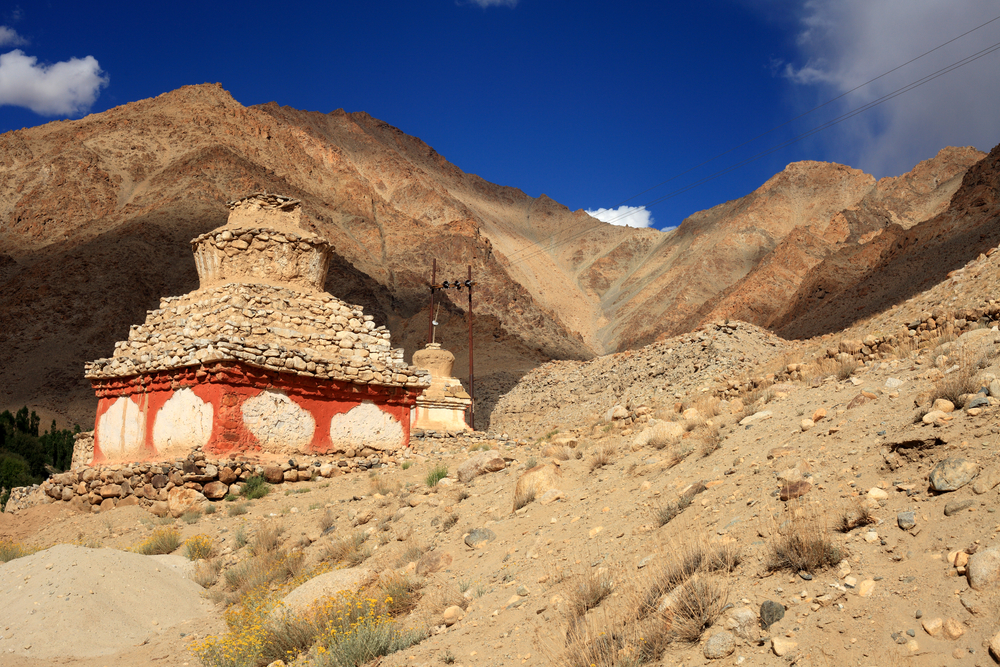 There are many breathtaking tourist attractions around the Alchi Monastery that each of you must visit- 

1. Have a peaceful stay at Alchi Village: Alchi Village is a breathtakingly beautiful place. The natural beauty of the location ensures that you can plan a tranquil stay here. The scenic panorama of this place gives you a chance to click pictures and have some incredible memories.

2. Explore the temples: Alchi Monastery has three temples that have a long history of attracting tourists due to their interesting and intricate carvings and the age-old statue of Buddha. These are famous not only for their beauty but for their historical and cultural significance as well. Those seeking tranquillity and peace can also learn about the teachings of Buddha from the drawings on the walls of these temples. 

3. Visit the Monk Cells: Alchi is one of the very few places where you can actually get a chance to look at the cells in which monks spend their lives. You also get to learn about Buddhism here.
Other Essential Information About Alchi Monastery
Here are some of the important information that you can follow for a memorable trip to Alchi Monastery.
-Mobile Connectivity:
If you are planning to visit Alchi monastery, check for mobile connectivity in advance since the high altitude does not guarantee good phone reception. Though most of Ladakh has Airtel and BSNL network, at Alchi Monastery only BSNL and Reliance Jio networks work.
-Medical Facilities:
The nearest medical health care centre is located one and a half-hour away in Leh called 'Sonam Norbu Memorial Hospital'. Although, it is important to get a general health check-up before going to Alchi Monastery. Make sure to carry basic medicines with you, as the combination of high altitude and no medical facilities nearby might make it tough in an emergency.
History of the Alchi Monastery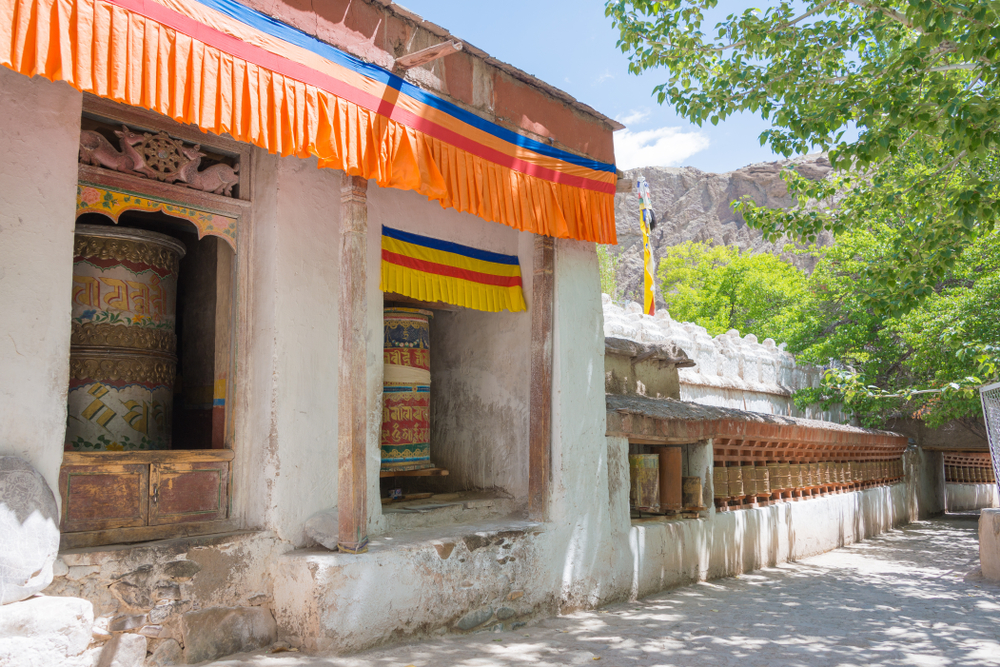 Alchi Monastery has a rich historical significance due to which it is greatly valued even today. It was built between 958 and 1055 AD. According to popular tales, King Yeshe Of Guge wanted to spread Buddhism in the Himalayan region.
Therefore, he appointed twenty-one scholars for the same. However, harsh weather conditions led to most of them collapsing before they reached the heights of the Himalayas, and only two scholars including Rinchen Zangpo survived. It is said that these two actually established 108 monasteries in the region, but only a few, including Alchi, have survived till today.
Structure of the Alchi Monastery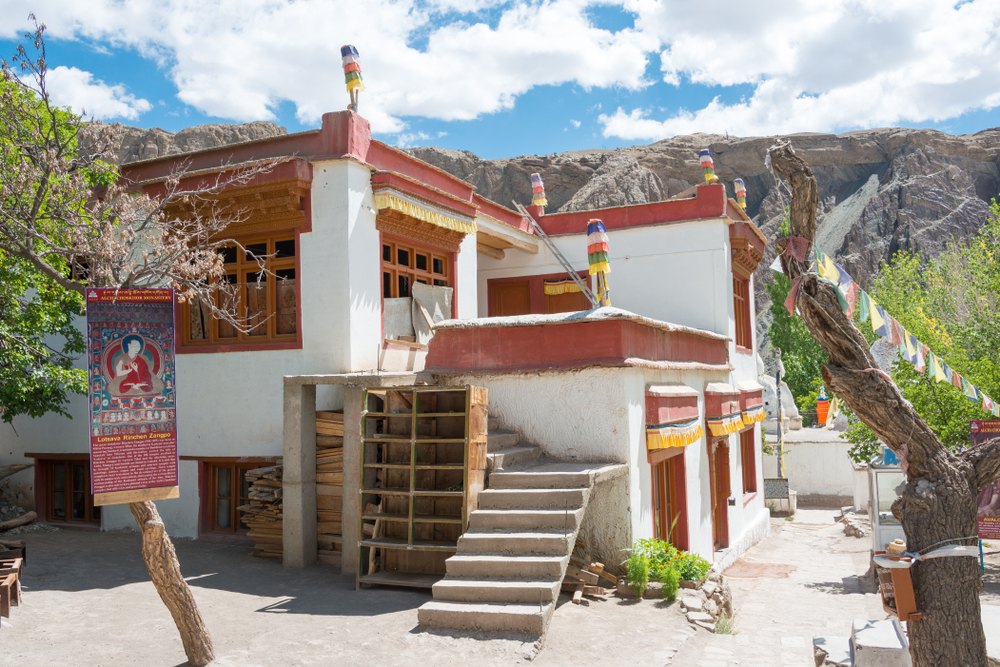 What makes the Alchi monastery stand out in terms of structure is the fact that instead of one large complex, it actually has four sections. The main section, however, is the most famous as it has the main Buddha statue. The religious reverence for it is extremely high, as Buddhists from all over the world come to see it. There are three temples-  Dukhang (assembly hall), 'Jam-dpal lHa-Khang (Manjushri temple), and gTsug-lag-Khang (main temple). The walls here also have intricate designs that portray the legacy of Buddhism.

Bollywood Connection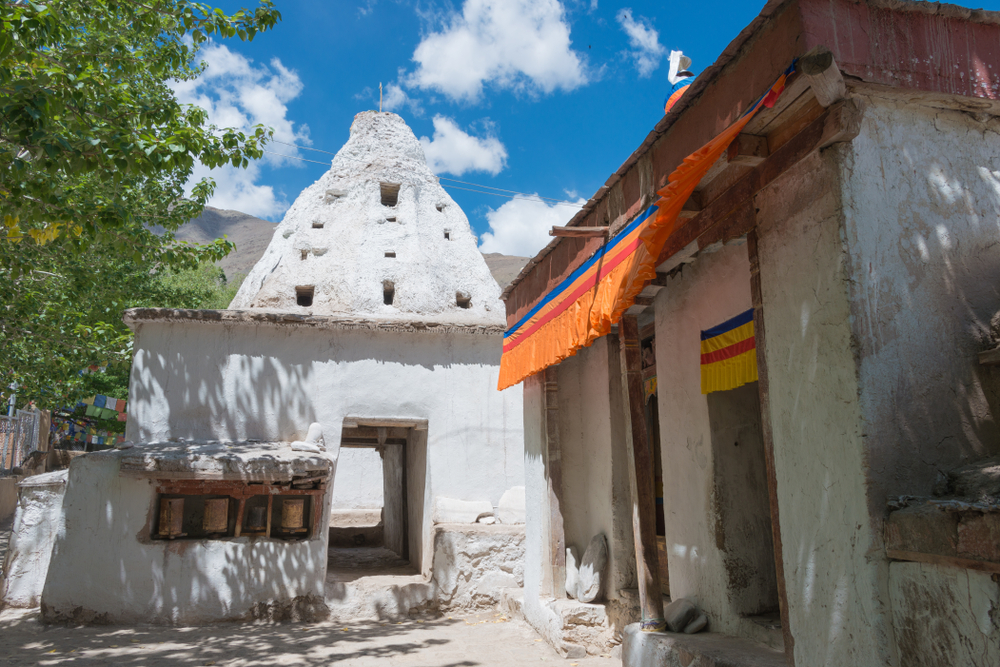 The beauty and calmness of Alchi monastery have led it to be featured in some of the famous Bollywood movies. Popular movies that have featured this monument include-
- Dil Se (1998):
This iconic movie starred Shah Rukh Khan and Manisha Koirala. The famous sequence in this film where the travellers are lost was shot at Alchi Monastery.
- Tashan (2008):
Produced by Aditya Chopra, the film starred Kareena Kapoor Khan, Saif Ali Khan, and Akshay Kumar. The film's upbeat song 'Dil Dance Maare' was shot here
Traveller's Tips for Visiting Alchi Monastery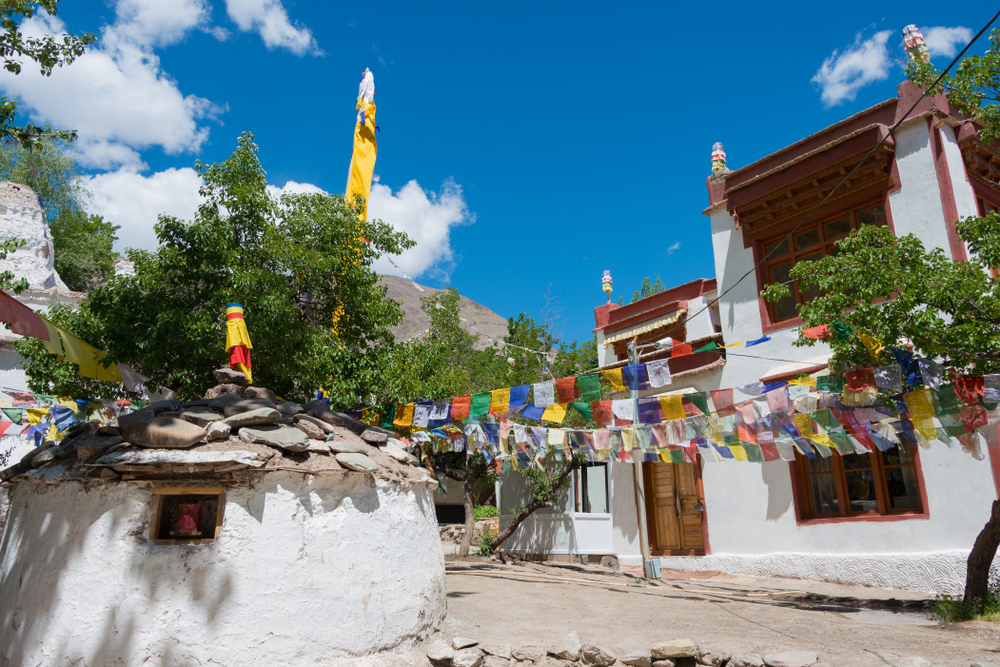 If you are planning an amazing trip to Alchi Monastery, make sure to keep a few things in mind-
1.
Wear comfortable shoes that can offer you maximum comfort to travel in the high altitude region.
2.
Plan for at least a one or two hours of stop at the monastery if you want to experience it properly.
3.
The peace and serenity are what makes it a monastery- do not disturb it by talking too loudly.
4.
Remember that photography is not allowed inside the monastery.
5.
Do not carry any intoxicating substances or food inside the monastery.