About Mandrem Beach
Stretching across a land cover of 790 meters, Mandrem is a small beach in the northernmost region of Goa. It features soft white sand, few sand dunes, and shrub vegetation. As you stroll around, you will see a beautiful lining of swaying palm trees and casuarina bordering the sea. In the northern end, there's a small cliff separating this beach from Arambol Beach. 
The scenic beauty of Mandrem Beach is multiplied ten-folds during mornings as well as evenings and it is mainly known for its sunset views. So do not forget to carry your cameras while visiting this beach. Mandrem Beach is not the one to witness a large crowd, which makes it a convenient place for a relaxing holiday. As there is no crowd here, you can simply kick off your footwear and stroll on the shore or just soak your legs in the waters. Else, you can reserve Mandrem beach as the last spot to visit after a tiring day. 
There is a small village near the beach where you will mostly find the local community of Mandrem. Make sure you set some time free to communicate with the local fishermen and get acquainted with their fishing traditions. 
If you get a chance to visit Mandrem Beach during high tides, do visit. It is during this time, when the sea water gushes into a parallelly running creek. This Mandrem creek is actually a dissecting river which divides the Mandrem Beach into two parts. Do not miss the opportunity of trying a hand at the water adventures of Mandrem, such as sunset backwater kayaking and ATV ride. 
How to Reach Mandrem Beach
How to Reach Mandrem Beach from Panaji - 
You have two different options to transfer between Mandrem Beach and Panaji – 
By Bus –  Panaji and Mandrem Beach are situated at a distance of 40.8 km drive. To cover this distance, you need to opt for a 2-hour KTCL bus ride costing you between 45 to 70 INR per head. 
 By taxi or self-drive – A one-way taxi ride between Panaji and Mandrem beach will charge you anything between 700 to 950 INR. If you have your own car, your total expense turns out to be 220 to 330 INR.
How to Reach Mandrem Beach from Goa International Airport – 
You have two options to commute between Goa International Airport and Mandrem Beach – 
By Taxi – Mandrem Beach is situated at a distance of 52.8 km from Goa International Airport. A taxi journey of 53 minutes between the two destinations will charge you around 1300 to 1700 INR per trip. You can also self-drive your own vehicle at a nominal expense of 380 to 600 INR per trip. 
By Towncar –  There are town car services that run between Goa International Airport and Mandrem Beach. One time journey will charge you anything between 2000 to 3000 INR.  
Best Time to Visit Mandrem Beach
The period between November to March is considered to be a peak tourist season in Goa. It is also an ideal season to plan your Mandrem Beach visit as the weather remains pleasant throughout. The daytime turns out long and sunny, with little to no rain. Visiting Mandrem Beach during the evening is an excellent time to enjoy the cold breeze emerging from the sea. Besides, it is also an ideal time to taste the local delicacies as the restaurants and cafes here operate in their full swing.
What Not to Miss at Mandrem Beach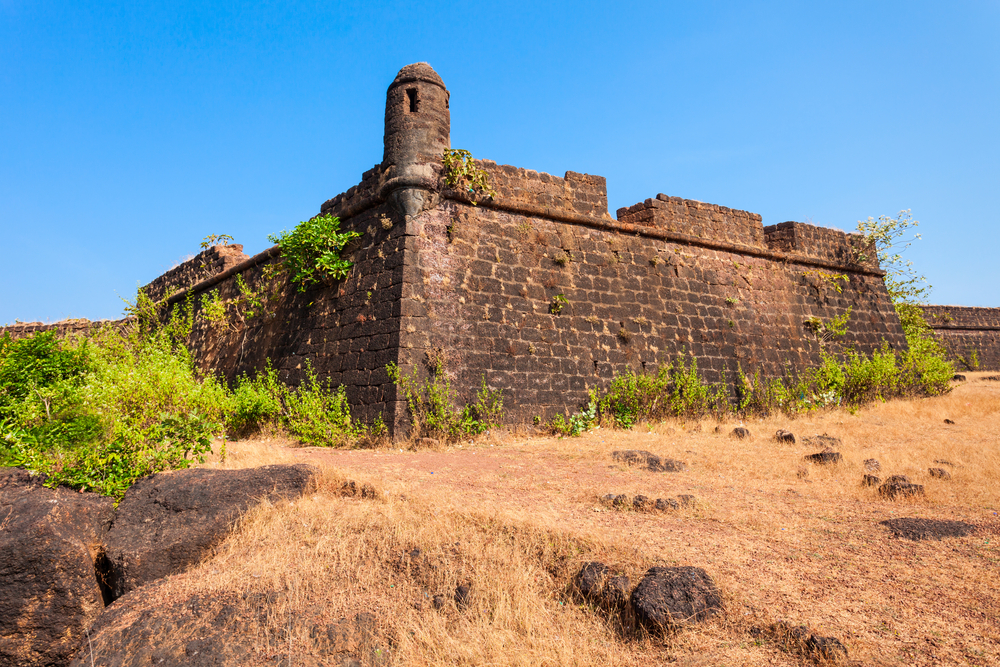 Confused where to go next in Mandrem? Here's a quick list of the nearby places –
Shirr Purchevo Ravalnath Temple – This holy shrine is wholly dedicated to Lord Vishnu and is located in the village of Mandrem. The statue of Lord Vishnu here is carved exceptionally well, wherein one half reflects the human body while the other half reflects an eagle. 

Oceanic Yoga and Meditation School – It is here where you can embrace both your pleasure and spirituality. It has got a colorful landscape, interesting themes with ambient music, and a merchandise shop nearby. 

The Chapora Fort – This fort has wide walls with ramparts where you can walk and take a 360-degree tour of the fort. There are arrow slits, murder holes, and gun ports all around the fort. Somewhere within the fortress, you might even find the presence of some underground tunnels. 

The Chapora River – Head towards the Chapora river to explore the nesting ground of Olive Ridley Marine Turtles. 

Sea Paradise Beach Cottage – Feel the comfort of your own home at Mandrem Beach's Sea Paradise Beach Cottage. Every single room here features a balcony and a seating area. Chinese, tandoor, Goan, and other delicacies are worthy of trying here. 

Mandrem Village – Mandrem Village is the local settlement of the fishermen community who are engaged in fishing activities here. You can approach the fishermen and learn some fishing tactics from them. Before you leave the village, do not forget to roam around and adore the vast stretch of nature that feeds a wide array of local flora and fauna. Mandrem Village is known for its adventures, white-bellied fish eagles, kingfishers, crabs, herons, and other wildlife species. 
Other Essential Information About Mandrem Beach
Water sports in Mandrem Beach – 
If you've got an adventurous heart, these are few water sporting adventures to try once in Mandrem -  
Sunset Back Water Kayaking – Sunset Backwater Kayaking adventure gives you a fantastic opportunity to witness an unlimited stress buster. Paddling amidst the vastly stretched mangrove forests itself is a one-of-its-kind adventure. Whether you are a beginner or have some prior experience, there are guides to help you with this activity. 
ATV ride, Mandrem Beach – ATV Ride at Mandrem Beach is an All-Terrain Vehicle that helps you to explore the surrounding wilderness of the beach. As you ride along the beach, witness your adrenaline pumping fast. 
Fishing – Get along with the local fishing community at the Mandrem Village and learn the basics of fishing. If they allow you, do accompany them on their fishing tour. The tour might help you in spotting a plethora of marine fishes endemic to the underwater table of Mandrem Beach. 
Nightlife at Mandrem Beach -


There is no such nightlife activity at Mandrem Beach. The three places mentioned below are known for their nightlife activities in Goa – 
Club Cubana – This place is renowned as the number 1 nightclub in entire Asia, which is located atop the Arpora Hill. Night swimming pools, regular live performances, large outdoor terraces, and themed parties are chief attractions of this place. Women may opt for free entry and unlimited drinks during Club Cubana's Women's Night. On Saturday nights, you can dance to the tune of globally recognized DJs at their live performances here. 
Distance from Mandrem – 10.1 km 
Primrose Café Club – This is the best place to enjoy your late-night pool parties, good food, and mouth-watering drinks. Primrose Café Club has a great ambiance. They always keep their guests entertained with some good music being played in the backdrop. 
Distance from Mandrem – 7.4 km 
Nyex Beach Club – The Nyex Beach Club in Anjuna is a beautiful place to hang out with your friends at night. Within the club, you'll find the presence of a pool in the center with a sidebar that serves some outstanding drinks and cocktails. You can enjoy your dinner here while having an excellent panoramic view of the sea overlooking this club. The only downside here is that they serve only a restricted number of non-alcoholic drinks. 
 Distance from Mandrem – 14.3 km 

Places to eat at Mandrem Beach –
After a long and tiring day at Mandrem, your tummy might be craving for some homely food. Here's a list of eateries to explore for a nice and sumptuous food – 
La Plage – This restaurant has a scenic beauty in its backdrop and serves some good quality local food. You can walk-in anytime between 08:30 am to 10:00 pm for a casual meal. They also have a sizeable outer space where you can sit with four of your companions with a huge umbrella overhead. 
O' Saiba New Café – This café serves Indian, Italian, Thai, and Chinese food variants. The ambiance here is quite pleasant where you can dine in with your family. Also, the atmosphere in the café makes you feel back at your home. The classic curry-pizza sandwich is their signature preparation.
Tom Yam Thai Restaurant – Here, you get to eat Thai, Asian, and Indian food variants. The ambiance here is quite good with a decent hospitality service. There's always a piece of soft music being played in the backdrop. 
Boonies – Here at Boonies, you can try both European and grilled food variants. They have a wide range of fantastic cocktails for your side serve. Mango Panna Cotta is their signature preparation. 
Café Junas 9 – This café at Mandrem beach serves you Indian and European style seafood and drinks. Tuna and Kingfish dishes are their chief attractions. It is a great place to enjoy a casual dinner with your family. 
Bedrock Bar & Restaurant – This restaurant serves almost all international flavors – European, Chinese, Indian, Italian, Tibetan, and Asian. The seafood served here is simply delicious and sumptuous enough to fulfill your cravings. 
Sunset Mandrem – Sunset Mandrem offers you both Indian, Asian, and International style seafood. Feel the sea breeze that blows through there outer sitting area where you have your family lunch. It quickly refreshes you to continue with your exploration activity. 
Verandah – If you want to try some American dishes here on Mandrem beach, head towards Verandah. A combo of American style pizzas, cocktails, and quiches makes for a great experience here. 
Places to Stay near Mandrem Beach –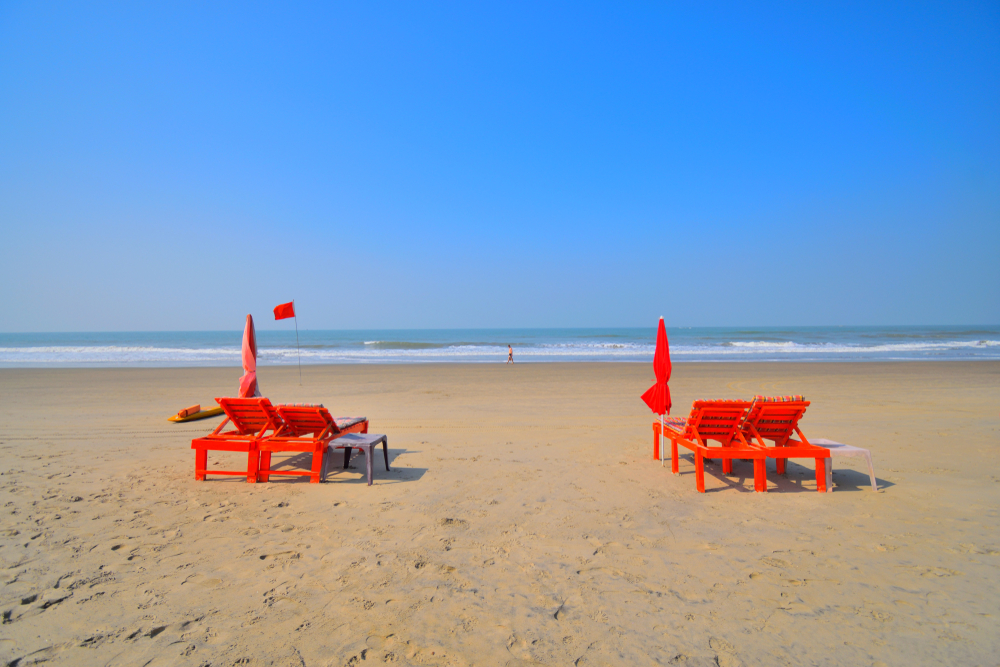 Finding an accommodation is a tough situation for most of the travellers. To ease your job, check the list below for some good stay options near Mandrem Beach – 

Apartment Aajo – If you are searching for any air-conditioned rooms in Mandrem, head towards Apartment Aajo. You can enjoy a 24 hours room service, front desk service, and free Wi-Fi availability here. 

Price – 3300 INR per night 

White Sand – White sand offers a free Wi-Fi service and a sea-facing accommodation facility. They have an in-house restaurant and free parking facility. 

Price – 2200 INR per night 

The Shiva Village – The Shiva Village features a bar, a garden, and a restaurant. To make their guests feel at home, the hotel offers free Wi-Fi access throughout the property for 24 hours. Every room has its own balcony, and the scenic view beyond the balcony is mesmerizing. 

Price – 1500 INR per night

The Rosewood – The Rosewood at Mandrem has got its own garden and a bar where you can enjoy your favorite style of cocktails and mocktails. This property features air-conditioned rooms and is rated to be the best amongst all the 3-star hotels in Goa. Each room has its own free Wi-Fi service and an attached private bathroom. 

Price – 1600 INR per night 

Fantasy Resort Goa – This resort features an outdoor swimming pool, a restaurant, a garden, and a bar. Fantasy Resort Goa provides 24-hour front desk service, room service, and airport transfers. They also have guest rooms with an attached sitting area. 

Price – 1500 INR per night 

Yab Yum Resort – Yab Yum Resort faces the Mandrem beachfront and also features a garden. Amongst all the essential facilities here, they do provide for 24-hour front desk assistance, room service, free Wi-Fi connectivity, and parking facility. 

Price – 7800 INR per night 

D Pedro Inn – D Pedro Inn is situated in Mandrem and features a garden, bar, free Wi-Fi availability, parking facility. Rooms are well furnished and equipped with all modern amenities. You can either opt for an Asian or continental breakfast here. 

Price – 2000 INR per night 

Ashvem Boomerang – Ashvem Boomerang is located within the district of Mandrem Beach and has a bar and a garden of its own. Every single room here is equipped with a flat TV screen, attached private bathroom, and an air conditioning system. Every morning, you have a buffet system where you can enjoy a sumptuous breakfast of your choice. 

Price – 4300 INR per night 

Things to Carry at Mandrem Beach –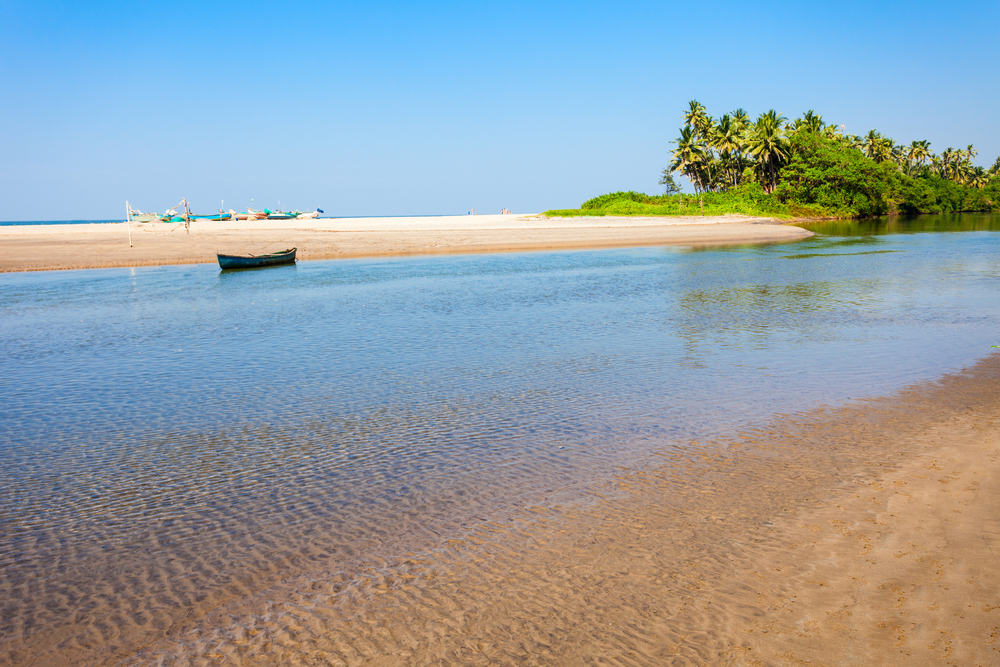 Check the list of things to carry at Mandrem Beach – 
Essential – 
Bug spray, sunscreen, first aid kit, water bottles, snacks, beach towels, daypack, and ziplock bags. 
Clothes – Rash Guards, cover-ups, swimsuits, sleep clothes, cap or wide-brimmed hats, flip flops or sandals, sunglasses. 
Personal Items – Wallet, hand sanitizers, hand wipes, reading glasses, prescription glasses, hairbrushes, hair ties, feminine products. 
Comfort items – Shade tents, folding snack tables, beach chairs, beach blankets, coolers or insulated bags, beach umbrellas, collapsible utility wagon. 
Extras – Swim fins, floatables, goggles, waterproof cameras, life jackets. 
Shacks at Mandrem Beach – 
Mandrem Beach does not have many shacks. You still might find some sunbeds with umbrellas at significant points on the beach. Either simply sit and relax beneath the sky or sip in a glass of your favorite drink. The majority of the shacks are located at a short distance from the Mandrem waterfront. Occasionally, you might witness a piece of good music being played at these shacks.
Although the food served at the Mandrem shacks is average, you should try their fish preparation at least once. Visit the nearby Oasis for some mouth-watering seafood preparations such as prawns and bread. 
Medical Facilities near Mandrem Beach –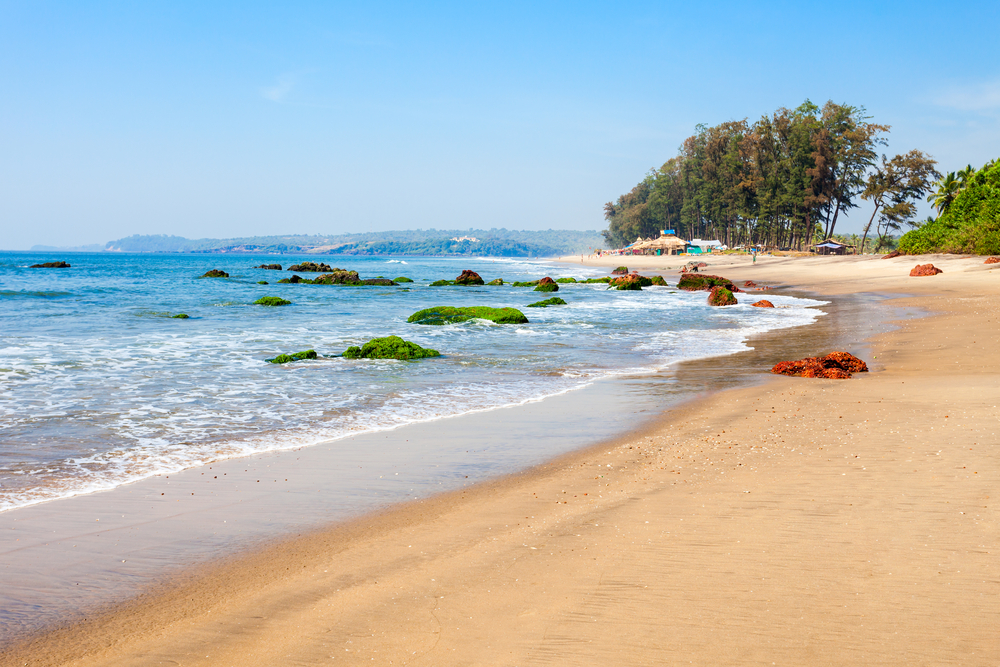 You won't find any immediate medical facility at Mandrem Beach. However, there are plenty of them if you walk a few more miles. Here's a list of some of the top-notch facilities near Mandrem Beach – 
Goa Clinic 
Parsekar Memorial Hospital 
Chandsi Clinic
Santhigiri Ayurveda Hospital 
Pai Hospital 
Usgaonkar's Children Hospital 
Classic Hospital 
Mother's Care Hospital 
Travelers' Tip before visiting Mandrem Beach –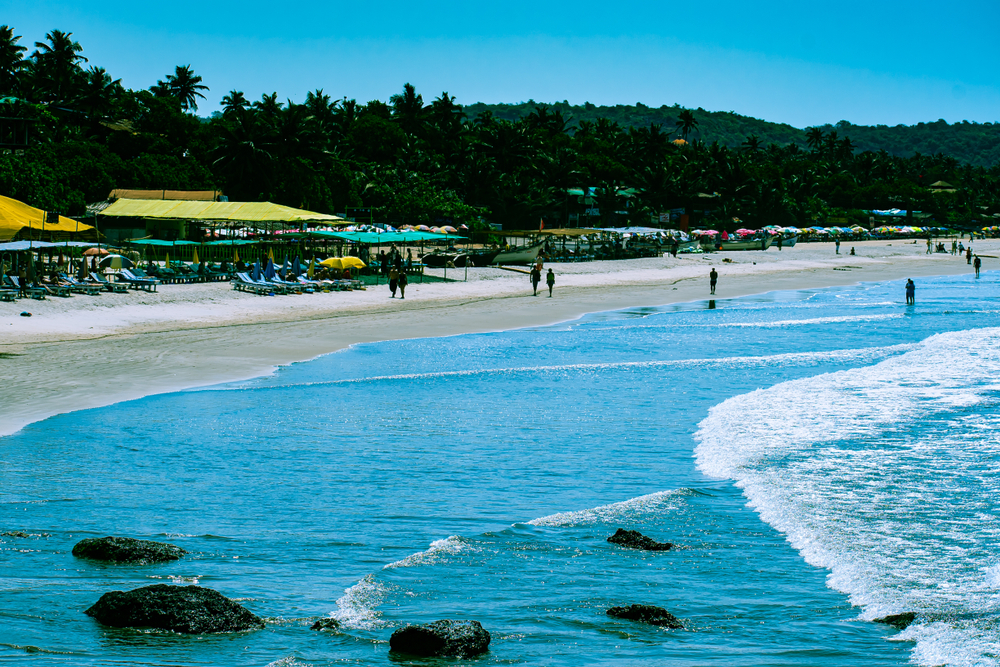 -Plan your visit to Mandrem Beach from November to March as the weather remains pleasant. 

-Mandrem Village has almost all the essential facilities nearby. So, you do not need to worry in case if you run short of money or you need any emergency medical assistance. 

-You won't find any functional beach shacks here in monsoons as their existence is only temporary. 

-You can travel to Mandrem either by air, road or rail. 

-While you stroll along the shore, be careful as the Arabian Sea might turn out to be quite mischievous at some points. 

-This is not a party destination. So, you may enjoy your party craze somewhere else, and in the evening, return to this beach for some lovely sunset views. 

-Mandrem beach is a fisherman's point. So, if you have your own DSLR or a great camera-equipped smartphone, begin walking in the direction of the sea to get some pretty good clicks. 

-There are bridges built with bamboo and wood all over the Mandrem Creek. You can use them to get over to the other side. Just make sure that you do not drive in your vehicles there as they are very narrow. 

-Spare some time to embrace the fauna of Mandrem Beach. Herons, Kingfishers, crabs are worthy of adoring here.