About Desert National Park


Situated at a distance of around 40 km from Jaisalmer (Rajasthan), Desert National Park is counted amongst the largest parks of India. Geographically, this park covers an area of 3162 sq. km extending from the borders of Jaisalmer, the park boundary reaches close to the Indo-Pak border. 

You can expect everything here that a Desert ecosystem has to offer you. There are craggy rocks, intermedial areas, compact salt lake bottoms, and fixed dunes. In fact, the dunes makeup to almost 20% of the area under this park. 

Amongst the wild flora of the Desert region, you get to see Desert plants, cacti, and other thorny bushes. An adventure-filled safari will be the best way to take a 360-degree tour of the Desert ecosystem here.

Besides jeep drive, if you are really adventurous, you can indulge in camping and bonfire activities here. 

Being located within the close proximity of the Thar Desert, the park re-defines all parameters of stereotypical transitions exhibited by flora and fauna there. Even though the Desert ecosystem at the Desert National Park is harsh and fragile, it shelters a plethora of wildlife.

In fact, bird researchers tag this place as a haven for migratory birds. If you are an avid lover of the rare bird species, get your binoculars and DSLRs on as you have The Great Indian Bustard to spot here. 
If you take a keen interest in exploring the Desert National Park, you will come across some remnants dating back to the era of Jurassic times. So, be ready to stare at the remnants of the dinosaurs dating back to around 6 million years.

The park has also got animal and bird fossils dating back to 180 million years. So, get set and go as you and your DSLR has got a lot of hard work here. 

Flora and Fauna at Desert National Park –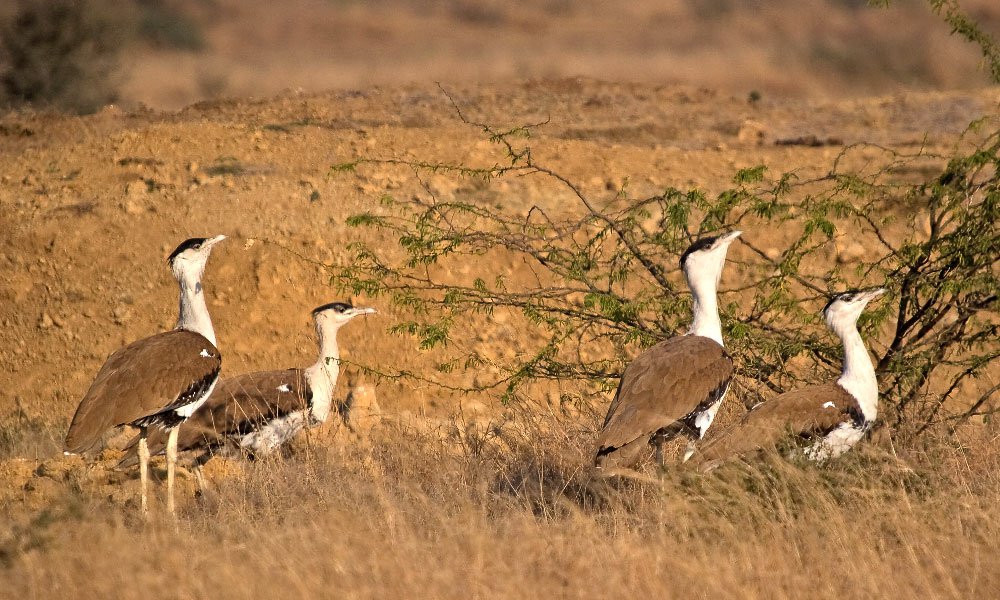 Excited to know more about the Desert National Park? Let's peep into its flora and fauna first – 

1. Animals – 

Desert monitors, deadly vipers, spiny-tailed lizards, Krait, and sandfish are the prominent members of the wildlife family.

If you are fortunate enough to be there on time, you can even spot on Desert and Bengal foxes munching on some fresh berries. Apart from these key animals, the Desert National Park also shelters Vulpes, Blackbuck Antelope, Gazelle gazelle, Desert Cat Felis Libyes, and Cervicapra Rajputana Chinkara. 

2. Birds – 

As stated early, this park is never-ending heaven for all bird lovers. Desert National Park of Jaisalmer is known to house 150 different varieties of residential and migratory birds. It is a common phenomenon to locate endangered species of The Great Indian Bustard.

Amongst the other common species you have – Demoiselle, Eagles, Falcons, Partridges, Bee-Eaters, Vultures, Larks, Shrikes, Macqueen's Bustard. As you move on to the next section of the park, you will come across some ponds and waterholes. Larks and wheatears are common species to be located here. 
3. Reptiles – 

Not all, but Desert National Park has surely got several reptile species to exhibit before you. Monitor lizard, Spiny-tailed lizard, Russell's viper, Saw-scaled viper, common krait are few of the reptile species to be traced here. 

4. Vegetation – 

Although a sparse one, you still can find a variety in the vegetative species at the Desert National Park. Prominent amongst the vegetative species are aak shrub, sewan grass, and cacti. 

It has got a well-diversified desert type of landscape where you have small salt lake bottom, fixed and shifting dunes, and craggy rocks.

While strolling through the park, do not forget to raise your head high above the sky. You will be surprised by the number of vultures soaring high to present a delightful sight. 
How to Reach Desert National Park
Here are the three best ways to reach the Desert National Park – 
By Air – 
Jaisalmer has no airport of its own. The nearest airport to reach the Desert National Park is the Jodhpur Airport situated at a distance of 300 km. Once you get down, you can easily make your next move either by boarding a train to Jaisalmer or by a direct cab ride. It will take around 4 hours and 46 minutes to get transferred between the two points via road.  
By Rail – 
Jaisalmer Railway Station is the nearest railhead to reach the Desert National Park. You can opt for the famous 'Exotic Palace on Wheels' ride to enjoy your Desert National Park safari. The Jaisalmer railhead is situated at 13 km distance from the Dessert National Park and will require only 20 minutes for you to travel between two points.
By Road – 
Jaisalmer shows decent connectivity to other states by road. You have the options of both deluxe and ordinary bus service from Jodhpur, Bikaner, Jalore, Jaipur, Barmer, Ahmedabad, etc. 
Best Time to Visit Desert National Park
Although you can visit anytime, October to March is the most preferred period. 

Desert National Park in Summers - 
The summers tend to be sweltering hot, and it is advisable not to plan your visit in summers. In summer, you may find the daytime temperatures rising as high as 40 degrees. Nights tend to be a bit on the cooler side. 

Desert National Park in Monsoons - 
As this place is located within the heart of Thar Desert, rainfall is almost equivalent to negligible. In fact, the Jaisalmer region of Rajasthan witnesses extreme dryness for a significant part of the year. 

Desert National Park in Winters - 

Desert National Park is a part of Jaisalmer where the winters are generally pleasant and appealing. You can expect the daytime temperature to be around 22 to 24 degrees. The winter nights in Jaisalmer are cold with temperature level dropping as low as 7 to 8 degrees. Thus, the winter temperature and the climatic variations makes your Desert National Park outing an easier one. 
What Not to Miss at Desert National Park
Places to visit near Desert National Park – 

When you've learnt a lot about the Desert National Park, here's a few more information on the places to explore around – 

1. Jaisalmer Fort – 

Locally renowned as Sonar Quilla, Jaisalmer Fort is accounted amongst the most significant forts across the globe. This 250-foot tall fort shelters around 99 bastions, 92 of which were built from 1633 to 1647. 

2. Bada Bagh – 

Also known as Bada Garden, Bada Bagh is the widespread fascination of Ramgarh street. The chhatris or cenotaphs forms the principal attractions here. 

3. Gadisar Lake – 
Sanctuaries and broad ghats define the beauty of the Gadsisar Lakes. If you take a stroll around the lake, you will witness the presence of innumerable chhatris, ghats, shrines, and temples here. It feels as if the water body here was a principal water resource for the inhabitants of the entire Jaisalmer city. 
4. Khaba Fort – 

This fort is set amidst the Jaisalmer Desert and is accounted as an architecturally adoring monument. After walking through this crumbling structure, you can simply make your way to the small museum that lies close to it. This museum is loaded with heaps of antique artifacts to drive you back to the era of the 1880s.  
5. Kuldhara Village – 
This is an abandoned village where you can just see a few remnants of how the town once was. It is a well-known spot for local paranormal activities.

Yet, you get to know a lot of tourists desirous of peeping in. If you are scared of hearing the haunted stories, it is advisable to skip this tourist attraction. 

6. Patwon ki Haveli – 

This is one of the most magnificent havelis of Rajasthan known for its intricate latticework. This architectural marvel was carved out of Redstone. 
The detailing has been done in line with the Jain architectural style. The gateways, ornate wall paintings, doorways, and intricate yellow sandstone carved jharokhas or balconies are prime attractions here. 
Activities At Desert National Park –



Now when you know what's there inside the Desert National Park, let's get some quick insights on to what you can do to make your visit an exciting one – 
1. Sightseeing – 

Sightseeing at the Desert National Park is a favorite activity of every tourist as it has got some beautiful dunes and a Gadisar Lake to adore.

You can simply relax alongside the Gadisar Lake or closely watch the villagers singing and dancing between the dunes. The path to the Gadisar Lake is guarded by a magnificent gateway, namely tilon-ki-pol, and is made of sandstone. 

2. Camel safari – 

You all might be hearing that camel is best defined as the 'Ship of the Desert'. The Desert National Park re-defines this context once more by extending camel safari to you.

So, be ready and disciplined to get on the back of Gailey dressed camel. While you enjoy the surrounding beauty, allow the camel to peacefully sail you through the dunes and barren lands. 
Confused about where to begin from? Well, make your way to the main entrance of the Desert National Park.

There you will find a lot of camel herders engaged in marketing their camel safaris at negotiable prices. Watching sunsets while sitting on the back of a camel is amongst the most enjoyed activities of the tourists here. 

3. Jeep Safari – 

If you want to add some more adventure, Jeep Safari is always the best and most enthralling option to try at the Desert National Park. As it starts driving you through the dunes, you will soon witness an increase in its driving speed.

 Make sure that you hold on tightly to something so that you do not bump somewhere within the jeep. It's a 12km long trail, so expect an easy expense of 30 minutes to enjoy it. 

4. Food Safari – 

While there's a lot to explore at the Desert National Park, your tummy might soon feel dull and lethargic. You can visit the nearby food joints at the Desert National Park to satiate the unexpected cravings of your stomach. 
Other Essential Information About Desert National Park


Location –  Myajlar Road, Jaisalmer, Rajasthan 345001

Timing –  Desert National Park works on all seven days of the week between 07:00 am to 05:00 pm 

Price -  The entry ticket price for visiting the Desert National Park are as follows – 

Indian – 50 INR per head 

Non-Indian – 300 INR per head 
Gypsy – 200 INR 


Tour Guide – 200 INR 

Places to eat near Desert National Park – 
Once you are in Jaisalmer, your tour won't be completed without trying the local delicacies here. A tender and boneless preparation 'murgh-e-subz' is a must-try delicacy here. 'Ker Sangri,' Tandoor Thali, Kadi pakoras, Dumplings cooked in yogurt sauce, potatoes filled with a mint paste, and orbhanon aloo are principle preparations of Jaisalmer. Here's a quick food tour for you
1. Prithvi Restaurant – 

This restaurant offers you Indian, European, Asian, and Romanian cuisine. The Shahi Rajasthani style thali served here is quite delicious. This has a rooftop restaurant where you can sit and enjoy your family meal with the view of Jaisalmer in the backdrop. 


The traveler's cup premium coffee shop – 


This cafeteria is present within the premises of the Jaisalmer Fort and offers a wide array of deliciously flavored coffees. You can grab hold of your favorite book while relaxing with a cup of hot brewing coffee.

2. The Turban Restaurant and Café – 

The turban restaurant and café offer American, Indian, and European styled cuisines and delicacies. If you are a tea person, this place has got a lovely masala chai and poha to enjoy on its rooftop. 

3. The Lal Garh – 
If spicy Italian or Sea-food or Fast food is something you are looking for, The LalGarh is the best option for you. Both Lal Maas and the delicious planner tikka masala are worthy of trying here. 

4. Hotel Pol Haveli Restaurant – 

This restaurant serves both Indian and Asian style food. The place has got a beautiful ambiance cushioning a perfect and comfortable dining option. 
5. Green Park Restaurant – 
Allow your child to play in a mini playground here while your food is being prepared in the kitchen. It has also got a charming garden with a beautiful fountain. Tikka paneer starter is a must-to-try starter here. 

Tips For Visiting Desert National Park – 

Now, when you know what you have at the Desert National Park, here's a list of some essential tips to make your visit an exciting one – 

1. Desert National Park usually turns out to be quite windy. It is always good to keep your hat or a scarf handy with you. 

2. The mornings are usually hot here, and the same can be expected during the winter months. Thus, it is good for you to keep your hat and sunglasses with you. 
3. If you are planning your visit to the Desert National Park in summers or during the daytime, make sure that you lather a sufficient amount of moisturizer and sunscreen. This will help in reflecting harmful radiation back to the sun. 
4. As it is a Desert region, nights are usually colder than the evenings. Carry warm clothes and extra sweaters while coming here. 

5. There are excellent accommodation options within the Desert National Park itself. Besides, accommodating yourself in a tent amidst the vastly stretched Desert is an entirely different experience. A night stay here will give you a fair chance to explore the local traditions and enjoy the local Rajasthani preparations.

As soon as the bonfire is lit, you may get along with the locals and have some cultural exchange. 

6. If you want to research a bit about the lifestyle of people living in extreme conditions, get along with the locals staying nearby. You can also sip a cup of their style tea or have a local meal at their den. 
7. A guided tour will always visit an informative flavor. Make sure that you hire at least one guide per group.