About Chandratal Lake
Popularly known as the trekker's paradise, Chandratal Lake is reckoned as the most charismatic lake situated in the laps of Himalayas. This enticing lake is perched on the Samudra Tapu plateau which lies in close proximity to Chandra river. Situated at an altitude of 4300 meters, Chandratal offers the most splendid views of the Spiti region.

The lake is crescent-shaped, and that is how it got its name. If you are looking for a perfect blend of adventure and laidback holidays, there could not be a better site to kickstart your journey than Chandratal. The road to Chandratal lake takes you through treacherous trails of Batal which will set your adrenaline pumping.

On your way, you will also get to climb the glaciers between Kunzum pass and Rohtang Pass. This mesmerizing site has much folklore attached to itself but what lures its visitors is its turquoise blue water, majestic mountains and serene surroundings which make it an apt place for camping. Sprawled over an area of 2.5 kilometers, Chandratal sees a massive influx of travelers during the summer months.

In the winter months, this place majorly remains in the bucket list of adventure enthusiasts who want to push past their limits.
How to Reach Chandratal Lake
There are two viable routes from Delhi to Chandratal Lake by road. While the first route takes you through Manali, the other one passes through Shimla and then leads you to Spiti Valley. 

- Routes from Shimla:
This route begins from Delhi and leads to Narkanda. From here, one can move to Kalpa, and then further travel to Kaza and Nako. After taking a halt at Spiti valley, head towards Chandratal Lake from Kaza. While following this route, it is advisable to travel from Shimla to Kinnaur and then head towards Spiti Valley. Once you exit Spiti Valley, you can visit Chandratal Lake.

- Routes from Manali:
If you wish to follow a shorter way to Chandratal Lake, the Manali route is your best bet. It is a small journey where you will kickstart your trip from Delhi, pass through Mandi, Kullu, Rohtang La, Battal, Gramphoo, and finally reach Chandratal Lake.
1. By Public transport:
While traveling through public transport, there are the following two routes to Chandratal which you can opt for.
- Manali to Chandratal: There are two buses that traverse between Manali and Kaza early in the morning. The bus starts from Kullu at 4:30 AM and takes you to Manali. From here, the ticket to Kaza barely costs Rs 250 per person. Once you get down at Chandratal diversion point by the evening, you can hike your way to Chandratal Lake.
-Shimla to Chandratal: There are two non-ac buses that travel from Shimla to Reckong Peo. Once you reach Reckong Peo, board on a 7:00 AM HRTC bus to reach Kaza. From Kaza, board a bus for Manali and get down at the Chandratal Lake diversion point. From this point, you can cover the remaining distance by hiking.
2. Road Conditions: 
Once you divert off the Manali-Leh highway, the road conditions get unfavorable. The track from Gramphu to Batal is just a rough dirty route with several water crossings throughout the way. Even if you have opted for Kaza-Chandratal route, you will not see any significant improvement in the road conditions. There are many troublesome spots on the entire route due to the presence of rocky formations.
Best Time to Visit Chandratal Lake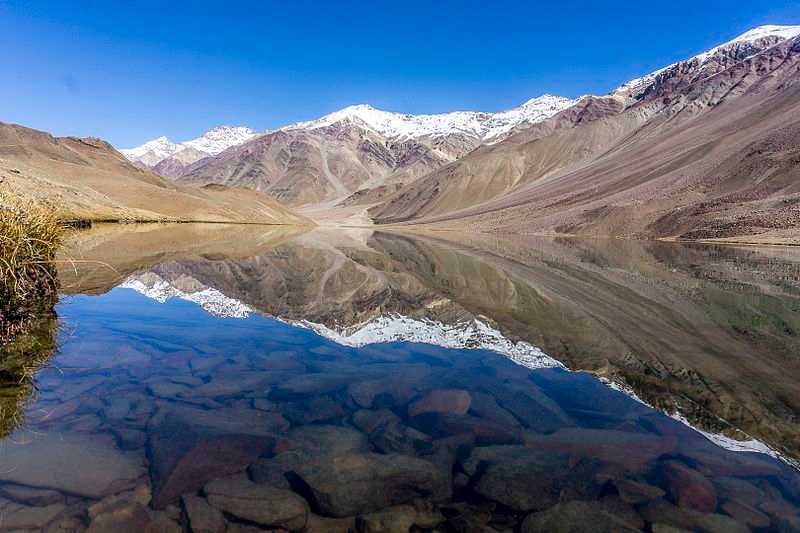 Winter is not considered as an ideal time to plan your Chandratal Lake visit as the entire way is blocked with snow. The snow starts clearing up in the May month, but the routes beyond Losar will still be blocked. The best time to visit Chandratal Lake is in June month when the snow clearance operation is complete.
During this time, you can reach the lake by trekking the 14 km long road from Batal. You can also plan your visit between July to September as the roads remain open and the weather turned pleasant. But one should definitely avoid monsoon of August due to wet roads and landslides.
What Not to Miss at Chandratal Lake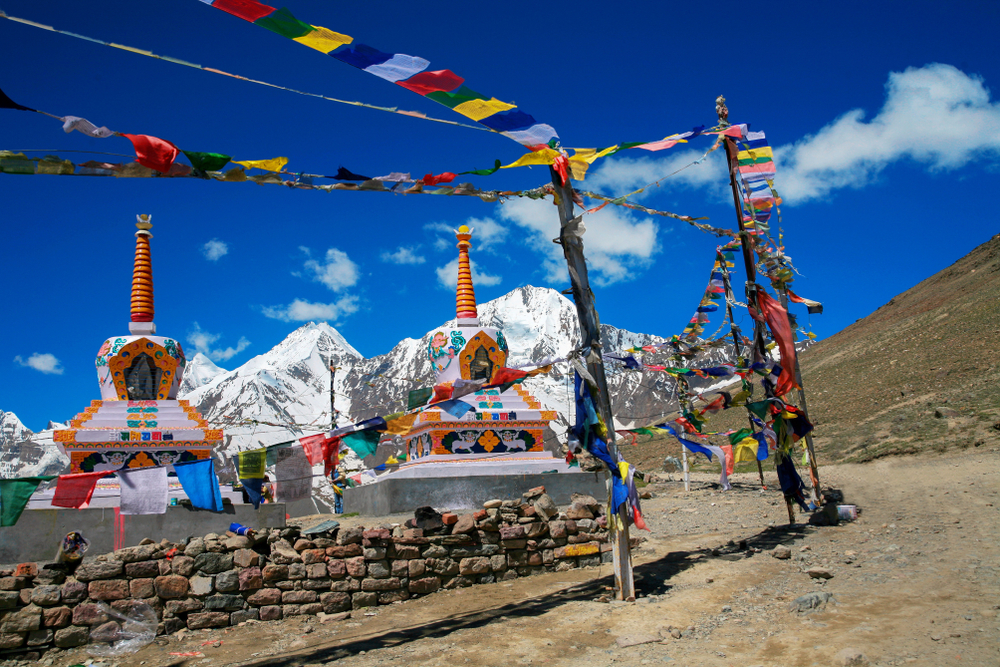 1. Sissu: Nestled at an altitude of 3170 meters, Sissu is known for its scenic vistas and magnificent waterfalls. Sissu Lake is cradled on the banks of river Chandra. Just 90 KM away from Manali, this remote hamlet is an ideal destination to get in touch with nature.


2. Kunzum Pass: This pass is located at an altitude of 4,551 meters above sea level. It is the main gateway to Spiti Valley from Lahaul Valley. A 15 km trek from this point will take you to the Chandratal Lake. Most of the visitors take a halt at this spot to visit the Kunzum Devi temple.


3. Darcha: It is another trekkers paradise nestled at the height of 3360 meters. Darcha is around 24 km away from Keylong and is a popular camping site. You can begin your trekking expedition from this point and head towards Zanskar Valley.


4.Suraj Tal: A 2-3 day trek from Chandratal will take you to this surreal spot called Suraj Tal. It is a go-to spot for tourists looking for road trips and trekking. Created by the streams of Bhaga river, this lake is popular as the lake of Sun God. Nestled at an altitude of 4,950 meters, it is the third highest lake in India.


5. Bara Shigri Glacier: Hailed as the largest glacier in Himachal Pradesh, Bara Shigri is situated in the Chandra Valley. It is a 25 Km long and 3 Km wide glacier which rests on the middle slope of Himalayan ranges.


6. Baralacha La:
Located at a distance of 75 Km from Keylong, this pass is a major attraction on Manali-Leh road. The pass acts as a bridge between two well-known mountain ranges of India, namely, Zanskar Valley and Pir Panjal.
Chandratal Lake Itinerary

Your entire itinerary should be based on your comfort and the number of days at hand. If you want to avoid AMS hassles, it is best to opt for the Shimla route. However, if you have less time at hand and you want to go for a shorter route, choosing the Manali route is the best bet. Here is a general itinerary for Chandratal lake that strikes a balance between time and comfort.
Day 1: Travel from Delhi to Manali and take an overnight halt at Solang Valley.
Day 2: Start your journey from Solang and head towards Batal.
Day 3: Leave for Chandratal and enjoy an unforgettable camping and hiking experience.
Day 4: After spending a day full of adventure in Chandratal, get on your way back to Manali.
Day 5: Travel back from Manali to Delhi.
Other Essential Information About Chandratal Lake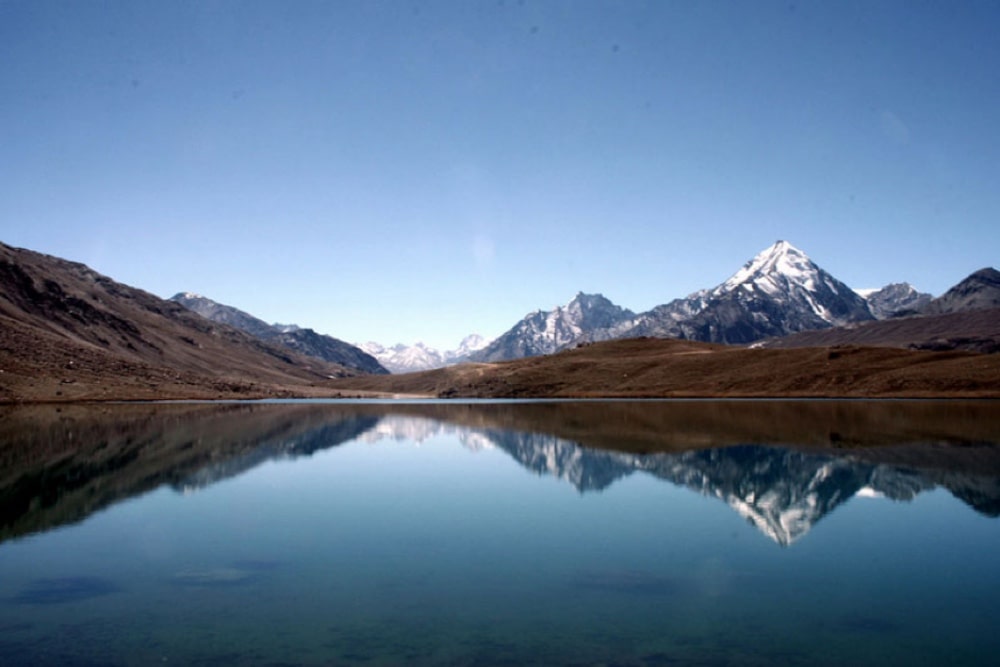 Location: 
Chandratal Lake is nestled in Spiti Valley in Himachal Pradesh. It is around 6 km away from Kunzum Pass. There are two popular routes to reach this site. While the first route is from Delhi to Manali, the second route passes through Shimla and Kinnaur to Spiti Valley.

Timing: This site can be visited throughout the week between 6:00 AM and 6:00 PM.

Altitude: The lake is perched at an altitude of 14,220 feet or 4,270 meters above the sea level. Since it is one of the high altitude lakes in the Himalayas, you need to plan your trip with a proper schedule.

Distance from Spiti: Chandratal Lake is around 27 kilometers away from Spiti Valley.

Distance from Manali: 
Manali to Chandratal Lake is a 250 km journey by road. It will take around 12 hours to traverse between these two destinations.
ATM's near Chandratal Lake: It is advisable to carry enough cash along with yourself on the Chandratal trip. Chandratal is bereft of human settlement, and you won't find many ATM's in this area. One can find the nearest ATMs in Manali and Kaza.

Mobile Connectivity: There are only a few routes in Spiti Valley where you can enjoy decent phone connectivity. Once you cross Gramphu and take a course to Chatru, you will hardly see any phone signals. Hence, it is advisable to carry a BSNL or MTNL sim card along with you as only these two connections work in this area.

Petrol Pumps near Chandratal Lake: The nearest petrol pump to Chandratal can be found in Kaza. You can also tank up at Tandi petrol pump on Manali-Leh highway.

Hospitals near Chandratal Lake: You need to keep your medical kit ready on your trip to Chandratal as this place lacks in medical amenities. You won't be able to avail any medical facilities till you enter Manali.

Chandratal Lake Weather


The weather at Chandratal lake remains cold throughout the year. In the winter season, the average temperature varies from -40 to 0 degrees celsius. Though the summer months in Chandratal also remain cold, you will be able to relish snowfall mostly in winter months only.

The average day and night temperature during the summer months range from 6 to 15-degree celsius. It is best to avoid the Chandratal trip during the monsoon as the site remains closed due to landslides.


The Legend Of Chandratal Lake


This enticing site in Spiti valley bears huge significance in Indian mythology. If legends are to be believed, Chandratal Lake is the site from where Lord Indra's chariot picked up the eldest of the Pandava brothers, Yudhishthira. This is why the lake is frequented by a large number of Hindu devotees too.

Another tale that is popular among the locals talks about two lovers named Chandra and Bhaga. Chandra was the daughter of the moon while Bhaga was the only son of Lord Sun. Chandratal Lake is said to be named after moon god's daughter, Chandra.


Chandratal Lake Trek


If you are an ardent trekker in quest of challenging hiking trails, look no further than Chandratal Lake trek. This soul-stirring trek begins from Manali and takes you to Chikka, which is nestled at an altitude of 3100 metres. The trail then leads to Balu Ka Ghera, followed by Hampta Pass, and Shira Gorh.

From Shira Gorh you climb up to the treacherous trails of Batal. Though the route from Batal is arduous and tiring, the surrounding view will leave you refreshed and energized. From this point, the route splits to Kunzum, which is the major gateway to the Chandratal Lake. 


Where to Stay Near Chandratal Lake

There is not a proper place to stay near Chandratal Lake as the government has banned camping near the site. Chandratal Lake is situated at a deserted land where you can't dream of a luxurious stay in 3-star hotels and cottages. However, just 2 kilometers away from this point, you can find a camping site where you can pitch your tents. If you are looking for safer stay options other than self camping, you will still be left with few choices.
There is a small place called Chandra Dhaba Batal which can accommodate around 7-8 people. If you are lucky, you will get to stay in igloo style huts right in front of the Dhaba. You can also plan your stay in Batal PWD Rest House. Apart from this, one can come back to Manali-Leh highway and stay at the Khoshkar guest house. If you want some better accommodation options, just travel towards Keylong and book your stay in any local hotel.

Things to Carry


If you have chosen offseason to embark on the Chandratal trek, it is better to be ready with some essential items. Some of the things that you need to carry on the Chandratal trek are listed as below:

- Heavy woolen clothes and socks
- Waterproof clothing, including jackets and lowers.
- Torchlight
- Medicines
- Water bottle and towels
- Camping equipment
-
Wooden stick
AMS at Chandratal Lake


Experiencing sickness on Himalayan trips is the most common phenomenon. If you are hiking in higher altitudes, there is a fair chance of AMS hitting you. However, such mountain sickness can ruin your travel plans and turn your exciting journey into a dreadful experience. If you want to avoid such occurrences, here are a few things that you must keep in mind.


- Try to follow the travel itinerary which takes care of the rapid increase in the altitude. If you experience mild AMS even after considering all the due precautions, keep some AMS medicines like Diamox handy.

- You can carry a small oxygen kit along with you.

- Up your water intake and remain hydrated throughout the hike. However, don't over hydrate as it can result in weakness and nausea.

- Keep yourself warm and dry by wearing woolens.
 Do's and Don'ts


- If you are accessing Chandratal Lake from Rohtang Pass, do get yourself a permit.


- Don't let your clothes get wet while crossing the water bodies.


- Don't consume alcohol while hiking your way to the lake.


- Do gather some information about mountain sickness and be ready with few medicines beforehand.


- Don't expect fancy accommodation nearby the lake. Chandratal lake is situated in a deserted spot. Hence, plan well in advance.


- Be aware of the road conditions at Spiti valley and use a vehicle that is meant for such roads.


- Carry enough cash with yourself in advance as you will hardly find any ATMs on the route.
Tips for Visiting Chandratal Lake
Though Chandratal Lake trek comes with a bountiful of unforgettable experiences for hikers, there are few precautions that should be taken to ensure your safety.


-  It is advisable to avoid alcohol consumption while trekking through these Himalayan trails.

- Carry an adequate amount of cash with yourself as you won't find many ATMs on this route.

- Try to cross the water nallas without getting your clothes wet. Do carry a towel and spare clothes in your backpack to dry yourself as soon as you get drenched in cold water.

-  If you want to relish a peaceful and easy hiking trip, it is recommended to start your journey from Shimla instead of Manali. 

- If this is your first Himalaya trip, you might face bouts of mountain sickness. To avoid any major health issues in such conditions, do carry some AMS medicines such as Diamox, etc