About Tabo
Situated on the banks of Spiti River, Tabo is a tiny town in Lahaul and Spiti district of Himachal Pradesh. The cold desert town sits at an elevation of 10,760 feet and is surrounded by scree slopes and snow-capped peaks of the Himalayas. Known for its serene and tranquil beauty, Tabo is a must-see spot for those who are looking for an offbeat adventure. 

The town is approximately 40 kilometers away from the border between India and Tibet, and you are bound to come across it when travelling by road from Kaza to Reckong Peo.The most famous attractions in Tabo include a 1000-year-old monastery, which is considered as one of the holiest by the Dalai Lama himself. The list also includes several temples, and some ancient caves, which were once inhabited by Buddhist monks who wanted to take shelter from the harsh winters. 

In 1996, Dalai Lama performed the sacred Kalachakra Initiation here, and thousands of Buddhists from India and around the world attended the ceremony. The town is also known for cultivating apples, and you can find some of the tastiest and crunchiest red apples here.If you want to get away from the hustle and bustle of everyday life, a trip to Tabo will surely rejuvenate your mind and body
How to Reach Tabo
1. By Road - The best way to reach Tabo is by car. Taxis are available from Manali and Shimla, and they will take you directly to Tabo village. There is only one bus that goes to Tabo and it leaves at 6:30 A.M from the Reckong Peo bus stand.

2. By Air - There are no direct flights to Tabo. The nearest airport is the Kullu Manali Airport, which is located in Bhuntar. Tabo is 300 kilometers away from the airport, from where you can book a cab.

3. By Rail - There are no direct trains to Tabo. The nearest station is the Shimla railway station, and it is 362 kilometers away from the village. Taxis are available from the railway station.
Best Time to Visit Tabo
The best time to visit Tabo is between May and October. It is neither too cold, nor too hot during this time of the year, and most of the famous tourist spots remain accessible. Weather can be fairly unpredictable in Tabo. The summers are short-lived, and generally lasts from May to July. During summers, temperatures can be around 20 °C during the day but drop to −5 °C at night.
However, August brings monsoon in the nearby areas which increases the chances of landslides and make the routes to the desert Spiti valley wet and slippery. So it is good to avoid August. The winter months last from mid-September to April, and they tend to be brutal.
You can expect temperatures ranging from −15 °C to −45 °C during the winter months. The area also receives heavy snowfall during winter.
What Not to Miss at Tabo



Despite being a small village, Tabo has a number of tourist attractions. As a pilgrimage site, it is widely renowned for its monastery and temples. It is the spot where natural beauty and spirituality meet to give you a trip of a lifetime. Some of the best places to visit in Tabo include:

1. Tabo Monastery - 
Tabo Gompa, locally known as Tabo Chos-Khor Monastery, is a Buddhist monastery complex consisting of nine sub-temples. It was founded in 996 AD and is considered to be the oldest functioning Buddhist monastery in the country. Do not fooled by the monastery's low-rise structure and uncolored mud exteriors. The walls inside are decorated with paintings, statues, murals, thangka art, and frescoes. The monastery complex also includes cave shrines and four decorated stupas.

2. Tabo Caves -
Part of the 1000-year-old monastery complex, the spectacular Tabo caves are clearly visible on the hillside. These artificially built caves once served as dwellings for monks who used these to escape the harsh Himalayan winters. Today, the monks use these caves for meditation. The caves have narrow openings, which lead to other small recesses and rooms. Holes are carved on the roof of these caves for ventilation purposes. To reach the caves, you would have to hike a distance of approximately 200 meters.

3. Monastery Museum -
From the outside, they may look like ordinary huts, which are barely withstanding the test of time and harsh climatic conditions. However, when you step inside, you are greeted by a huge statue of Maitreya, thought to be the successor of Gautama Buddha who is yet to arrive. It is said that Maitreya is a bodhisattva who will achieve enlightenment and teach the world pure dharma. The museum also houses historical photos and artifacts collected by the monastery.


4. Library - Those who want to learn more about the history and significance of Buddhism and Tibet must visit the library, which is tucked away inside the guesthouse building of the monastery.


Places to Visit near Tabo:


There are numerous tourist destinations in Himachal Pradesh, and Tabo happens to be close to many of them. Once you are done exploring the small village, you should definitely try some of the following spots. Here are some of the best places to visit near Tabo:

1. Dhankhar Village -
 The former capital of Spiti Valley, Dhankar Village sits at an altitude of 12,774 feet above mean sea level. Located 30.7 kilometers away from Tabo, the scenic village is less than an hour's drive away. There are many great spots to explore here, but if you have to pick, make sure to visit the Dhankar Monastery and Dhankar Lake.

2. Kaza -
 Located around 48 kilometers or an hour's drive away from Tabo, Kaza is a spot that you cannot afford to miss. Situated at an elevation of 11,980 feet, the township offers up some spectacular views of the valley. Surrounded by high mountains, Kaza is known for its barren landscapes, crystal clear streams, and patches of green meadows. Besides its natural beauty, Kaza also has the well-known Sakya Tangyud Monastery along with other attractions.

3. Pin Valley National Park -
Located at a distance of 48.5 kilometers from Tabo, the Pin Valley National Park is a wildlife enthusiast's dream. It is home to over 20 different species of birds and animals, but the main attraction is the endangered Snow Leopard. The park also houses around 12 big cats and other wild animals such as the Himalayan Black Bear, Himalayan Brown Bear, Himalayan Marmot, Tibetan Gazelle, Woolly Hare, Marten, Red Fox, Siberian Ibex and many more.

4. Nako village - 
Situated on the banks of Nako Lake, this picturesque Himalayan village is located around 63.8 kilometers away from Tabo. It takes about an hour's drive to reach this scenic village, which sits at an altitude of 11,893 feet. Surrounded by the snow-covered mountains, Nako looks like a painting made by God! The patches of green against the barren mountains look incredible.
Other Essential Information About Tabo


1. Location - Tabo is part of Lahaul and Spiti district of Himachal Pradesh. It is situated on the banks of Spiti River.

2. Distance from Spiti -
 Tabo is approximately 54 kilometers or an hour's drive away from Spiti Valley.

3. Distance from Manali -
 Tabo is located 250.5 kilometers away from Manali. It can take slightly over 5 hours to cover the distance by car.

4. Distance from Shimla -
 The distance between Tabo and Shimla is around 360.4 kilometers. By car, it may take over 10 hours to reach Tabo from Shimla.

5. Mobile Connectivity -
 Mobile phone networks are not very strong in Tabo. Only BSNL and MTNL network works well here.

6. Temperature -
 Winters are harsh in Tabo with temperatures hovering between −15 °C and below −40 °C. Summers are slightly warmer, and temperatures can vary from −5 °C to 20 °C.

Places to Eat in Tabo: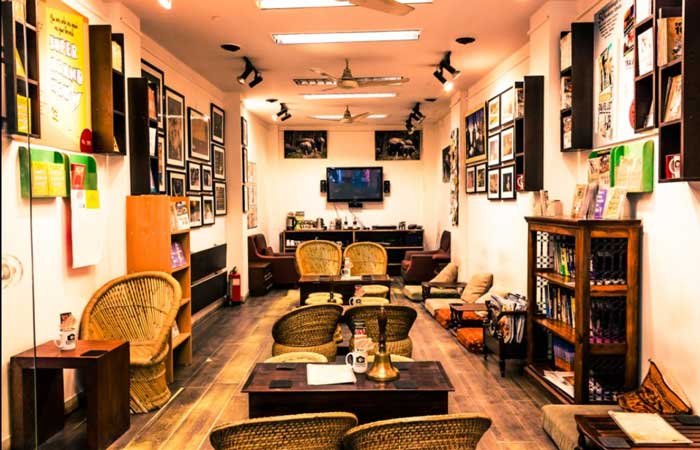 When it comes to places to eat in Tabo, you cannot expect a 5-star restaurant. However, the village offers some excellent options when it comes to the basic north-Indian and Tibetan cuisine. Here are some of the eateries that you must try when you are in Tabo:

1. Cafe Kunzum Top -
One of the most popular restaurants in Tabo, Cafe Kunzum Top specializes in café food and Tibetan cuisine. The restaurant offers breakfast, lunch, brunch, and dinner. Part of the Sonam Homestay, the café has a beautiful setting. Apart from good coffee, this vegetarian-friendly restaurant serves dishes such as spring rolls, burgers, potato tatchili, French fries, lassi and so on. One of their specialties called the "Spiti Thali" is a must-try.

2. Tiger Den -
 It is the most quintessential café in Tabo, and has a multi-cuisine specialty. Set in a yard surrounded by prayers flags and hollyhocks, the restaurant is part of the Hotel Tiger Den. The most popular items on their menu are hummus, lemon chicken, pizzas, and pitas. Being so close to the entrance of the monastery, the restaurant receives plenty of guests. 

3. Tashi Khangsar - 
The Tashi Khangsar has a great restaurant that serves breakfast, lunch, and dinner. Besides Indian and continental, the restaurant also offers some great Spitian and Israeli food.


Places to Stay in Tabo:


If you want to stay in Tabo for a day or two, you can find decent hotels and OYO rooms in the area that are not too far from the major tourist attractions. Here are some of the best places to stay in Tabo:

1. Sonam Homestay -
Located close to the Tabo Monastery, Sonam Homestay is one of the most popular hotels in Tabo. The rooms are spacious and furnished with a king-sized bed and other necessary furniture. Every room comes with an attached bathroom, telephone, and other features such as free Wi-Fi, room service, and free parking. The hotel also has a kitchen that is known for its delicious food.

2. Hotel Tiger Den -
 Located just a few steps away from the Tabo Monastery, Hotel Tiger den is known for its service, cleanliness, and value. The hotel provides free parking and other facilities such as room service. The hotel has a renowned restaurant that offers delectable meals throughout the day. The best part is that this pet-friendly hotel allows your furry friends to stay with you.

3. Hotel Snow Leopard -
Located near an SBI branch in the middle of the village, Hotel Snow Leopard offers spacious rooms with amenities such as attached bathrooms and cable TV. Every room is equipped with a wardrobe and comfortable king-sized bed.

Tips for visiting Tabo:


If you are visiting Tabo for the first time, you need to know some basic things to make the most of your stay there. Here are some fundamental tips for visiting Tabo:


1. The Tabo Monastery along with the popular temples close around 5.30 P.M. Make sure to start your day early and visit them in the morning or afternoon.


2. It can get fairly cold. So, make sure to wear a lot of layers including woolens and windproof jacket.


3. Plan your visit during the summer months so that most of the attractions and places to eat remain open.


4. Photography is not allowed within the monastery and the temples. So, put your smartphones and cameras away!


5. Do not litter and always use the garbage bins for disposal of items.