About Bada Bagh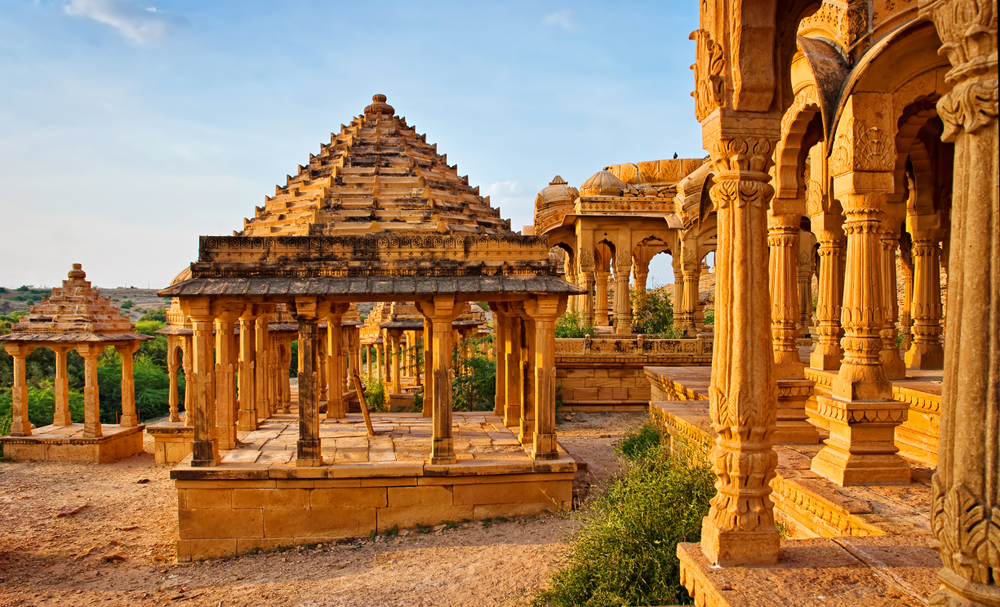 Located at an equal distance both from Lodhruva and Jaisalmer, Bada Bagh is one of the most significant relics of our country. Featuring a series of cenotaphs, Bada Bagh portrays illustrious past of Rajasthan. Gleaming through the desert regions of Jaisalmer, Bada Bagh once was wrapped within a coat of lush green gardens. The famous golden cenotaphs at Bada Bagh are located at a distance of 6 km from the northern region of Jaisalmer.
According to the Hindu literature, the term 'Bada Bagh' signifies a big garden. While the structure was first constructed, it had a beautiful garden encircling it. This might be the reason as to how and why the place came to be known as Bada Bagh. Perhaps today, you won't mark the presence of any garden there. But for sure, the site is quite peaceful with golden cenotaphs arising from the golden stretch of land. It has been said that every single cenotaph here is honored to be constructed in the memory of either a king or a queen from the royal family that stayed here.
These cenotaphs are nothing but tomb shaped structures which are locally referred to as Chhatris. The art of constructing Chhatris began somewhere around the 17th century and lasted until the 20th century. The first cenotaph that marked its presence here was erected as a tribute to the Maharaja Jai Singh II. After that, different Chhatris were constructed, which differ widely in their sizes.
Today, you could see them standing tall in two rows reflecting the power quotient and the social status of the members of the Royal family. If you look closely at the top of each Chhatri, there's a small stone inscription there with the date and the name of the person to whom it has been commemorated. Very few of them have brief descriptions, as well.
History of Bada Bagh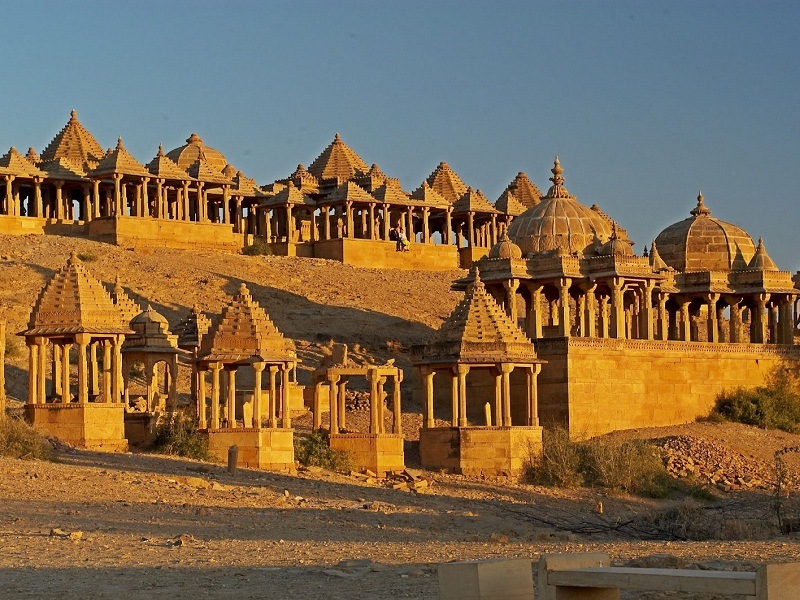 The credit for the construction of this piece of land goes to the Maharaja Maharawal Jai Singh. He started his work by constructing a dam in the desert region so that it could serve the purpose of a water tank for the nearby villages. Soon, the water from this dam brought unparalleled glory to the entire periphery, and the region witnessed a surprising bloom in both its flora and fauna. This delighted every boon of efforts that Maharaja Maharawal Jai Singh invested into the construction of his venture.
With his death on 21st September 1743, it was his son to commemorate him with the construction of a Chhatri here. The creation of this commemorable structure in the immediate neighbor of the lake laid the foundation of a new tradition for all the Bhatti dynasty rulers. After that, to recognize and valor the contribution of each of its Bhatti dynasty rulers, a new cenotaph came to be constructed.
It was in the year 1947 when this tradition of cenotaph construction was discontinued on account of the sad demise of one of the princes who passed away after suffering from a mysterious disease. This death was considered to be a reflection of lousy omen amongst the Royals. Hence, they inanimate on the discontinuation of the tradition.
The Chattris at Bada Bagh
Bada Bagh witnessed a tradition of constructing Chattris somewhere around the 17th century, which lasted until the 20th century. The first Chattri or cenotaph, which came to be built here, was that of Maharaja Jai Singh II, who ruled the region between 1688 to 1743. He made immense contributions as a ruler during his reign in Jaisalmer. The major one was the dam construction, which was aimed at uplifting both flora and fauna in the community for the betterment of the society. After his death, his son decided to commemorate his valuable contribution towards social development by constructing a cenotaph near to this water body.
This laid the foundation of a new tradition in the Bhatti dynasty. Later, it was decided that upon the demise of every royal king and queen of the Bhatti dynasty, a new cenotaph would be constructed here in his or her memory. However, this tradition came to be discontinued by the mysterious demise of Maharaja Jawahar Singh. Every single chhatri at the Bada Bagh has got its own height and appear in two different rows.
They are built in such a way that each one reflects the power quotient of the ruler to which it has been associated with. In short, the more powerful a king or queen stood during his reign, the tall his Chhatri would stand. At the top of each Chhatri, there's a stone inscription reflecting the date and the name of the king or queen to whom it has been honored to. On some of them, you would even witness a brief description, as well.
How to Reach Bada Bagh


Bada Bagh is located at a 6 km from the railway station of Jaisalmer as well as the city center. To reach Bada Bagh, you need to pass through an entrance located at the bottom of the hilltop, which displays the Bada Bagh on its top summit. As this is a very famous tourist attraction of Jaisalmer, you will easily find a cab or a rental vehicle to drop you to the foothills. Besides, there are regular bus services to transfer you between Ramgarh bus station and Bada Bagh, Jaisalmer.
Best Time to Visit Bada Bagh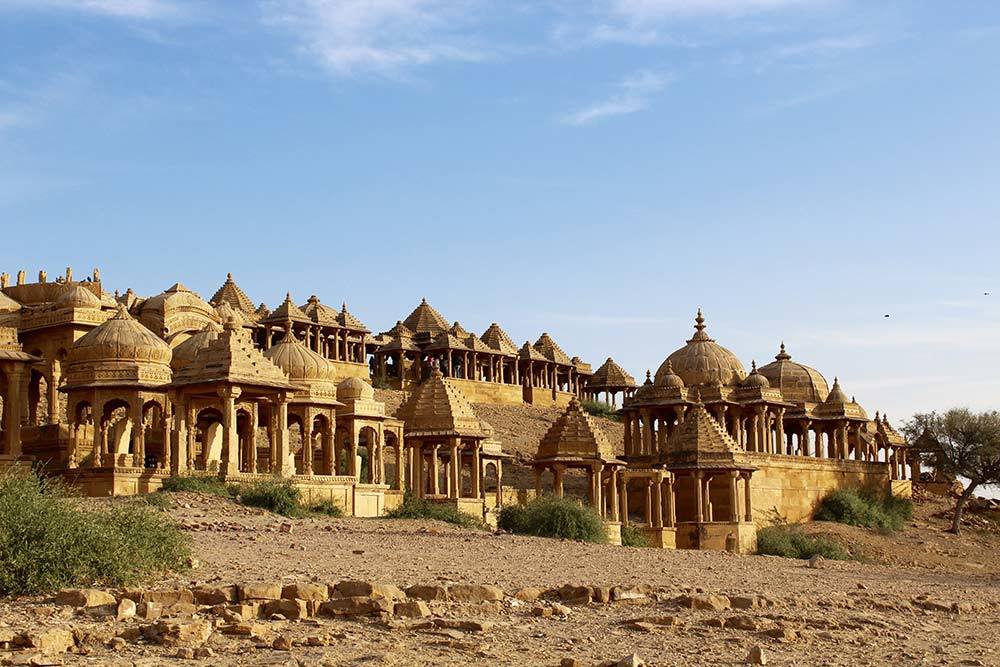 The period between October to March is the best time to plan your visit to the Bada Bagh in Jaisalmer. Although, the afternoon may still be hot throughout this period but not as much as the sweltering extremities faced during other months.

Evenings are the most preferred time to plan your visit to Bada Bagh as the weather remains pleasant to a reasonable extent. The mixture of daylight transitions and a cold breeze blowing will keep you encouraged to explore the beautiful aura of the Bada Bagh's cenotaphs.
What Not to Miss at Bada Bagh
Places to visit near Bada Bagh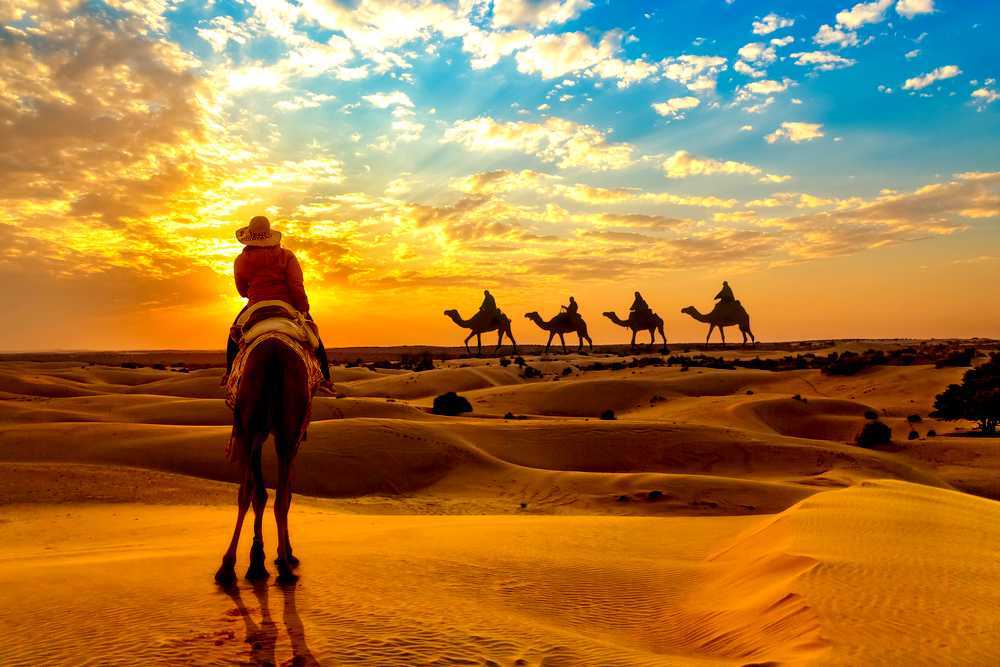 The other tourist attractions close to Bada Bagh are also worth visiting. So, if you have got some extra time to spare on your Bada Bagh visit, make sure to explore the nearby tourist attractions –

1. Desert National Park: A wildlife enthusiast will genuinely fall in love with this place as he's got a lot of things to prioritize here. Stretched across a land cover of 3000 square feet, the Desert National Park in Jaisalmer shelters a wide array of exotic animal and bird species.

2. Khuri Sand Dunes: Situated at the outskirts of Jaisalmer, Khuri Sand Dunes gives you a fair opportunity to explore the lifestyle of native Rajasthan. Find a camel here to ride on it for some breath-taking views of narrow streets and straw roof in the surrounding vicinity. For shopaholics, there's a small local colorful bazaar to dig in your favorite souvenir to carry back with you.

3. Lodurva Jain Temple: The Lodurva Jain Temple at Jaisalmer clearly reflects its influence from the Chinese architectural style. The temple has been constructed in such a way that it has got eight corners. The slanting walls of this massive structure give a reflection of the pagoda architectural style.

4. Jaisalmer Fort: If you want to explore the beauty of the forts from your favorite Arabian Nights tale, you should never miss on this opportunity of exploring the Jaisalmer Fort. The height of this fort of Jaisalmer is approx. 200-foot-tall and is all over surrounded by long walls measuring a height of 30 feet. This fort of Jaisalmer shelters to around 99 ancient bastions.

5. Patwon ki Haveli: This is genuinely a brilliance of the architectural mindset of the engineers who sweat in their hard to give rise to this mansion of brocade merchants. The walls of this haveli portray ample of beautiful paintings and mirror-works of ancient origin. Besides, the gateways and plethora of arch here form the chief attractions of this royal haveli.
Other Essential Information About Bada Bagh


- Location: Bada Bagh, Chhatris Road, Rajasthan 345001

- Price: The entry prices for Bada Bagh visit are as follows –
             For Indian tourists – 20 INR per head
             Foreign tourists – 50 INR per head
             Still Camera – 20 INR per unit
             Camcorder – 50 INR per unit

- Timing: You can walk in and out at Bada Bagh anytime from 09:00 am in the morning to 06:00 pm in the evening. It just takes 1 to 2 hours for a typical visitor to explore the site thoroughly. In case you are here for research work, you may require more time for exploration.


Places to eat near Bada Bagh


If you are planning to spend a reasonable amount of time in Jaisalmer, you need to have a checklist for the nearby eateries. Here's a quick overview for it

1. Hocus Pocus: This is a mystic panorama restaurant serving delectable snacks and meals at affordable pricing. The rooftop restaurant offers some astounding views of the Golden Fort and that of the city. You get a wide array of both Indian and International flavors here. Tandoori, curries, pasta, and pizza are some of their signature preparations.

Distance from Bada Bagh – 8.1 km

2. Jaisalmer Kitchen: Jaisalmer Kitchen is known for its delectable breakfast, lunch, and dinner. This kitchen is present on the ground floor of the Jaisalmer Marriott Resort and Spa. Rajasthani styled delicacies and cuisines are worthy of trying here.

Distance from Bada Bagh – 0.3 km

3. Prithvi Restaurant: Prithvi Restaurant offers all three styles of delicacies – Indian, European, and Asian. This is an excellent place to dine in with your family, friends, and relatives. The seating area of this restaurant offers a stunning view of the city front. You can walk in and out anytime between 07:30 am to 11:00 pm at night.

Distance from Bada Bagh – 2.3 km

4. The Turban Restaurant & Café: The Turban Restaurant & Café offers a wide array of delicious preparations of Asian, India, European, and American styled cuisines. If you had a chance to visit here early in the morning, do opt for their chai and poha combo, which is a valued local delicacy here.

Distance from Bada Bagh – 2.3 km

5. Hotel Pol Haveli Restaurant: Hotel Pol Haveli Restaurant offers both hot and delicious servings of Indian and Asian style cuisine. They have a perfect and spacious ambiance, a cheerful staff, and a stunning backdrop view with the Jaisalmer Fort at one end and the cenotaphs of the Bada Bagh at the other.

Distance from Bada Bagh – 2.2 km


Tips on visiting the Bada Bagh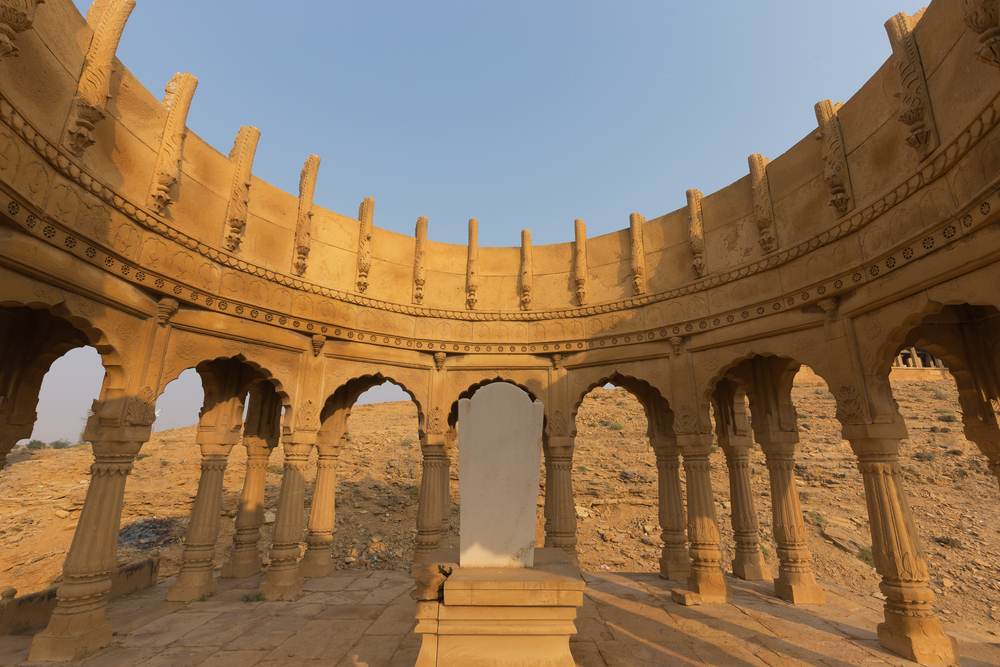 Here are a few tips to keep in mind before you head towards the Bada Bagh of Jaisalmer –

1. You can take a direct cab from any corner of Jaisalmer to reach Bada Bagh.

2. It is good to wear light cotton clothes while visiting the Bada Bagh of Jaisalmer. As the surrounding region of Bada Bagh portrays a little rocky terrain, make sure that you step in a comfortable pair of shoes to help you get rid of the bumpy terrain. You will have to walk a lot as the cenotaphs are all spread wide across the region.

3. Cotton clothes will help you to withstand the daytime heat here as even in the winter months, the region is pretty hot in the daylight.

4. Lathering a right amount of moisturizing sunscreen will help you to stay away from the wrath of extremities of the solar radiation.

5. A wide-brimmed hat and a right sunglasses will shield your face from the scorching heat in the region.

6. You need to carry a good bottle of water to keep yourself hydrated throughout your visit. You won't find any water refilling counters there. However, you might locate some vendors close to the cenotaphs selling bottles of water to the tourists. As water is a necessity, they might charge you extra compared to the standard water bottle cost. It is therefore suggested to carry sufficient volume of water with you.

7. If possible, schedule your visit to the Bada Bagh either early in the morning or late evening. You might be able to capture some adorable sunrise and sunset views right in the middle of the vastly stretched desert region.

8. This site is a photographer's paradise as the royal structures amplify their beauties differently in different transitional phases of light.

9. You are free to take the assistance of a professional tourist guide to brief you about the past and present of the Bada Bagh. However, you will need to invest a little fraction of your time. Also, the charges incurred by these guides may differ from person to person. You are free to negotiate the best deal that works well with your wallet.