About Man Mahal
Known as the largest royal place of residence in all of Pushkar, Man Mahal is the place to be if you are looking to go back in time and revisit history. Located a short walk away from the Sarovar Lake, it offers amazing views of the town, in addition to mesmerising sunrises and sunsets. The insides of Man Mahal are also home to a temple, which is of great religious significance. 
The interiors of Man Mahal boast of the traditional and intricate designs of Rajasthan's handiwork. Upon visiting Man Mahal, one can get a clear view of not just the lake, but also of all the temples which surround it. 
Built by Raja Man Singh I of Amber, Man Mahal was used as a retreat not just for Man Singh, but also for his guests when they used to visit Pushkar. Now turned into a retreat for visitors, and most commonly known as the RTDC Hotel Sarovar Pushkar, Man Mahal is one of the few places in this town which not only oozes of the traditional Rajasthani culture, but also offers people a world-class stay. 
This royal guest house-turned- luxurious heritage hotel is presently run by the Rajasthan Tourism Development Corporation. Furthermore, the hotel is known for organising many enjoyable activities for its guests, including camel and jeep safaris, camping arrangements, and more. In addition to top-notch amenities and elegant accommodation, you can also enjoy a sumptuous royal-style dining here. 
Still retaining the old-world charm, Man Mahal is the best place to be if you wish to take a glimpse into the eras that have gone by.
How to Reach Man Mahal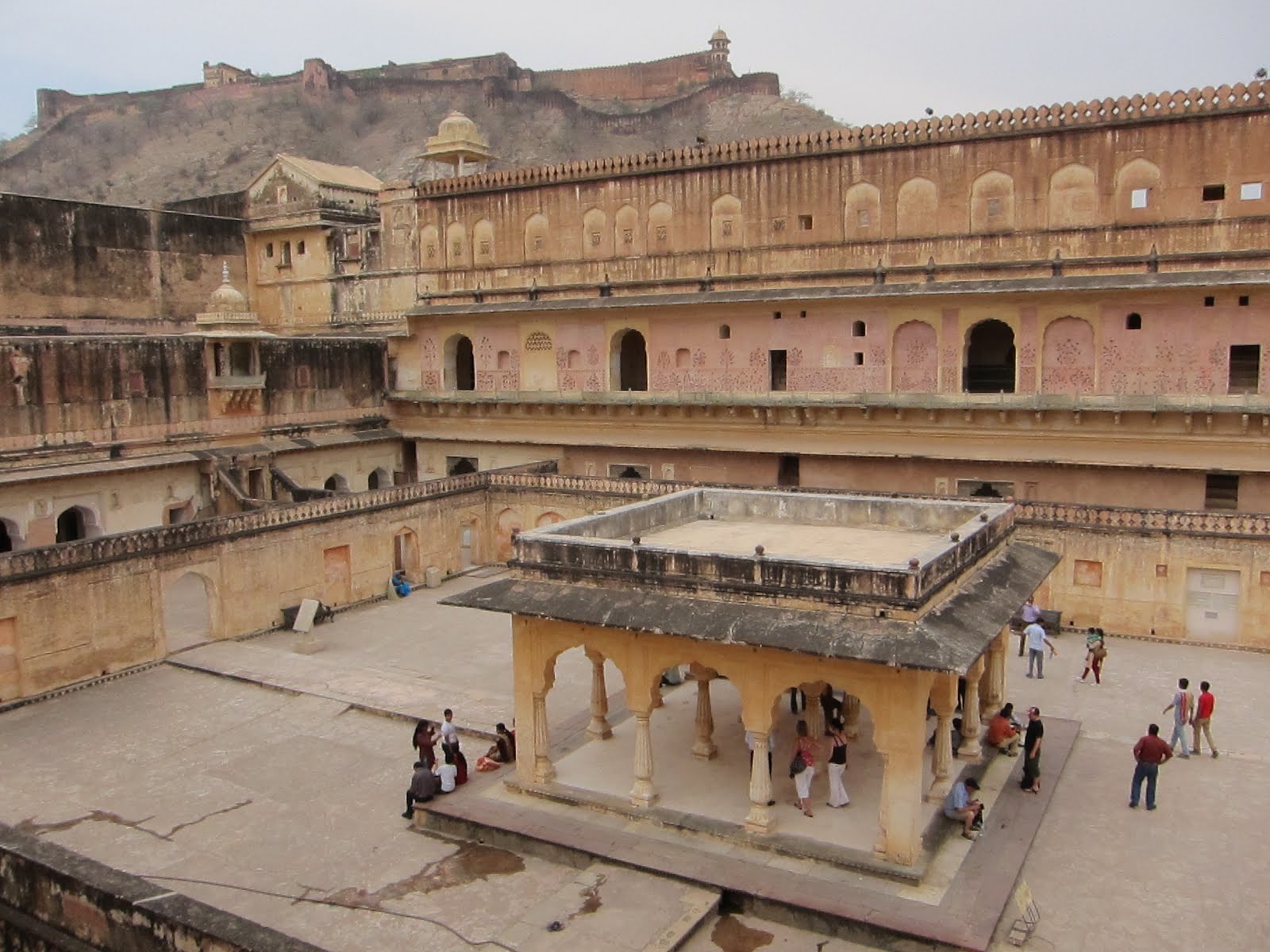 Man Mahal is located at a distance of around 0.5 kilometres from the Pushkar Bus Stand. Situated in Choti Basti in Pushkar, it is a short walking distance from the Pushkar Bus Stand, which will take you around 5 to 10 minutes to cover the entire length. 
However, if you have luggage with you, then taking a rickshaw from the Pushkar Bus Stand up to Man Mahal is your best alternative. It will not only help you reach Man Mahal faster, but will also not take a lot of money.
Best Time to Visit Man Mahal


Even though you can visit Man Mahal at any given time of the year, the best time to visit this beautiful structure is between the months of November and March. These are the winter months in all of Rajasthan, making the weather perfect for exploring the desert landscape and serene architectures here. The pleasant weather during this time is best for exploration, or even for spending a relaxing time in the gardens of Man Mahal. 
Pushkar, during the summer months of April to June, experiences a very hot desert-type of climate. With temperatures soaring to as high as 45 degrees Celsius, these months are unbearable, in addition to the Loo making it difficult to explore the place. 
Following summer, from July to September, Pushkar welcomes the monsoon season, with torrential downpours making the weather even more hot and humid. This is yet another season not suitable for a visit to Man Mahal because you will not be able to visit the surrounding gardens during this time.
What Not to Miss at Man Mahal
Things to do at/near Man Mahal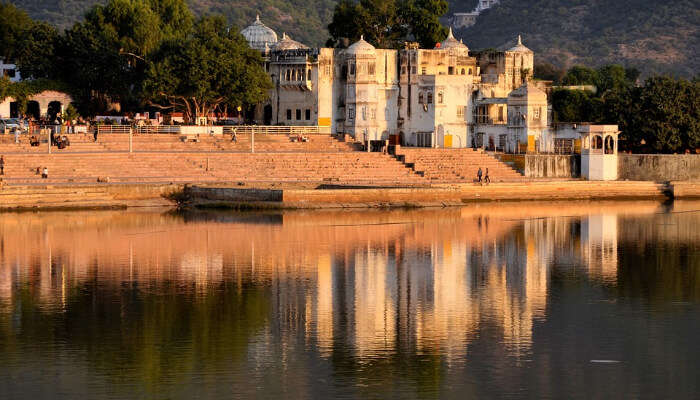 There are many things you can do in Man Mahal, as well as in the areas near it. Some of these things are:

1. Visit the Pushkar Lake:
Probably the most famous of all attractions in Pushkar is its namesake Pushkar Lake. Man Mahal regularly organises tourist visits to the Pushkar Lake which you can easily avail. Also known as Tirtha Raj, this semicircular lake is amongst the sacred water bodies for Hindus in the entire country.

Legends suggest that this lake dates back to eons, when one of the petals of Lord Brahma's lotus flower fell here. Upon visiting the lake, you can spend a relaxing time with your friends and family, or visit the temples surrounding it. You can also catch the evening aarti here, which is a sight to behold. 

2. Take a camel safari: 
One of the most popular things to do at Man Mahal is to enjoy a camel safari. The hotel organises camel safaris for its guests. This way, they get to experience the unique desert landscape of Rajasthan while riding a majestic camel. From sand dunes to the local villages, you get to explore and soak in the rich Rajasthani culture and heritage. 

3. Shop at the iconic Pushkar Bazaar:
Located a short walk away from Man Mahal is the Pushkar Bazaar, boasting of the vibrant culture of the land. From traditional Rajasthani costumes and puppets, to embroidery items, beads, bangles and even brass utensils, along with handicrafts, there is a lot that you can find here.

These things are exclusive because they are locally made by craftsmen from the surrounding villages. You can also catch puppet shows, and various different cultural entertainment shows which you may have never seen ever before. 

4. Take Photographs: 
Man Mahal is a great place to awaken the shutterbug in you. From stunning and intricate architecture and designs to resplendent gardens full of lush greenery and vibrant flowers, this historical place is heaven for budding photographers. Not just that, you can also stay in the palace grounds till dusk to get a glimpse of the famous Sandhya Aarti at the Pushkar Lake.

This is when the palace becomes even more beautiful with the lake on a virtual fire, lighting up the entire area surrounding it. You can also get stunning captures of the temples of Pushkar, whose reflections fall on the lake during the aarti.


Attractions near Man Mahal


When visiting Man Mahal, you must also make sure that you visit the famous and iconic attractions which are located near it. After a visit to Man Mahal, make sure you visit the following places:

1. Brahma Temple: Situated close to the Pushkar Lake, near Man Mahal, this is amongst the very few temples dedicated to the creator of the universe, Lord Brahma, in the country. Dating back to the early 14th century, this temple is made entirely of marble and stone, in addition to featuring a red pinnacle. Stunning bird motifs also decorate the walls of the temple. Brahma Temple also consists of a pillared exterior wall, which are connected to many marble steps leading to the main temple area. Additionally, this is the first place where people, except married men, come to, after taking a dip in the holy Pushkar lake. 

2. Rangji temple: Reflecting the stunning style of architecture from South India, the Rangji Temple was constructed in 1823, dedicated to Lord Rangji, an incarnation of Lord Vishnu. In addition to the beautiful high gopuram which commemorates south Indian architecture, Rangji temple also has several elements of Mughal and Rajput designs as well. Furthermore, it ranks amongst the top ancient temples in Pushkar, amongst over 400 other temples.

Vaikuntha Venkatesh, the sacred shrine in the temple, is the main attraction here. Additionally, Rangji temple is a primarily Vaishnava temple, which is indicated by the presence of the Garuda at the four corners here. 

3. Pushkar Lake: Known for the famous Pushkar Mela, this lake is the place where the fair takes place. Amongst the major tourist destinations in the country, Pushkar Lake is popular amongst locals as well as Indian and foreign tourists. Surrounded by over 500 temples and 52 bathing Ghats, this lake is among the most sacred lakes in all of India, where Hindu pilgrims flock to in huge numbers every year to take a dip.

According to legends, the Pushkar Lake dates back to the early 2nd century B.C. Moreover, it is said that taking a dip in this holy lake offers the person Moksha, commonly known as the freedom from birth. 

4. Savitri Temple: Located at the top of the Ratnagiri Hill, this temple was constructed in the late 1600s. According to many, this is the place where Goddess Savitri came after a fight with her husband. Home to the idols of Goddess Savitri as well as Goddess Gayatri, this temple is a popular place of pilgrimage for Hindus. You need to partake in a strenuous trek up to the hill top to reach the temple. However, it is believed that the increasing hard work helps you to gain more "Tapas," acting as a penance to all your sins. 
Other Essential Information About Man Mahal


- Location:
Man Mahal is located near Lake Bridge, Parikrama Marg, on the Brahma Temple Road, in the Ganahera or Choti Basti region of Pushkar, in Rajasthan 305022

- Timings:
Man Mahal is open to visit on all days of the week, from 05:00 a.m. to 01:30 p.m. and from 04:00 p.m. to 08:30 p.m. 

- Distance from Pushkar bus stand:
Man Mahal, situated in the Choti Basti area of Pushkar, is located at a mere distance of 0.5 kilometres from the Pushkar Bus Stand. The entire distance from the bus stand to Man Mahal is around 1 kilometre long.


History of Man Mahal


Known as the largest palace and hotel in the town of Pushkar, Rajasthan, Man Mahal was built by Raja Man Singh I of Amber. Raja Man Singh I was a Navratna in the court of Emperor Akbar, who built this palatial architecture keeping in mind that this beautiful place deserves special visits. Built in the grand Rajasthani style of architecture, Man Mahal is a visual treat to the eyes, transporting you into the times of royalty.


Man Mahal was built between 1590 to 1614 A.D., and served as Man Singh's royal guesthouse for many many years following the completion of its construction. In recent years, this former royal guesthouse has been converted into a hotel under the management of the tourism department of the Government of Rajasthan. 


Boasting of over 20 non-AC, standard as well as family rooms, the erstwhile Man Mahal also has many other luxurious facilities. This includes a fine-dining restaurant, spa as well as an indoor swimming pool. 

Architecture of Man Mahal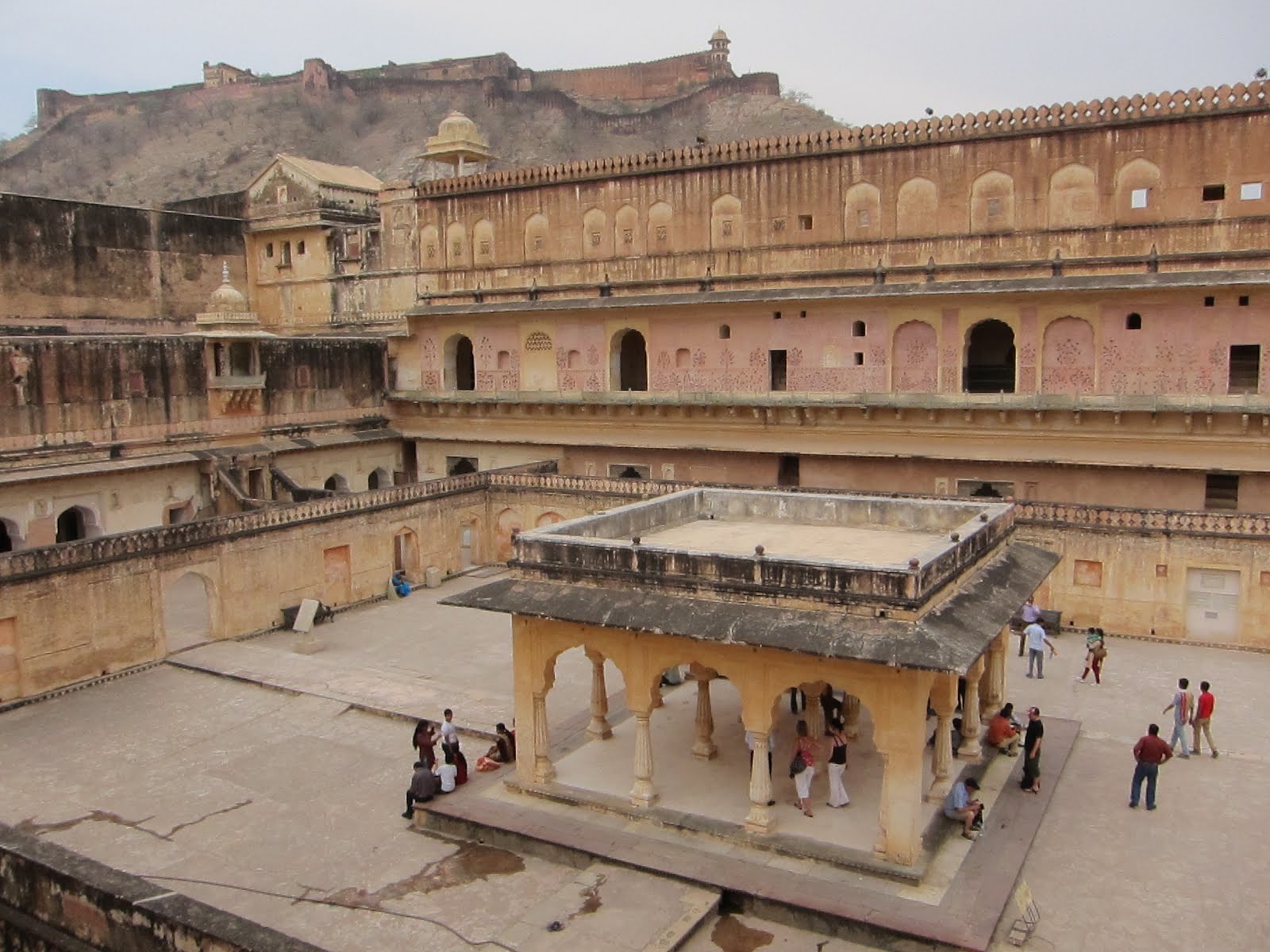 Built to serve as a royal guest house for Raja Man Singh I, Man Mahal boasts of the traditional Rajasthani architecture. Built entirely of marble, Man Mahal is one of the few remnants of the royal era of Rajasthan. Spread over quite a few acres, this entirely white coloured palace, which has now been turned into a hotel, is built in a typical haveli style, with heavy Mughal influences. 


It also has beautiful frescoes, which separate the inner courtyards from the outer ones. Moreover, the chhatris, or the dome-shaped pavilions also add to Man Mahal's overall beauty. Additionally, Man Mahal also has quite a few jharokhas, which are overhanging enclosed balconies symbolic of the palaces, temples as well as havelis in all of Rajasthan. Also, they sometimes act as decorative elements in palaces, simply adding to the grandeur and opulence of the place. In addition to being architecturally beautiful, Man Mahal also offers great views of the Pushkar Lake. 

Places to Stay near Man Mahal 


In addition to staying at Man Mahal, there are a lot of other alternatives where you can stay and experience the rich culture of Pushkar. Some of these places, located near Man Mahal, include:

1. Dera Masuda: 
Overlooking the Savitri Temple in Pushkar, this hotel is owned by the royal family of Masuda. Regarded as one of the best resorts in town, this place is also equipped with a private pool, along with a beautiful garden. One of the best attractions here is the décor, which boasts of traditional Litho prints, in addition to beautiful fresco-style paintings. 

2. Green Park Resort: 
Tucked in amidst numerous ancient temples, this place has 32 deluxe-style rooms on its two storeys. Offering some of the best views of the stunning Pushkar sunset, Green Park Resort is quite affordable as well. They also have a stunning indoor pool, along with camping facilities which you can opt for.

3. Vela Resort:
Known for their top-notch facilities, great hospitality as well as traditional Rajasthani experience, this place is a great example of the culture and rich heritage of the land of Pushkar. Located close to the Brahma Temple, Vela Resort also offers great views of the Aravalli Hills. 

4. The Hosteller Pushkar:
Located in a walking distance from both Man Mahal as well as the Pushkar Lake, The Hosteller Pushkar is an affordable alternative for the wanderer in you. Every room is well equipped with all the basic necessities, offering you a comfortable and enjoyable stay. 


Places to Eat near Man Mahal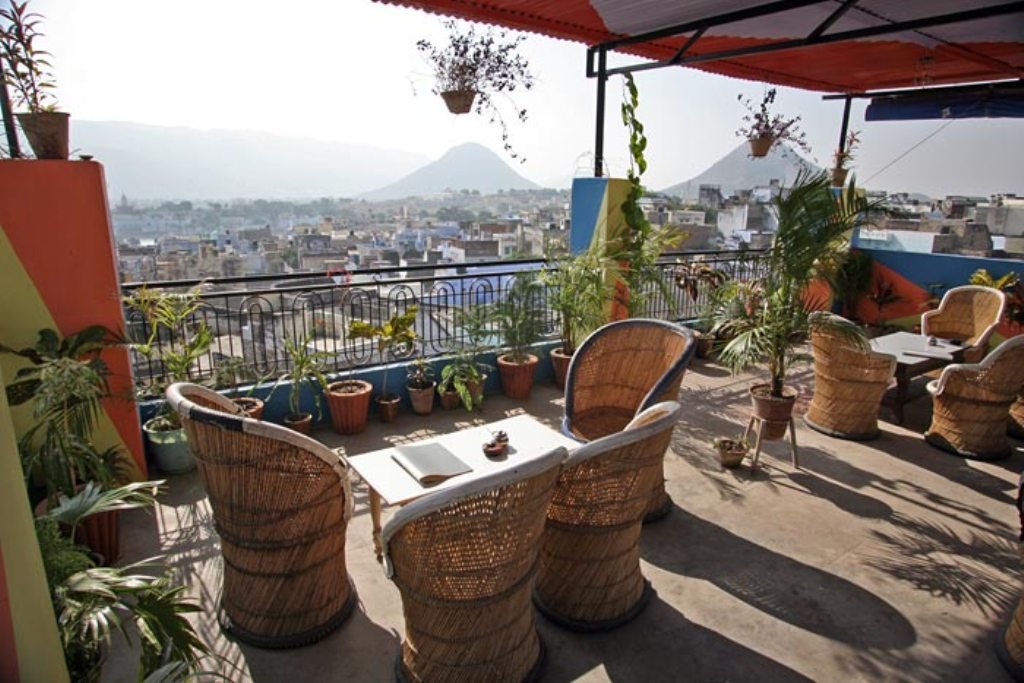 Man Mahal is strategically located in a busy area of Pushkar. Naturally, there are many places where you can satiate your hunger and spend some time to relax after your visit to Man Mahal. Some of these places include:

1. Rainbow Restaurant:
Located in the Main Market Road in Badi Basti, Pushkar, the Rainbow Restaurant is a rooftop restaurant which offers great views of the Pushkar Lake. From fresh juices, shakes and full English breakfast, you can also get lip-smacking multi cuisine food, including Mediterranean, Mexican, Greek, continental, Italian, as well as Indian and Chinese food here. 

2. The Laughing Buddha Café: 
For a more casual place to not just indulge in good food, but also spend a relaxing time with your friends and family, The Laughing Buddha Café is a great place to be. Some of the best dishes to try here include the various types of burgers and sandwiches. 

3. Café Lake View: 
Amongst the best places to escape from the bustling lanes of Pushkar, the Café Lake View has a serene and peaceful ambience. Offering a wide variety of cuisines, their specialties include the Hummus and Falafel platter, cashew curry as well as the fungi pizza. 

4. Sunset Café:
One of the most popular cafes in Pushkar, Sunset Café is a hub for youngsters. From a hearty north Indian thali or delicious south Indian platters, to fresh juices, German delights and even Italian delicacies, there's a lot you can find here. Moreover, this café is known for offering some of the most scintillating views of the sunset in all of Pushkar.

Tips before visiting Man Mahal


There are a few tips which you should keep in mind before visiting Man Mahal. Some of the most important ones are:

1. Always carry a bottle of water with yourself, because it usually takes a lot of walking for a few hours of exploring the historical structure. 

2. It is always recommended that you have a cap or hat along with some sunglasses to protect yourself from the harsh sun when visiting Man Mahal. 

3. Man Mahal is a beautiful structure. So, it is advisable to carry a camera with yourself, in order to capture the amazing sights that the structure has to offer. 

4. Additionally, it is recommended that you wear comfortable and light clothes, in addition to comfortable shoes when visiting Man Mahal. 

5. If you are visiting Man Mahal during the night, carry a light sweater with you during the warm months, and something heavy during the winters.