About Gorai Beach
If you are looking for a weekend getaway by the seaside in the bustling city of Mumbai, plan a trip to Gorai Beach to revive yourself by the quaint sojourn. Located 40 km from the southern end of Mumbai, Gorai beach is the essential break you were looking for as it offers serenity for peace lovers and a party environment for all the party animals.

The beach is dotted with several resorts and homestays nestled between palm trees, allowing you to relish the rawness of nature. You can also indulge in water adventure sports as the beach offers water sports, or if you are a party lover, visit a beachside shack on a full moon night to participate in one of the craziest night parties by the beach.

Tickle your taste buds by munching some street food at the beachside stalls while basking in the glory of the setting Sun, and immerse yourself in the beauty of nature.
How to Reach Gorai Beach


By road:

You can drive to the Gorai Beach by taking the Uttan Road. If you are coming from Andheri or farther, you can use the Western Express Highway to reach Gorai via Malad. Buses and taxis are also available from Malad station, which will help you reach Gorai via marve.

By train:

The nearest stations to Gorai Beach are Malad and Borivali, which falls on the western line of the suburban railway in Mumbai. While taxis and auto rickshaws are easily available outside both stations, you can also board a public transport bus to reach marve beach. Once you reach Marve, you can take a ferry to reach Gorai beach.

By Air:

The nearest airport is Chhatrapati Shivaji Terminus in Mumbai, which is located at a distance of 40 km from the beach. You can hire a cab from the airport to marve, or take a taxi to reach Andheri Station, after which you can reach Borivali in a train. From Borivali. frequent taxis and buses can take you to marve, followed by a ferry to Gorai. 
Best Time to Visit Gorai Beach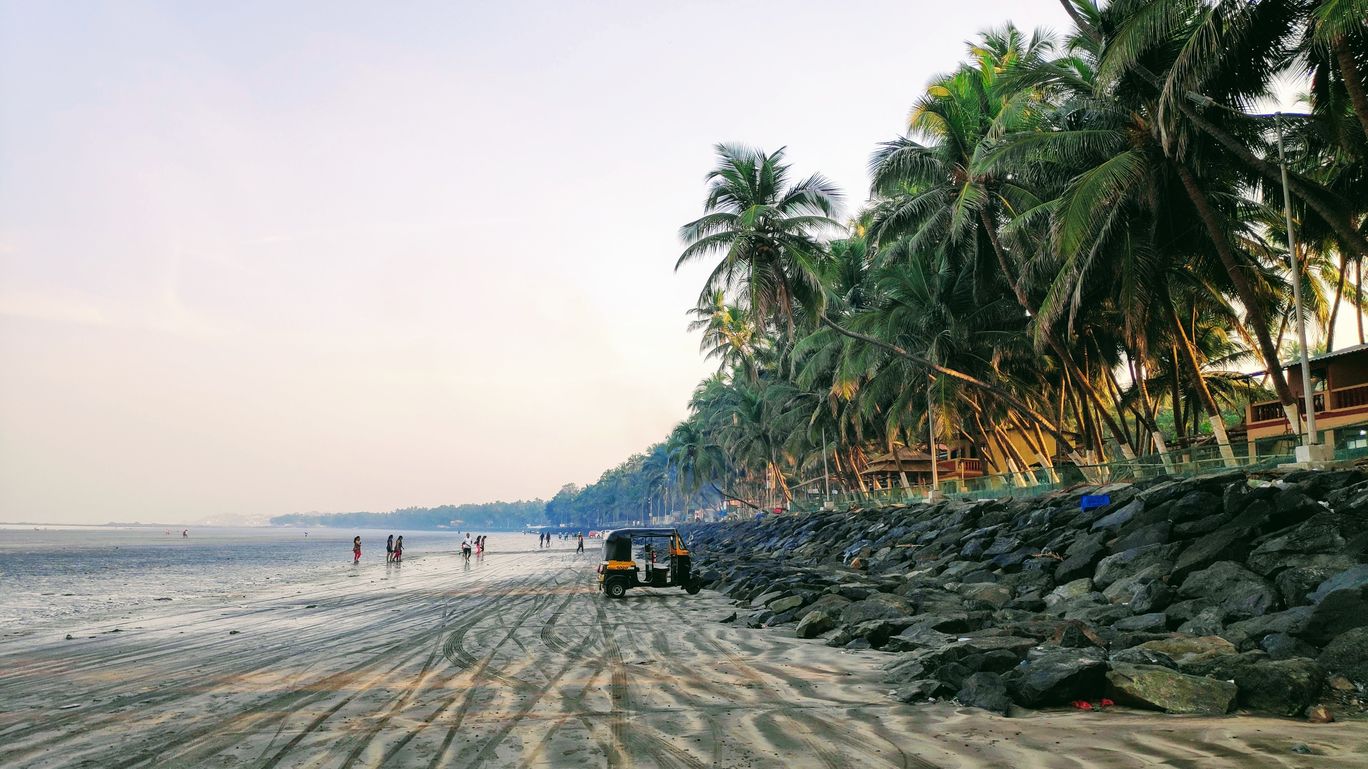 While the beach is accessible round the year, the best time to visit it is between the months of October and February, when the atmosphere is the most pleasant. You must visit the beach on a full moon night between October and February when you can enjoy drinking, loud music and a party atmosphere after spending a cosy evening witnessing the sunset.

While the summer from April to June experiences rising temperatures, the period between July and September experiences heavy rainfall which can spoil your vacation.
What Not to Miss at Gorai Beach
Things to do in and near Gorai Beach:

1. Water sports: Feel the splash of water by indulging in water sports like boat rides, jet skiing, kite surfing, kite landing and many more


2. Food fantasy: Gorai offers excellent seafood options if you are a food enthusiast. Dotted with restaurants and resorts, you can relish on the juicy seafood, or simply hit the stalls on the beach to gulp some vadapav, chana masala and other chaat items.

3. Rides: Explore the beach by taking a camel ride or a horse ride on the beach. You can also ride a bullock cart along the beach to feel the freshness of the beach.

4. Nearby attractions: You can visit nearby tourist attractions like marve beach, Aksa Beach, Essel World and Arnala Fort to have a wholesome experience during your outing.

Places to visit near Gorai Beach:



1. Essel World:
Known as the adventure land of Mumbai, Essel World is an adventure park for visitors across ages. Spend an entire day immersed in adventure, and visit the water kingdom if you want to experience water adventure sports and rides. 
2. Arnala Fort:
Located about 60 km from Gorai Beach, the fort is a must visit place if you are a history lover or simply want to photograph at a spooky location. The 15th century rustic fort constructed by the Portugese  stands tall today and attracts many people. 
3. Marve Beach:
While Gorai beach is frequented by many visitors, you can spend time at Marve beach for a more private, quiet experience and enjoy the pristine waters of the sea. You can catch a ferry from Gorai beach to reach Marve Beach.
4. Aksa Beach:
Aksa Beach is another excellent weekend getaway which you can visit with your friends and family. The beach offers water adventure sports clubbed with beachside delicacies to relish while you revive yourself from the bustling life of Mumbai.
Other Essential Information About Gorai Beach
Tips for visiting Gorai Beach:




-While the beach offers a pleasant atmosphere between October and February, you must avoid visiting the beach during the day between the months of March and June due to the extreme heat and humidity.

-The scorching Sun may induce a sunburn, so it is advisable to apply sunscreen before visiting the beach during the day.

-You must also wear light clothes which can help you stroll comfortably on the beach.