About Dudhsagar Falls
Dudhsagar Falls of Goa is a majestic waterfall where the white water gushing through the steep and vertical face of the mountain portrays a cascading effect. Standing as tall as 310 metres, it makes sure to stand in the list of tallest waterfalls in India. 

The cascading effect of this waterfall gives rise to the illusion of a milky white sea falling from such a great height. This is how the Falls acquired its name – Dudhsagar Falls. The four-tiered waterfall marks its presence along the Mandovi River in the Sanguem taluka (Goa). 

The main river of Goa – Mandovi, originating from the Deccan Plateau winds its way through the twists and turns of the Western Ghats. As soon as the river plummets through the hilly cover lying along the borders of Karnataka and Goa, it transforms into Dudhsagar Falls.

The moment the water gushing out from the Falls flow towards its feet, it forms a green pool at its base. It is from here that the water of the Dudhsagar Falls starts flowing westwards to join and be a part of the mighty Arabian Sea. 

The entire landmark in the backdrop of the falls is covered with a vastly stretched forest cover. 

This is how the Dudhsagar Falls form a part of Bhagwan Mahavir Wildlife Sanctuary. Embark the wildlife researching skills within you as there this sanctuary shelters a plethora of wildlife. 

In the past few years, the popularity of the Dudhsagar Falls has increased ten-fold as one of the most preferred weekend getaways from each of the cities of Bangalore, Mumbai, and Pune. 

If you've got a big group or a family, you surely must check-in the Dudhsagar Falls for a short family outing. 


Dudhsagar Falls Name & It's Legends - 

Dudhsagar Falls is a four-tiered waterfall which is well-known for its cascading appearance. The term 'Dudhsagar' translates to 'milky white sea' due to its white sprays and foam. 

There is an age-old legend associated with the name of Dudhsagar Falls. Once upon a time, there was a princess who was a popular daughter of the King of Ghats. This lady was both modest and beautiful and believed in the piousness of heart, mind, and soul. 
According to the legend, this princess would regularly bathe in a lake located close to her father's castle. 
After bathing, she, along with her handmaidens, would assemble alongside the lake. The princess would consume a whole jug of milk when she was out with her handmaidens. Made of pure gold, the jar was inlaid with some brightly sparkling diamonds. 
Once, while she was busy drinking her jug of milk, she came across a young and beautiful prince who trespassed the nearby woods. The moment he heard the laughter of these ladies, he stopped then and there. 

The princess was only wrapped in minimal bathing attire. Thus her handmaidens poured the same jug of milk to over the hills to produce a cascading effect. It was done to cover the princess, who could then immediately wrap herself in her royal clothes. 

This cascading milky appearance, which was believed to guard the modesty of the royal princess, is today considered as the legend of Dudhsagar Falls. 
How to Reach Dudhsagar Falls
From Panaji – 
Dudhsagar Falls are at a distance of 71 km from Panaji (Kadamba Bus Stand). You can either board a bus and alight at Tambdi Surla or prefer a self-drive/hired cab service. Once you alight at Tambdi Surla, you can then opt for a taxi ride to take you to the Dudhsagar Falls. On average, a bus journey will cost you around 1000 to 1300 INR per head. 
From Goa International Airport - 
Goa International Airport is situated at a distance of 69.6 km from the Dudhsagar Waterfalls. The most convenient way to get transferred between these two points is either by a hired taxi ride or a self-drive. It will just take one hour and 50 minutes for you to reach your final destination. 
Best Time to Visit Dudhsagar Falls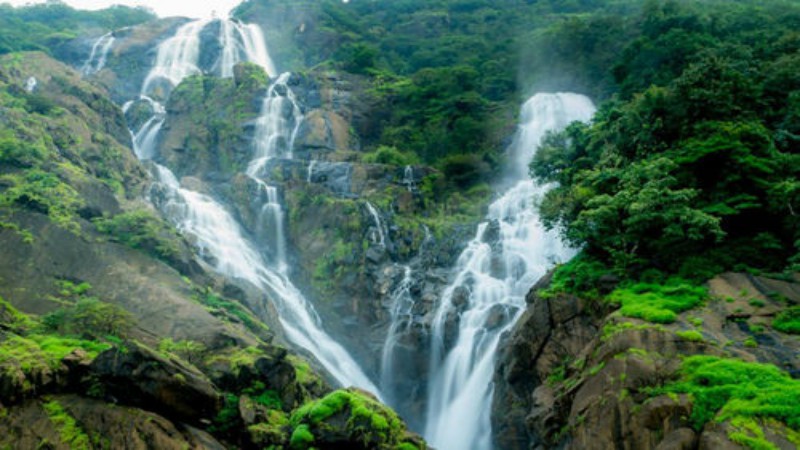 Monsoon period is by far the best season to plan your visit to the Dudhsagar Falls. The water levels will be above normal, thus giving rise to a splendid cascading effect as the water flows down through the verdant hills. The climatel will also be pleasant and joyous to plan on a family outing at the base of the magnificent waterfalls. 
What Not to Miss at Dudhsagar Falls
Dudhsagar Falls Trek from Castle Rock -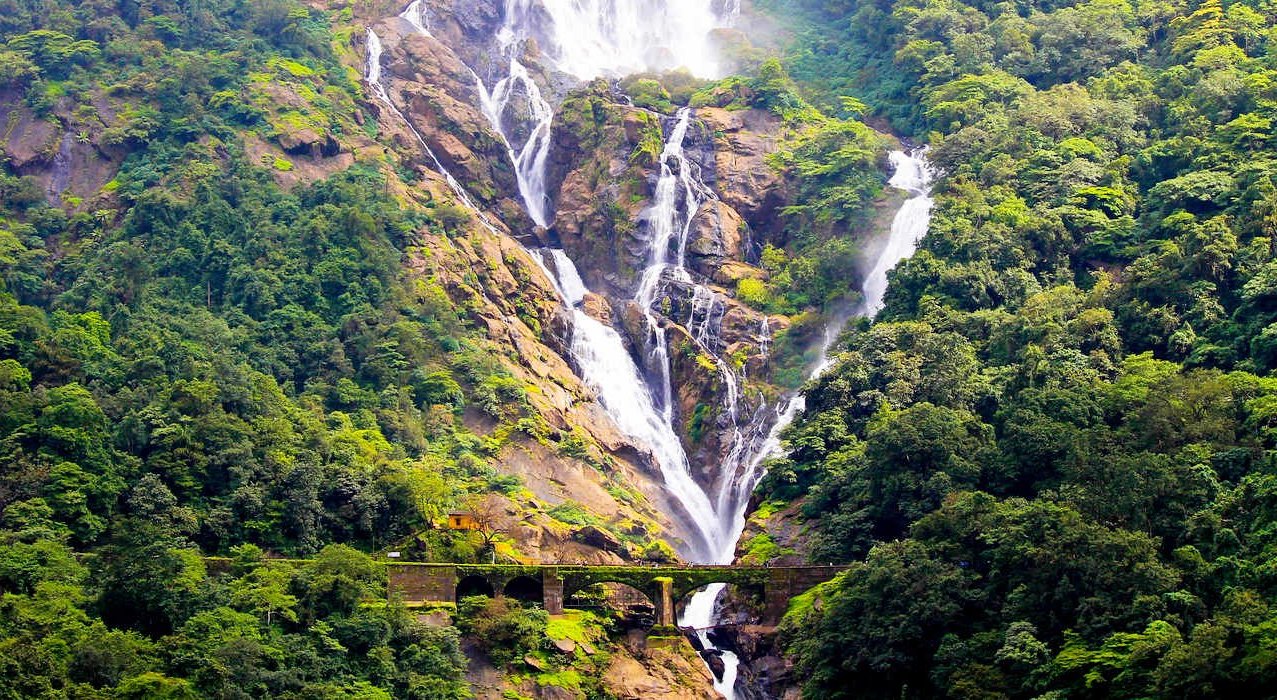 A perfect adventurous activity to enjoy on your trip to Goa is the adventurous trek to Dudhsagar Falls from the Castle Rock. For all the tourists and travelers coming right from the city of Bangalore, Castle Rock to Dudhsagar Falls trek is an unparalleled experience.

People visiting from Dharwad, Hubli, Dandeli, Londa should alight at the Castle Rock Railway Station to begin their trekking adventure. Your trekking route from Castle Rock to Dudhsagar Falls is a 14 km long and will consume 5 to 6 hours.

But, the serenity of the surroundings is worth all the efforts that you are going to invest in here. 

Things to carry for your Castle Rock to Dudhsagar Trek – 


1. Haversack 


2. Sufficient water reserves


3. Extra clothing 


4. Trekking shoes 


5. Plate, spoon, mug 


6. Personal medical kit 


Advisory –


1. Never encourage littering here and there while you trek to the Dudhsagar Falls. 


2. Alcohol or intoxicant consumption is strictly prohibited on account of personal and group safety. 

3. It is always advisable to opt for a guided trek and follow the instructions briefed by your guide at the start of your adventure. 
Dudhsagar Waterfalls Mollem National Park Safari Experience -
A journey to the Dudhsagar Waterfalls is incomplete without a Mollem National Park jeep safari experience. A jeep safari is the most convenient way to trespass the jungles that stand in your way and obstruct your free visit to the falls. 

This ride is a 30 to 40 minutes ride where you will be crossing the jungles and small rivulets. To make this journey an exhilarating one for you and your companions, it starts from the Mollem National Park. It passes through the Bhagwan Mahavir Wildlife Sanctuary.


If you are keen enough on spotting the local wildlife of goa, Bhagwan Mahavir Wildlife Sanctuary will prove to be a real delight for you. If luck favors, you can spot the rare species of Drongo, barking deer, bonnet macaque, and other animals and birds as well. 


There are some general rules and regulations which you need to observe while enjoying your Mollem National Park jeep safari. 


Many jeep safari service providers offer online booking at the convenience of their travelers. It is therefore advisable to pre-book your jeep safari ride so that you do not need to rush at the last moment. 
Other Essential Information About Dudhsagar Falls


Location –  Madgaon-Belgaum railway route , Sonaulim, Goa (403410). 

Price –  There are no entry charges to visit the Dudhsagar Falls of Goa. 

Timing -  Dudhsagar Falls are accessible between 09:00 am to 06:00 pm. However, if you are travelling via train along the Madgaon-Belgaum railway route, you can have glimpses of the waterfalls as and when your train trespasses the region. 

Tips for visiting Dudhsagar Falls –


1. If you are travelling to the Dudhsagar Falls for the very first time, here's a list of some handy tips for you – 
2. You can get down at the Dudhsagar Railway Station, which is the nearest railway head to the falls. However, not all the trains halt at this station. Make sure that you check with the railway time-table to hunt for a train suitable to drop you at this railway station. 
3. You are not allowed to walk on the railway tracks. There's a proper route to get close to the Dudhsagar Falls, which is secured for one and all. 
4. If you are planning for a jeep safari to reach the Dudhsagar Falls, you need to head towards Kulem early in the morning. 
5. The visit to the Dudhsagar Waterfalls are closed as soon as the clock strikes 06:00 pm. So, it will be tough for you to get a ticket after 02:00 pm. 

6. It is better to travel to the Dudhsagar Falls in a group of 7 if you are planning on a jeep safari. If that is not the case, you will have to wait unnecessarily until your jeep fills into its totality. 
7. You can opt for a pre-booking facility for your Jeep safari. It is the most convenient way to avoid last-minute hustling. 
8. We recommend you to put on comfortable clothing and shoes while visiting the falls as you will be walking through the rocky path for around 15 to 20 minutes. 
9. You are required to put on life-saving jackets before heading towards in the direction of the Dudhsagar Waterfalls. This is a strict safety measures to be observed by each and every tourist who plans to explore this gigantic waterfall. 
10. Bhagwan Mahavir Wildlife Sanctuary has washroom facilities. 
11. There are no locker facilities in and around the waterfalls. So, If you are taking any valuable items such as cameras or gold ornaments, it is entirely your responsibility to look after its safety and security.