About Butterfly Beach
You can bag the best time of your vacation at Butterfly Beach which is north of Palolem Beach in Southern Goa. Enjoy your solitude, away from the rest of the world and also experience the wonderful aquatic life out in the open front of the beach.

To reach here, you can hop on a ferry from Palolem or Agonda beaches as this beautiful and semi-circled beach is not approachable by any other means. For wider and punctuated experience, you can opt for a ship ride too. And if you are feeling too thrilled, you can try out trekking around the thick forest surrounding this beach. 

Butterfly beach is also popularly known as Honeymoon Beach as a lot of honeymooners and couples come here for a secluded vacation. You can spend your day with your partner by enjoying a picnic with wine.  You can also wait for the low tide period to witness wandering Sea urchins, redfish, goldfish, and sea cucumbers here. This is a unique sight that you will not get to explore anywhere else in entire Goa. Moreover, on one side, million butterflies dance and harbour over this beach and on the other, you get to catch a glimpse of dolphins in the middle of the sea.
How to Reach Butterfly Beach


- How to Reach Butterfly Beach from Panjim

You won't get a direct ride to Buttery Beach. For this, you should hire a cab from Panjim to Palolem Beach. It takes one hour thirty minutes approximately for covering one spot to another in this journey. After you reach Palolem Beach, get on a boat ride to Butterfly Beach.

 - How to Reach Butterfly Beach from Goa International Airport

You can enquire about a shuttle from Goa International Airport that will reach Madgaon. After that, go for a bus ride to Palolem Beach. This commute is only preferable if you are tight on budget as it takes two hours on the road.  Otherwise, you will be able to reach Palolem Beach within an hour and thirty minutes with a taxi on rent.
Best Time to Visit Butterfly Beach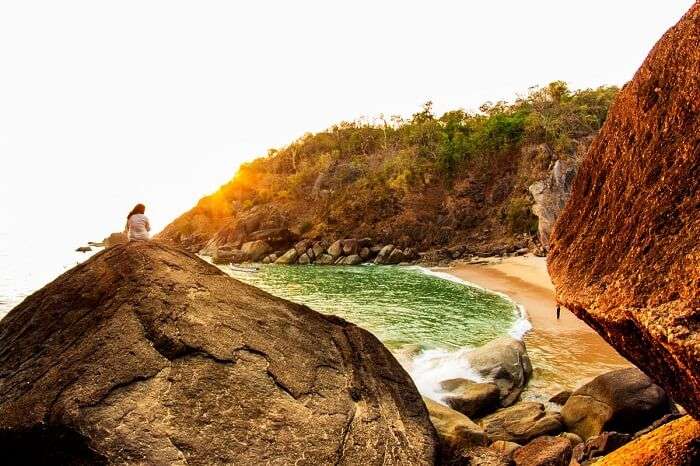 The best time for exploring and enjoying the aquatic life at this beach is from November to March. There's no point coming here when there is heavy rainfall as boat rides for commuting to this beach are not available during monsoon months.

So, during winters and when fall starts, you can enjoy the beach to its fullest. Be it the aquatic animals and species roaming at the bank of the beach, or clicking most romantic pictures and videos, you will take home memories worth remembering for life ahead.
What Not to Miss at Butterfly Beach



1. Palolem Beach
: It's one of the busiest beaches in South Goa. If you are looking for a nice and challenging day out with new travellers, this is the place for you. Many bars, restaurants, and cafés are available for open-air wine and dine here. 

2. Agonda Beach
: This beach is mostly for young couples who want to spend a romantic time in South Goa with lesser crowd or disturbance. It is great for surfing and roaming around. The beach huts here enable a really evocative experience.

3. Rahul's Cooking Classes
: It's a must-visit place in Goa, especially for couples and youngsters. The host, who is an experienced chef, will teach you different cuisines that are a blend of North and South Indian dishes.

4. Samson's Kiosk
: For gathering the water sports equipment and other knowledge about the available activities, visit this kiosk on the Palolem Beach. Also, get different Kayaks, surfing boards, skimboards, bodyboards, fishing rod, toiletries and some quick bites here.

5. Goa Jungle Adventure
: Visit them on the Palolem Beach when you want to try out jungle exploration and related activities in Goa. They organize sports like canoeing, trekking, swimming through water gorges, abseiling, etc. for experts and beginners.

6. Himalayan Therapeutic Studio
: Visitors can heal and pamper their body with Ranjeet Mogu's Ayurvedic medicine and 20 years of expertise in this field. He's a reiki master and visitors strongly recommend him for physiotherapy sessions.


Water Sports in Butterfly Beach 


For a better water sports experience, visitors can enquire about different packages available with the tour and travel agencies in Goa at Butterfly Beach. The price of these packages may vary from Rs 2000-5000 or more, depending on the activities such as below:

1. Boat Riding:
It's simply completed from one end of the beach to another. Instead of taking a giant ferry, travellers can opt for boat riding from the tour & travel agencies at a reasonable cost. It's a beautiful experience to spend at least 1-2 hours above the bluish seawater.

2. Snorkelling
: Explore the Arabian sea's aquatic life with snorkels and swim fins. For this, one should know how to swim beforehand. Otherwise, it will be dangerous to try. Couples can enjoy their sea adventures inside the water surface with snorkelling. However, a guide will be around to protect the swimmer from any possible harm.

3. Kayaking ride
: South Goa is a serene choice for Kayaking, especially when the place is secluded, like Butterfly Beach. Couples can enjoy this water sport nearby to test their chemistry and strength. However, a professional will be keeping an eye for safety purposes.
Other Essential Information About Butterfly Beach
Places to eat at Butterfly Beach 


When it comes to restaurants or cafes; it's hard to get one on the Butterfly beach. If you are staying at Butterfly beach then you can easily look for an eatery nearby the Palolem beach or Agonda beach. Some places to eat nearby the Butterfly beach are:

1. Dropadi Bar & Restaurant
: It is the most famous eatery on the front line of Palolem Beach. It's famous for impeccable service, Kulchas, Butter Garlic Prawns, and the rustic feeling because of no flooring inside. 

2. Magic Italy Authentic Italian Restaurant & Pizzeria:
This pizzeria is an idyllic choice for the best open-air dining experience. Beer and seafood are best here, of course, after the Italian food. Dishes which the locals love here are authentic pizza, ham, chicken, pasta, and tiramisu (dessert).

3. Café Inn:
This café is just a few steps away from Palolem Beach. Here, brunch and coffee is an ideal combination for enjoying early afternoons or late evenings. In fact, this café serves the giant burgers one can find across Goa. They are lip-smacking and succulent, as its regular customers compliment.

4. Saxony Beach Cottages & Restaurant
: This one is on the Agonda Beach. This restaurant is on the beachfront, and closest to Butterfly Beach from the northern side. It offers an efficient menu for families staying on the beach. Drinks are also a good option here for a late-night quality time for adults.

5. Cuba Agonda:
It's a hotel chain with restaurant, bar, and BBQ arena with Arabian sea-facing views. Visitors stay here in the bungalow-like rooms with amazing balcony views, yummy breakfast, and thrilling water rides.

6. H20 Agonda
: It is one of those hotels and bistros offering healthy and organic food items. It also has authentic and local Goan food along with other seafood.

Shopping at Butterfly Beach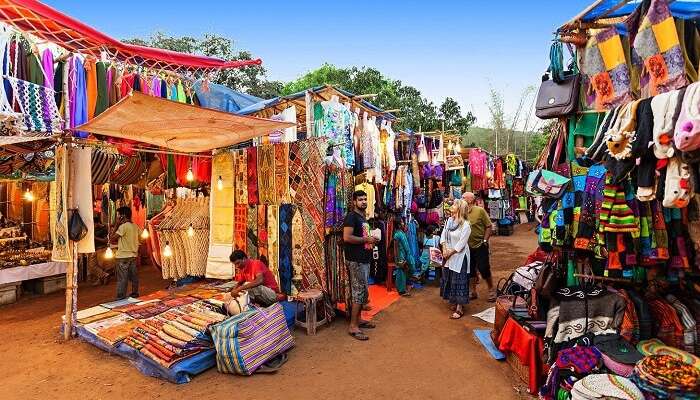 The beach is secluded with no extensive option of any shops. Hence, for any shopping-spree, look around Agonda or Palolem beaches.

1. Handicraft Bedding Shop
:
Visit this shop that's managed and ran by ladies and take home the colors of Rajasthan and tribal world. This shop is known for selling traditional bedsheets and cushion covers.

2. Guru Shop
: It is situated a little farther than the handicraft shop. Here you can get a great range of essential oils for massages, miniature statues, spices, tea, and Shisha flavours at a decent price.

3. Samudra Surf School & Shop
: If you want to purchase surfing and other water equipment on Agonda Beach, try out for this shop. The teacher who teaches surfing here is warm and nice in nature as well.

Places to Stay near Butterfly Beach 



There are quite a few accommodation options at Butterfly beach for tourists to enjoy their holiday comfortably. Some of them are:

1. Palolem Beach Resort: This is a place for sojourns that feel like forever. People have been recommending this resort for years. It has everything- from the most-cherished location, yummy food menu to clean environment and outdoor showers. 

The cottages of this resort are somewhat colourful, constructed one beside another. The whole ambience is flowery and green. There are also chairs and benches provided to every hut. When you stay at this resort, it feels like you are actually living in a settled neighbourhood.

2. Oxygen Palolem Resorts: This resort is at one of the prime locations of Palolem Beach on the north side. It has every amenity ranging from air-conditioning, beachfront view, bar and restaurant. However, it doesn't have a parking facility or hot tubs if in any case, the visitors like you, want to enjoy a hot sauna bath. The garden area is pretty clean and green and besides that, neon tube lights adorn the branches of pine trees. 

The restaurant of this resort is pretty quaint and has a rustic look with sand beneath the footing. Again, there are tree trunks with neon lights inside the restaurant. So, usually, kids enjoy their meal with such a fancy outlook.

3. Cozy Nook: This place is located at the end of Palolem Beach. It provides a fitness centre, luncheon spaces with bean bags and umbrella shed on the sand and charming bedrooms with wooden and bamboo walls. There are other options for exclusive bedrooms with balcony as well. Each bedroom has a free Wi-Fi facility so visitors are never far away from connecting with their loved ones. Bar option is also available for couples and youngsters. The environment is also kid-friendly, if, by chance, a young family is visiting by. 

4. Agonda Cottages: These are located at the beachfront on Agonda Beach. The cottages here with thatched-roofs provide free Wi-Fi, desks, mosquito nests, and semi-open-air washrooms. But, there is an extra fee for availing rooms with AC.

5. Tutti Garden Bungalows: This place is at Agonda Beach, providing facilities like restaurant, bar, reliable laundry, and kid-friendly environment. The rooms here have quaint bamboo walls, wicker chairs, and impressive dim-light lamp shades—mostly on either side of the bed. The location of this bungalow is fantastic as its surrounded by popular bars and restaurants in the area.


Things to Carry at Butterfly Beach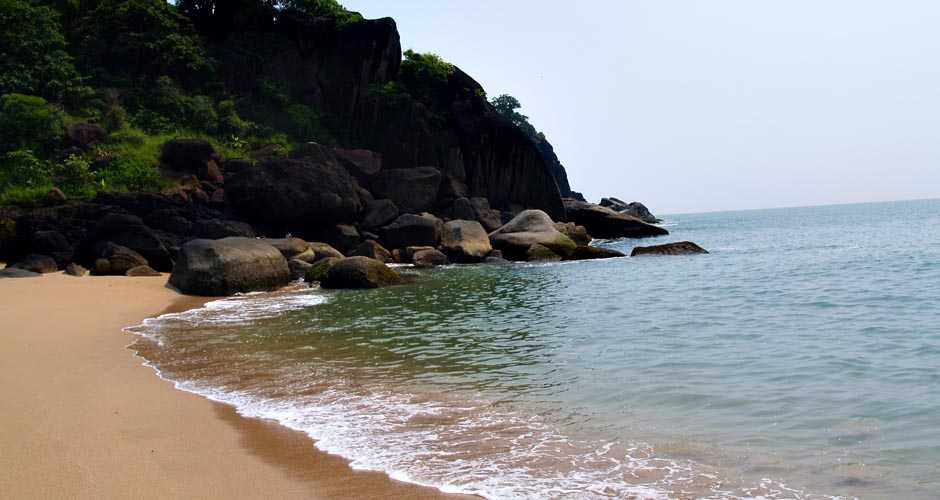 1. Picnic basket:
Carrying a picnic basket would be a smart idea while going to the Butterfly beach for a day. With this basket handy, you can carry your eatables as there are no shops nearby.

2. Blanket:
If you want to sleep at the beach then you can take along a blanket.

3. A Jacket, if it gets windy
: While visiting this beach around Nov-March, chances are that in the evening the climate can get a little windy. So a warm sweatshirt or jacket can protect you from catching a cold.

4. Sunglasses & Sunscreen
: These two items are must-haves while you are exploring the beach to protect you from the direct sunlight. 

5. Water bottles:
You need regular-sized bottles with filtered water that can keep your body's water level intact for at least 2-4 hours.


Shacks at Butterfly Beach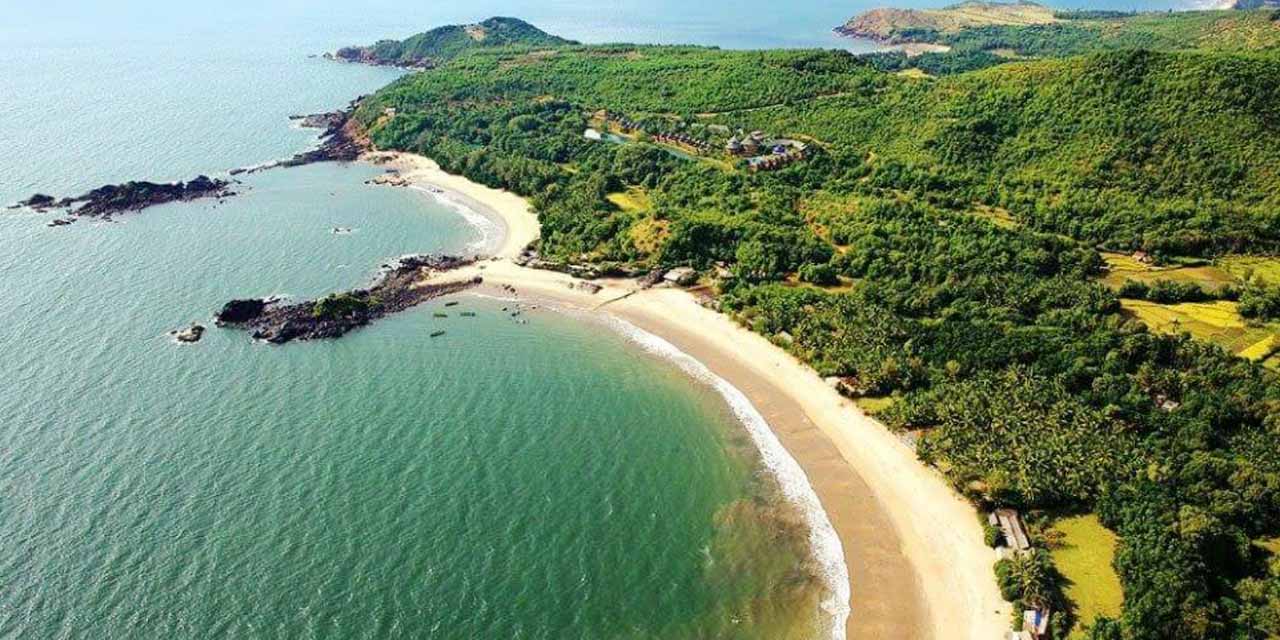 If shack is what you are looking for then you would need to check the beaches nearby as Butterfly beach does not house any shack. You can get a number of shacks at Palolem and Agonda beach. Let's check some of them:

1. Fernandes Wooden Hut
: It's on the Palolem's beachfront and provides huts with a rustic look. There are lounge chairs to recline, when the sun is too hot outside, with a cool beer for adults. It serves all amenities like Wi-Fi, bar, restaurant, and room service.

2. D'costa Cottages Palolem
: It's at the centre of the Palolem Beach, and has very bright-coloured cottages in line. The walls are brown and wooden, while the exterior is bright pink and neon green. There is greenery all around with basic amenities in a room like fans, toilets, and balcony.

3. Orange Sky Agonda Beach Huts:
They offer amenities at attractive rates. These facilities include free breakfast, free Wi-Fi, and AC rooms. Moreover, these huts are at a walking distance from the beachfront.

4. Ramsons Resort Agonda Huts:
The whole ambience including exterior and interior of these huts is pleasing with wide sandy beach access, clean environment, fresh and salty air, and a large expanse of coconut trees.


In fact, visitors also feel like they are living around an authentic South Indian neighbourhood because of these huts. They offer services like free parking, spa, room service, shuttle for the airport, full laundry, restaurant, and bar.

Medical Facilities near Butterfly Beach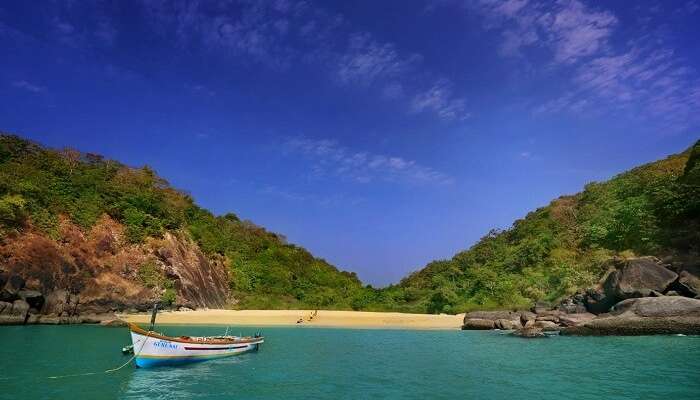 There is no immediate medical facility available on the beach itself, as it is pretty secluded. However, the nearest medical centres are:

1. Dr Mirashi's 5 Elements Clinic
: It is on the Palolem Beach road, Canacona region in Goa, and is well connected to the beach. In case of an emergency, the patient can reach the clinic with a hired taxi easily.

2. Agonda Dental Clinic
: This clinic on the Agonda Beach, north to the Butterfly Beach. It opens from 9 am to 6 pm, except on Sundays. This clinic has experienced doctors for immediate treatment related to dental issues like a root canal and toothache.

Travellers' Tip before visiting Butterfly Beach 



1. Bargaining with the boatsman: If you want to fully enjoy on this beach with pocket-friendly prices, try to bargain with the boatsman. Also, clearly ask him the arrival and departure timings, so that you do not miss the boat for heading back.


2. Do not forget your essentials: As this beach is secluded and has no shop or vendors to serve, it's highly advised that you can take care of your essential needs till the time you are on this beach. 

3. Do not stay for too long
: There is no hut or shack to help you stay longer on the beach. As it is also surrounded by a thick forest, it gets dark early here. So, to avoid any kind of mishap, you should not stay here post dark or beyond early evening.